National /
Govt plans to evacuate 300 families amid tensions along Bangladesh-Myanmar border
---
Staff Correspondent
Published:
2022-09-20 01:55:48 BdST
Govt plans to evacuate 300 families amid tensions along Bangladesh-Myanmar border
---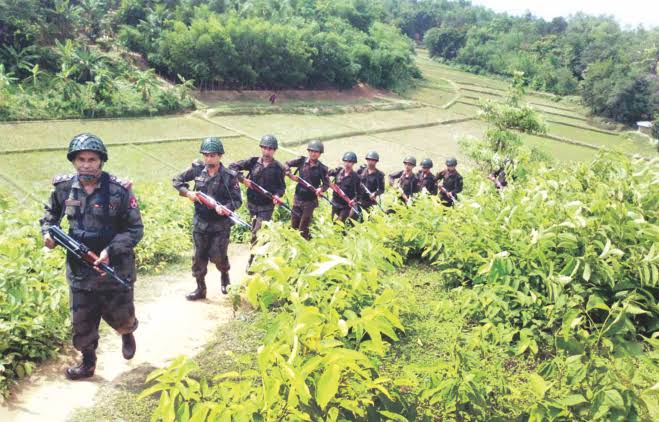 The local administration is planning to evacuate members of 300 Bangladeshi families in Ghumdhum union along the Bangladesh-Myanmar border in Naikhongchhari upazila of Bandarban following firings and mortar shelling near Tombru border for the last one month.
Naikhongchhari Upazila Nirbahi Officer (UNO) Salma Ferdous said there are about 70 Bangladeshi families living within 300 to 500 yards of the Bangladesh-Myanmar border. "Considering the overall situation along the border and safety of the local residents, there is a plan to evacuate them."
"All 300 families in Ghumdum will be evacuated in phases," she added.
Dil Mohammad Bhutto, member of Ward No. 2 of Ghumdhum Union, said they heard sound of firing gunshots and explosions toll Saturday morning.
"Then we have not heard sound of gunshots or explosions near Ghumdhum-Tombru border till Sunday evening," he said.
Kofil Uddin, a resident of Ghumdhum, said many are leaving the border area on their own fearing that the firing may start again at any moment.
Around 35 Bangladeshi families have already shifted to their relatives' houses in Ukhiya's Balukhali, Ratapalong, Sonarpara, Palongkhali, Hoikang area of Teknaf upazila of Cox's Bazar.
Dil Mohammad, a head of the Rohingyas, who took shelter at the Zero Point of Ghumdhum border, said that 4,200 Rohingyas took shelter at the Ghumdhum border.
They have been passing days in fear since taking shelter at this point in 2017.
Myanmar repeatedly tried to evict the Rohingyas from the zero point, he added.
"The Rohingyas are very frightened now. But they are still staying at the zero point. They don't know what to do," he said.
However, Additional Refugee Relief and Repatriation Commissioner Shamsud Douza told UNB that there is no scope for the Commissioner to do anything for the people or groups at the zero point of the border. Many are cooperating locally and international organisations working along the border are engaged in providing emergency services.
"If the Rohingyas take shelter outside the zero point and in various camps in Ukhiya of Teknaf upazila, it is possible to cooperate them in various ways," he added.
Besides, following the tension along the border, Ghumdhum High School center for the SSC examinations has been shifted to Kutupalong High School in Ukhiya upazila from where 499 candidates took part in the examination on Saturday, said UNO Salma.
Members of Border Guard Bangladesh (BGB) are also on high alert in the border area. Vehicles are being searched at different checkpoints at the border crossings.
On Sunday, the Ministry of Foreign Affairs (MoFA) summoned the Myanmar Ambassador to Bangladesh for the fourth time since August and lodged a strong protest against the incidents of shelling from Myanmar.
Myanmar Ambassador to Bangladesh Aung Kyaw Moe "acknowledged" the firing of multiple mortar shells into Bangladesh territory, but tried to deflect blame by asserting the insurgents they are engaged in fighting were firing heavy artillery and mortars, some of which landed inside Bangladesh territory.
The Ministry of Foreign Affairs also handed over a protest note to the ambassador, MoFA said.
On Friday night, a 17-year-old-Rohingya boy named Mohammad Iqbal was killed and five others were injured as a mortar shell fired by the Myanmar army exploded at the Zero Point Rohingya Camp close to the international border in Tombru, Bandarban.
The deceased and injured were all residents of the Zero Point Rohingya Camp, known as the camp that is closest to the Bangladesh-Myanmar border, in No Man's Land.
Four mortar shells landed in succession at the Rohingya camp around 8pm.
Earlier, an indigenous youth named Anganthowai Tanchangya was grievously injured in a landmine explosion along the Bangladesh-Myanmar border in Naikhongchhari upazila of Bandarban on Friday noon. Locals said it is the Myanmar army that has mined the area.
Twelve mortar shells have been fired by the Myanmar army on Bangladesh territory so far.
Unauthorized use or reproduction of The Finance Today content for commercial purposes is strictly prohibited.