National /
Journalists slam NOAB for 'conspiracy' against ninth wage board
---
SAM
Published:
2018-07-04 14:03:04 BdST
Journalists slam NOAB for 'conspiracy' against ninth wage board
---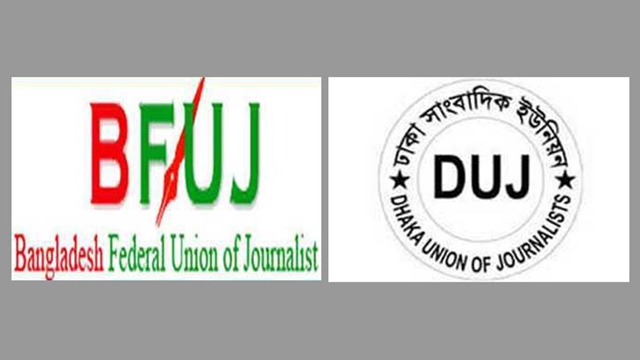 FT ONLINE
Leaders of journalist unions have come together in denouncing steps by the Newspaper Owners Association of Bangladesh or NOAB to derail a new wage plan for news media workers.
The Bangladesh Federal Union of Journalists and the Dhaka Union of Journalists have accused NOAB leaders of "hatching a new conspiracy" against the ninth wage board.
NOAB has delayed the formation of the new wage board citing "different excuses" despite a clear directive by Prime Minister Sheikh Hasina, the union leaders said.
BFUJ President Monjurul Ahsan Bulbul and Secretary General Omar Faruk, and DUJ President Abu Zafar Surjo and General Secretary Sohel Haider Chowdhury issued a joint statement condemning NOAB on Tuesday.
They said NOAB later sent its representatives to meetings where they spoke for the formation of a new wage board in the presence of Information Minister Hasanul Haque Inu.
"It was in their presence that dearness allowance was announced."
And then suddenly, NOAB leaders started a "conspiracy" to slow the wage board work by "raising questions against the entire process", they wrote.
They urged the government to investigate "if vested quarters within or outside the administration have joined forces to create an unstable situation in the media, just before the general election".
"People from all professions are enjoying different benefits but the news media workers are being deprived of their rights."
The leaders also expressed their concern over the delay in publishing a gazette notification on dearness allowances by the government.
With the ninth wage board underway, NOAB President Matiur Rahman, editor of a Bangla-language newspaper, Prothom Alo, made a strange U-turn and went to court saying the current board is illegal.
In a writ petition, Rahman argued that the power to form a wage board is granted to the Ministry of Labour, not the Ministry of Information. In addition, the Ministry of Information does not have an enforcement mechanism that allows them to implement the wage board. The Ministry of Labour does, he said.
Rahman secured a High Court rule on Jul 1 that asked why the ninth wage board should not be deemed illegal.
Rahman's sudden move came as a huge disappointment to the news organisations that have pushed for a new wage board since public sector workers received a new salary structure in 2015.
Unauthorized use or reproduction of The Finance Today content for commercial purposes is strictly prohibited.