National /
China urges Myanmar to start Rohingya repatriation soon
---
SAM
Published:
2018-07-08 12:29:29 BdST
China urges Myanmar to start Rohingya repatriation soon
---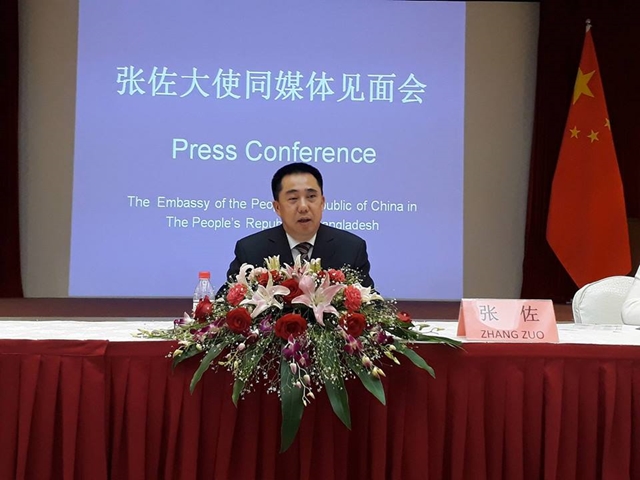 FT ONLINE
China, as part of its three-phase steps, has urged Myanmar to start repatriation of Rohingyas as soon as possible saying it attaches great importance to Rohingya crisis.
"We've urged Myanmar both bilaterally and multilaterally on various occasions for early repatriation of Rohingyas. We've also urged them to reach some visible outcome as soon as possible," Chinese Ambassador in Dhaka Zhang Zuo said.
He was responding to questions after the first workshop on 'Bangladesh-China Media Cooperation' at the Embassy.
Information Minister Hasanul Haq Inu spoke at the workshop as the chief guest. Editors of newspapers, news agencies, private television channels and Deputy Chief of Mission in Chinese Embassy Chen Wei also spoke.
After the crisis broke out in Rakhine State of Myanmar last year, he said, the first thing China did was to try and stop the local violence. "And now we are trying to promote early repatriation of Rohingyas."
The Chinese Ambassador said they want to see active role from Bangladesh too in promoting repatriation process.
Union Minister for Myanmar State Counsellor's Office Kyaw Tint Swe and Bangladesh Foreign Minister AH Mahmood Ali visited Beijing recently and they had a meeting there.
State Councilor and Foreign Minister Wang Yi had a tea break with the two visiting ministers from Bangladesh and Myanmar when they exchanged views on properly resolving the issue of the Rakhine State.
"This time they had a very fruitful discussion," said the Chinese Ambassador recalling China's three-phase steps - stop local violence, promote repatriation and development of Rakhine State.
"China's position is consistent. We always believe that the relevant issue should be resolved through dialogue and negotiation between Myanmar and Bangladesh, and the international community can play a constructive role in light of the will of the two countries," said Chinese Foreign Ministry Spokesperson Lu Kang in Beijing recently.
While talking to reporters, Chinese Ambassador in Dhaka said China is willing to play a constructive role in resolving the Rohingya crisis.
"I want to give a signal that we are good neighboring countries," The Ambassador said seeking more comprehensive view of Bangladeshi media on the Rohingya issue ignoring misinterpretation, if any.
Emphasizing on stability and peace in the region, he sought practical steps both from Bangladesh and Myanmar for early repatriation.
The Chinese Ambassador highly appreciated Bangladesh's generosity and humanitarian support to Rohingyas.
Bangladesh witnessed a number of high-profile visits last week including that of United Nations Secretary General Antonio Guterres when the international community is exploring ways to resolve Rohingya crisis beyond bilateral mechanism.
International Committee of the Red Cross (ICRC) President Peter Maurer, Minister of State for Asia and the Pacific at the Foreign and Commonwealth Office Mark Field, United Nations High Commissioner for Refugees Filippo Grandi and UK Special Envoy for Gender Equality Joanna Roper also visited Rohingya camps in the same week while UN Special Rapporteur on the situation of human rights in Myanmar Yanghee Lee is set to conclude her ten-day visit on Sunday.
In Cox's Bazar, the UN chief along with World bank Group President Jim Yong Kim heard "unimaginable" accounts of killing and rape from Rohingya refugees who recently fled Myanmar.
The Rohingyas made it clear to them that they want justice and a safe return to their own homes in Myanmar.
Secretary General Guterres laid emphasis on persistent commitment from the international community and put pressure on Myanmar very strongly in a united way to help Rohingyas go to their own homes safely.
Unauthorized use or reproduction of The Finance Today content for commercial purposes is strictly prohibited.