National /
BR earnings rise, but many targets unmet
---
SAM
Published:
2018-07-09 16:38:41 BdST
BR earnings rise, but many targets unmet
---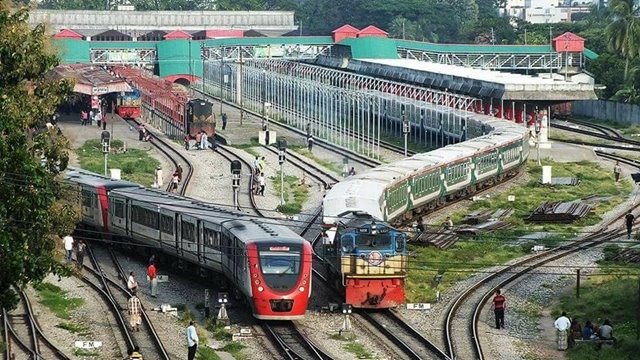 FT ONLINE
The state-owned Bangladesh Railway (BR) missed the annual targets set at the start of fiscal year (FY) 2017-18, official sources said.
With an average income of Tk 7.5 million (75 lakh) per month, it was clear the BR would earn more than it did in the previous fiscal, they said.
But it would be hard for the state entity to meet the target of earning Tk 16.40 billion (1640 crore) fixed for FY '18.
As of May, the BR earned Tk 14.26 billion. The amount was Tk 11.37 billion in FY 2016-17. There had been a relative rise in transportation of passengers and goods.
According to official data, the BR carried 17 per cent more passengers than it did in the previous fiscal. But it missed the target of 90.1 million passengers.
As of May, 82.5 million passengers were transported to and from both eastern and western zones of the country. In FY 2016-17, the BR carried 70.8 million passengers.
Only in the western zone, it transported 32,150 passengers against the target of selling 29,609 tickets.
In operating goods wagons, according to the data, the BR lagged 25 per cent behind the target. It only operated 243,147 goods wagons against the target of 323,651.
However, the authorities succeeded in increasing the passenger service by 13 per cent compared to the corresponding period of last year.
The BR carried goods to the tune of 402,000 tonnes against the target of 541,800 tonnes. The figure was 359,000 tonnes of goods carried in the previous fiscal.
About the unmet targets, officials explained that the BR got those set by the finance ministry based on the previous fiscal's achievements.
Preferring anonymity, an official said the BR's capacity was never assessed during fixing the targets.
The BR's increased income and services had been possible because of a number of locomotives and carriages added to its fleet, he said.
Although it could add only two train services in the just-concluded fiscal, it added 270 carriages to different trains, sources said to media.
The country's lone railway service provider has been getting an increasing budgetary allocation for almost a decade.
Although the allocation has been increased to 200 per cent in some cases, the service has not improved relatively due to multiple problems.
The BR is still facing problems like manpower shortages, corruption and mismanagement, according to relevant sources.
Unauthorized use or reproduction of The Finance Today content for commercial purposes is strictly prohibited.