National /
Prepare policy to realize untapped Bay of Bengal resources
---
FARZANA
Published:
2018-07-21 13:17:46 BdST
Prepare policy to realize untapped Bay of Bengal resources
---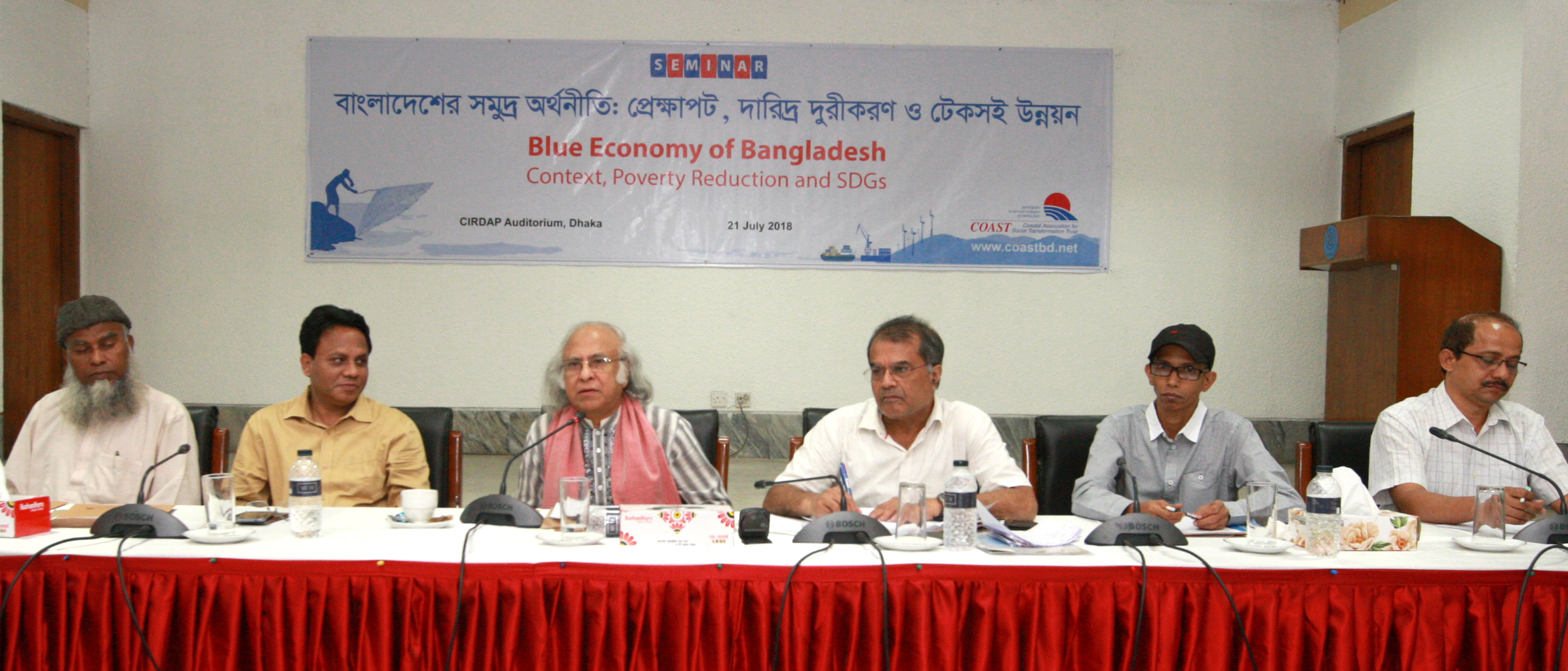 FT ONLINE
Today 21 July 2018, in a seminar, right based civil society organizations and experts have made demand to govt. to develop an appropriate and pro poor policy to realize the untapped resources in the Bay of Bangal in context of poverty reduction and achieving the SDGs (Sustainable Development Goal). They also demand to ensure access of coastal fishers in Bay of Bangle fishing strategies that is going to be govt. planning. The seminar held at CIRDAP auditorium following the title "Blue Economy of Bangladesh: Context Poverty Reduction and SDGs" organized by COAST Trust.
Seminar is chaired by Dr. Qazi Kholiquzzaman Ahmad- Economist & Chairman-PKSF where Md. KM Abdus Salam , Director General NGO Affairs Bureau participated as chief guest and the event moderated by Mr. Rezaul Karim Chowdhury-Executive Director of COAST Trust. Key notes are presented by Dr. Lailufar Yasmin (Professor- International Relation, Dhaka University), Dr. Md. Moshiur Rahman (Professor Fisheries and Marine Resource Technology Discipline, Khulna University) and Mr. Salehin Sarfaraz (Coordinator- Partnership & Advocacy, COAST Trust). Among the others, Dr. Sayedur Rahman Chowdhury (Professor, Institute of Marine Sciences and fisheries, Chittagong University), Dr. AKM Aminul Hoque (Director-Marine), Department of Fisheries spoke as expert and many civil society representatives have put their opinion and recommendations in the seminar.


The three key note presenter have addressed two important issues those are foreign policy and govt. poverty reduction approach through Blue Economy and put their recommendations as i. Bangladesh is seen as a central cohesive source of support of economic hub connecting inter-Asian states, so that we have to be cautious to design the Blue Economy strategies in case trade, resource capturing and geo-political perspective etc. ii. Government should emphasize on coastal poverty dimensions where fishers' are major part of the poverty. So create opportunities and access for coastal population especially for the fishers. Govt. can ensure access of these fishers in the Bay of Bangle fishing sphere by developing an appropriate policy and action plan. This will contribute in both the growth, reducing socio-economic inequality.
In the discourse on panel discussion, Dr. Sayedur Rahaman said that govt. has policy but there are considerable gap exist between policy assumption and real base data. This need to remove and prepare spatial plan connecting policy and information. He expresses concern of declining trend of fish in the Bay of Bangle and plan for alternative livelihood of coastal fishers'.
Dr. Aminul Hoque said that perspective and concern are both in the Blue Economy strategy as because of multi stakeholder engagement required in the process. We have to consider and government has taken project with World Bank for alternative livelihood of coastal fishers'. His proposal is in case of benefiting coastal communities, we can initiate cage aquaculture in estuaries of Bay of Bengal during the ban period of Hilsha fishing.
Unauthorized use or reproduction of The Finance Today content for commercial purposes is strictly prohibited.