National /
Railway's special Eid service fails to halt bleeding
---
FT Online
Published:
2019-08-07 15:30:28 BdST
Railway's special Eid service fails to halt bleeding
---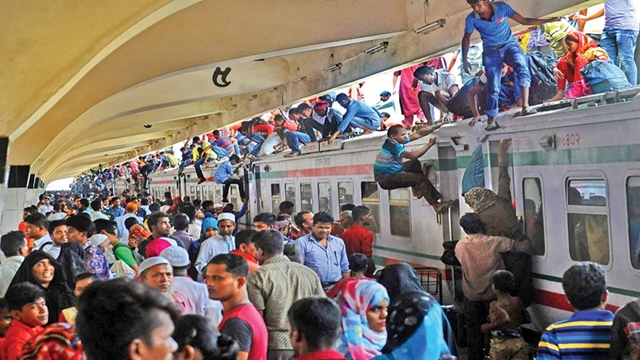 The number of railway passengers leaving the city almost doubles during the Eid vacation, but that has little impact on the overall annual income of the Bangladesh Railway (BR), people familiar with the situation said.
They said the transport of a large number of passengers does not impact BR's total revenue as the increase in the sale of tickets before and after the festivals is usually insignificant.
The BR launches a five-day special train service from Dhaka and other major stations before and after the Eid festival. During this period, the BR also allows standing tickets in almost all trains leaving the capital.
But many passengers, who climb rooftop of the trains to reach their destinations, do not pay for the journey.
Md Miah Jahan, additional director general (operations) at the Railway told the FE though revenue increases notably during the special services, the poor sales round the year hurt overall income.
He said roughly 40,000 passengers travel by trains during Eid vacations, up from around 20,000 in normal times, leave the city each day by train from the two stations-Kamalapur and Airport.
During the special services, the BR adds extra bogies to almost all trains leaving the city leading to a further rise in 5,000 passengers a day.
Moreover, standing tickets are restricted to 30 per cent of total seat capacity.
While the standing ticket holders have no seating arrangements, they pay the same fare as regular tickets.
However, the BR gets nothing from the roof-top passengers. The train ticket examiners, popularly known 'TT' do not dare check the tickets of these passengers.
In May last, the BR sold tickets worth Tk 219 million transporting 681,457 passengers from both Kamalapur and Airport stations during the last Eid-ul-Fitr festival.
But in June, that amount almost halved, with the number of passengers falling to 596,743.
The number of passengers peaks in December and the leanest period is the month of Ramadan.
For the upcoming Eid journey, the Railway sold advance tickets for August 7, 8, 9, 10 and 11 beginning from July 29.
The train services on August 12, the Eid day, will remain suspended.
During fiscal 2017-18, the BR carried about 90.05 million passengers, up from 77.8 million the year before
The Railway has now 94 intercity trains, which contributed approximately 84 per cent of its total earnings, according to the Railway data.
It, however, incurred a net loss of Tk 1.4 billion in fiscal year 2017-18 and it had operational expenses of Tk 2.91 billion during the period.
Unauthorized use or reproduction of The Finance Today content for commercial purposes is strictly prohibited.