National /
Aid transparency and local participation in Rohingya response needed to reduce the management cost
---
SAM
Published:
2020-02-24 00:03:23 BdST
Aid transparency and local participation in Rohingya response needed to reduce the management cost
---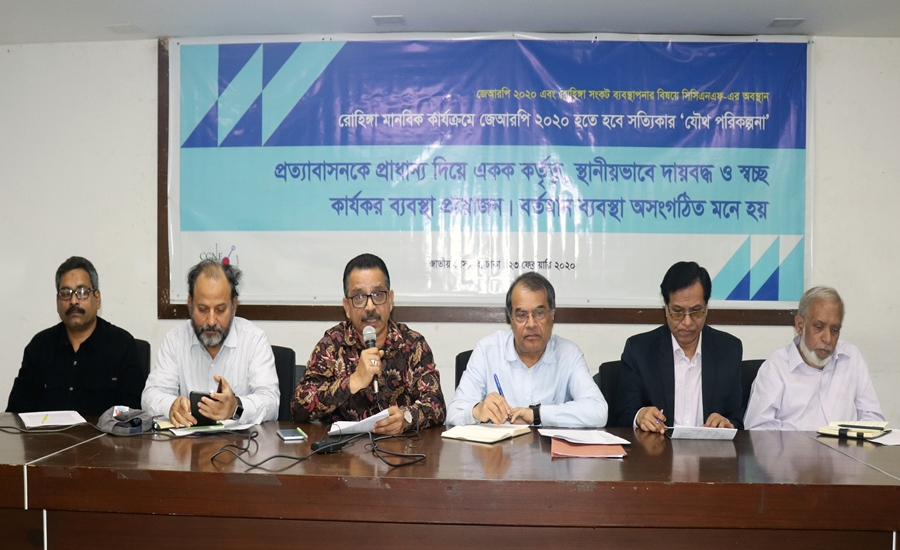 FT ONLINE
Today Cox's Bazar Civil Society and NGO Forum (CCNF), an alliance of 50 organizations organized a press conference at the National Press Club, Dhaka titled "JRP2020 has to be real joint venture: Needs a Single Line Authority with Transparency and Local Level Accountability", having other civil society leaders present.
The press conference was moderated by CCNF Co-Chair Mr. Rezaul Karim Chowdhury and other key speakers were Mr. Abu Morshed Choudhury, Co-Chair of CCNF, Mr. Barkat Mullah Maruf, Joint Director COAST, Mr. Nayeem Gawher Wahra of Disaster Forum, Mr. Rafiqul Islam of Federation of NGOs in Bangladesh (FNB), and Mr. Abdul Latif Khan, Independent Expert on Refugee and Disaster Management. Mr. Mostafa Kamal Akhanda, Director of COAST welcome the press in the press conference.
It should be noted that JRP in Rohingya response is being prepared by ISCG (Inter-Sectoral Coordination Group) for Rohingya response as annual planning document for fund raising. They have drafted the document sought around $887 million for 2020 and the document will be formally lunched in Geneva in March.
Mr. Abu Morshed Chowdhury of CCNF focuses on several revision proposal for draft JRP 2020, which should be a live document, so that it can be revised in course of time as the Rohingya refugee issue is so dynamic. There should be a section on repatriation which has to consider as no.1 priority. He also proposed that, there should be inclusion of government operation cost invested in the refugee management.
He urged that environment recovery, host community, youth and adolescent issues as a separate sectors. He also urged to include family planning as a priority in health sector.
He said that there should be clarity on UNDP initiated district development planning, especially on how the money will be raised. He also demanded aid transparency on the overhead and management cost, direct input cost to Rohingya and partnership cost in JRP 2020, with a gradual effort to reduce the cost and also to cope with the risk of reduced aid.
He urged to include the strategy on localization pathways proposed by Localization Task Force (LTF) and a NGO pooled fund to promote human right and refugee right based NGOs in Cox's Bazar.
Mr. Rezaul Karim Chowdhury, Co-Chair of CCNF focuses on management of Rohingya response and said, it is a bit confusing that there should be single line management under the Prime Minister's office as it is a national priority issue. There should be inclusion of local Member of Parliament, Upazila Chairmen and Local NGOs in the national task force.
He proposed ISCG should be integrated to RRRC (Refugee Relief and Repatriation Commissioner) office as counterpart, with a role of UN agencies to strengthen planning, monitoring and financial tracking capacities of RRRC office.
He also proposed Deputy Commissioner should have scrutinizing role in respect of host community projects and the entire district should be considered as the host community. He also proposed that immediately ISCG should include representative of local government and local NGOs in a transparent and democratic process.
He again proposed the government to allow two-story pre-fabricated housing, meaning full economic and educational activities, especially to Rohingya women and youth, so that they feel hope as a human beings.
Mr. Nayeem G Wahra, described how the local economy could be benefited out of providing supplies to Rohingya refugees. He proposed government should prepare a National Policy on Rohingya refugee considering long term protracted crisis.
He emphasized exploring the possibilities of third party repatriation, family reunion of refugees living in another countries and track 2 diplomacy.
Mr Barkat Ullah Maruf proposed that Rohingya refugees should be given travel document as Refugees to avoid ongoing passport forgery.
Mr. Rafiqul Islam urged for 80% relief operation to be handed over to Bangladeshi local and national NGOs which is now approximately 4% (as of December 2017).
Mr. Abdul Latif Khan urged like NGOs, UN agencies have to be accountable to the government. He proposed not to import relief items if it is available in the local market.
Unauthorized use or reproduction of The Finance Today content for commercial purposes is strictly prohibited.