Politics /
"Zia proposed me to be minister after Bangabandhu killing": President
---
Staff Correspondent
Published:
2020-08-15 12:06:25 BdST
"Zia proposed me to be minister after Bangabandhu killing": President
---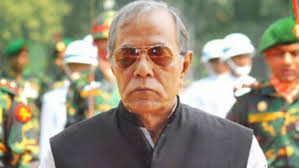 President M Abdul Hamid said after the brutal assassination of Father of the Nation Bangabandhu Sheikh Mujibur Rahman, the then military ruler Ziaur Rahman proposed him to become a minister.
"Zia proposed me to be a minister through Colonel Mahfuzur Rahman . . . At the same time, he also threatened to throw me in jail for 25 years if I did not comply with the proposal," the president reminisced about Bangabandhu and the aftermath of his killing in a recorded interview given to the state-run Bangladesh Television (BTV) on National Mourning Day.
Referring to the proposal of Ziaur Rahman, the head of the state said he officially protested the barbaric assassination of Bangabandhu by attending a discussion on February 21 in 1976 in Kishoreganj.
"In my speech, I said 'no dictatorship from Hitler-Mussolini to others could have survived and none (autocracy) will survive in our country also,'" the president added.
"A few days later of my remark, I was arrested," the head of the state, who was then student leader-cum-young parliamentarian, recounted, hinting miserable sufferings he endured in the name of imprisonment.
Recalling his memories with the Father of the Nation in an emotion chocked voice, Abdul Hamid said, "I was in the MP hostel on that fateful night of August, and I heard multiple noises before going to my bed at about 3-4 am on the night. I thought that the Dhaka University was rejoicing and firecrackers were exploding."
The president went on saying: "It was about 7 am . . . Khandaker Nurul Islam, an MP of Rajbari who was staying beside my room, knocked at my door and subsequently conveyed the bad news. After a while he came to me with a radio which was telecasting killer Major Dalim's announcement of assassinating Bangabandhu."
Abdul Hamid was elected as the youngest member of the Pakistan National Assembly from Mymensingh-17 constituency in the 1970 election.
He was elected from Kishoreganj-5 constituency in the first general election of the country on March 7 in 1973. He was also elected MP in third parliament election in 1986, fifth parliament election in 1991, seventh parliament polls in 1996, eighth parliament election in 2001 and the national polls last of 2008.
The president, who was involved in politics since his student life, also mentioned many memories with the greatest Bangalee of nation Bangabandhu.
He said being a new Member of Parliament, he got Bangabandhu's cooperation to get his first car.
Referring to pre-15 August overall situation, the veteran politician and close associate of the greatest Bangalee of thousand years Bangabandhu, said, "It seemed that something bad would happen. And I met Bangabandhu at the Ganabhaban in the afternoon of August 11, 1975."
He continued: "Bangabandhu asked me to wait . . . Later in the evening he went for walking in the Ganabhaban garden. I was with him. I talked to him privately and informed him what I came to know from an intelligence agency. But Bangabandhu replied with a smiling face – 'There was a little trouble . . . Everything is now fine. Don't worry'."
Being reassured, Abdul Hamid said, he came back and it was his last meeting with Bangabandhu. "And now I understand that nothing was right then. The assailants were ready to dye their black hands with the red blood of our Father of the Nation," he said.
Unauthorized use or reproduction of The Finance Today content for commercial purposes is strictly prohibited.