Politics /
Book titled 'Sheikh Hasina: Fearless Voyager of Impassable Path' unveiled
---
SAMI
Published:
2020-09-28 18:08:51 BdST
Book titled 'Sheikh Hasina: Fearless Voyager of Impassable Path' unveiled
---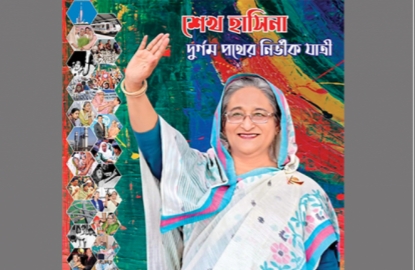 On the occasion of Prime Minister Sheikh Hasina's 74th birthday, a book on her life and work titled "Sheikh Hasina: Durgom Pother Nirvik Jatri" (Sheikh Hasina: Fearless Voyager of the Impassable Path) was published on Monday.
Jatiyo Sangsad Speaker Dr. Shirin Sharmin Chaudhury, MP, National Professor and Prime Minister Sheikh Hasina's teacher Rafiqul Islam and Posts and Telecommunications Minister Mustafa Jabbar, Special Assistant to the Prime Minister and Bangladesh Awami League office secretary Biplob Barua and Nagad Managing Director Tanvir A Mishuk were present at the cover-unveiling ceremony, said a Nagad press release.
Rafiqul Islam edited the book while Tanvir A Mishuk is the executive editor of the 332-page book which contains 20 chapters, informative details and many rare photographs that portrayed the illustrious career of Prime Minister Sheikh Hasina, who has devoted her entire life to materialize Bangabandhu's long-cherished dream of Sonar Bangla.
The book would take the readers on a journey, beginning from her birth, upbringing, student life, leadership at Bangladesh Awami League to her ascension as Prime Minister in 1996.
The conspiracy in the manipulative election in 2001 and the rule of army-backed caretaker government in 2008 as well as formation of the government after the landslide victory in December 29, 2008 elections and process to start building a "Digital Bangladesh" were also incorporated.
It tells the story of country's journey towards prosperity in every field of trade and commerce, electricity, agriculture, fisheries, food, education and readymade garment under the leadership of the daughter of the Father of the Nation Bangabandhu.
The book also narrated about "Vision 2021", and building of a developed and prosperous Bangladesh in 2041 and Delta Plan 2100.
It discussed the globally acclaimed development that has completely changed the perception about Bangladesh, and major mega projects such as the Padma Multipurpose Bridge, Bangabandhu Tunnel and Dhaka Metrorail that are going to bring about transformational change for the country very soon.
The book is priced at Taka 2,500. However, readers can read it for free as an e-book at http://nagadnews.com. It is also available on the websites of some other popular e-commerce sites.
Speaking on the occasion, Dr Shirin Sharmin Chaudhury said "Every day of Prime Minister's life can be a unique chapter in history. Much of her life and philosophy which was not known to the common people can be found in this book."
"It is our responsibility to inform people of the country and world about the vast life of Sheikh Hasina and this book will fulfill that responsibility to some extent," she added.
Rafiqul Islam said "historical value of this book is unique and it is needed to be translated into English so the world can also discover Sheikh Hasina perfectly."
Mustafa Jabbar said this book will be a milestone in Bangladesh's history which provides a treasure trove of information about the life of Prime Minister and this information can't be found in a single collection elsewhere.
Biplob Barua said history of nation-building will be properly portrayed to the younger generation through this book.
Tanvir A Mishuk said the book would serve as an important document in future when researches would be carried out on the life and work of the Prime Minister at home and abroad.
Publisher of Joyeeta Publication Yeasin Kabir Joy and officials of Nagad were also present in the virtual ceremony.
Unauthorized use or reproduction of The Finance Today content for commercial purposes is strictly prohibited.