Politics /
Democracy was unchained on Sheikh Hasina's jail release day: Hasan
---
Staff Correspondent
Published:
2021-06-12 01:56:24 BdST
Democracy was unchained on Sheikh Hasina's jail release day: Hasan
---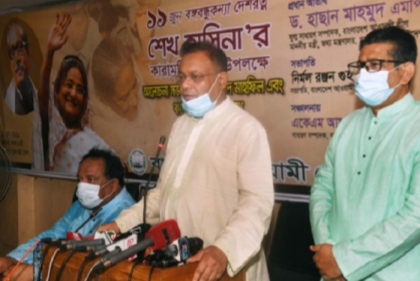 Information and Broadcasting Minister Dr Hasan Mahmud said Awami League President Sheikh Hasina was released from prison on June 11 in 2008 and in fact, it was the release day of democracy.
"The country's democracy was shackled after Sheikh Hasina, the daughter of democracy, was arrested. And, on this day, we liberated the chained democracy by freeing her through a strong mass movement," he told a discussion.
Swechchhasebak League arranged the meeting on the Kalabagan ground, marking Prime Minister Sheikh Hasina's Jail Release Day.
Speaking as the chief guest, Hasan, also the AL joint general secretary, said after the release of Sheikh Hasina through a movement, the AL secured a landslide victory in the December 2008 elections and it formed the government led by the AL president.
He said the people have given the responsibility of running the country to the Awami League for three consecutive terms, while Sheikh Hasina has become the prime minister four times.
Highlighting the significance of the Sheikh Hasina's jail release day, Hasan said since Sheikh Hasina was freed on that day in 2008 after a movement of people and was given the responsibility to run the state, Bangladesh achieved a prestigious position today before the world under her leadership.
"In the 50 years of the independence achieved under the leadership of Father of the Nation Bangabandhu Sheikh Mujibur Rahman, the greatest Bengalee of all time, our great achievement under the leadership of Bangabandhu's daughter Sheikh Hasina is that today Pakistan is upset seeing our progress," he said.
Mentioning that Bangladesh exceeded Pakistan in all development indexes, the AL general secretary said when Pakistan Prime Minister vowed to make Pakistan Sweden in next 10 years, its people asked their premier to take their country to the position of Bangladesh instead of Sweden in the 10 years.
Hasan said Bangladesh also exceeded neighbouring India in social and human indexes and per capita income.
"Our progress is being discussed in India, while they are lauding the role of Prime Minister Sheikh Hasina too," he said.
He said although Bangladesh's progress has been lauded around the world, including the United Nations, the World Health Organization (WHO) and the United States, the BNP leaders and those who participate in talk-shows at night do not find any development of the country.
Swechchhasebak League president Nirmal Ranjan Guha and its general secretary Afzal Babu also spoke at the meeting.
Later, the information minister inaugurated a COVID-19 safety goods supply booth there.
Unauthorized use or reproduction of The Finance Today content for commercial purposes is strictly prohibited.