Politics /
AL men start guarding city to prevent chaos
---
Staff Correspondent
Published:
2022-12-08 13:18:24 BdST
BNP's Dec 10 RallyAL men start guarding city to prevent chaos
---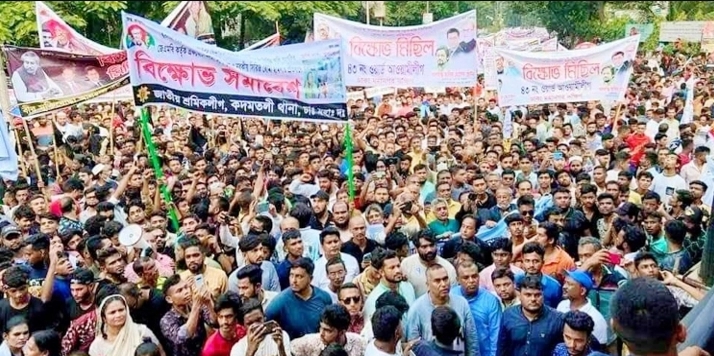 The ruling Awami League has begun guarding all areas in the capital to prevent chaos created by the Bangladesh Nationalist Party ahead of its December 10 rally as part of its ongoing anti-government movement.
Awami League leaders and activists took positions at different intersections after the BNP activists clashed violently at Nayapaltan.
As the BNP plans to hold a rally in front of its central office on December 10, the political arena has already heated up.
Considering public safety, the police administration has already decided that the BNP will not be permitted to hold its rally on the streets.
In connection with the December 10 rally, there was a clash between the leaders and activists of BNP at Nayapaltan around 3:00pm on Wednesday.
An AL procession was seen on Wednesday afternoon from Fakirapool, according to witnesses.
In the evening, the Chhatra League of Paltan, Motijheel, and Shahjahanpur thanas chanted slogans against the BNP-Jamaat clique outside the Jonaki cinema hall.
As of Wednesday morning, Dhaka City South Awami League leaders and activists have taken positions in various places, according to party sources. Activists are monitoring the situation in front of the party's central office on Bangabandhu Avenue.
Processions have been seen at Vhuter Goli, Hatirpool, and Russell Square. Their number is expected to increase as the evening progresses.
The police are active from Nayapaltan to Motijheel, which is a possible rallying point for the BNP. Also, Awami League activists are also on the ground.
Riaz Uddin Riaz, office secretary of Dhaka City South Awami League, said: "The leaders of each ward have been instructed to be on guard.
If BNP tries to vandalize, it will be met with resistance."
Dhaka City South Awami League is holding a rally at Baitul Mukarram National Mosque on Friday ahead of BNP's mass rally.
According to Awami League sources, a portion of the rally's leaders and workers will remain in the Bangabandhu Avenue area until Saturday to monitor BNP's movements.
The preparations and actions for the rally were discussed Wednesday at the party's central office on Bangabandhu Avenue.
Despite being far from the BNP rally venue, the Dhaka City North Awami League will also hold a rally on December 13 at Agargaon at the trade fair venue. Almost every day, ward leaders and activists participate in rehearsals as part of preparation. Awami League sources said that their main responsibility is to ensure that people cannot access the BNP rally through Tongi, Ashulia and Gabtoli. The activists and leaders of Dhaka North City Corporation are guarding the entrances of Kalyanpur and Paikpara, which are located in Ward 11.
The leaders and workers of the Jubo League in this area staged a showdown on Tuesday and Wednesday.
Leaders and workers were seen cruising around the area on pickup trucks and chanting slogans on Wednesday.
As part of the party's efforts to keep a watchful eye in Keraniganj, the Dhaka District Awami League has announced a rally at Radio Colony ground in Savar on December 10.
Unauthorized use or reproduction of The Finance Today content for commercial purposes is strictly prohibited.