Politics /
PM optimistic about AL's victory in next polls
---
A H Khan
Published:
2018-10-27 07:39:05 BdST
PM optimistic about AL's victory in next polls
---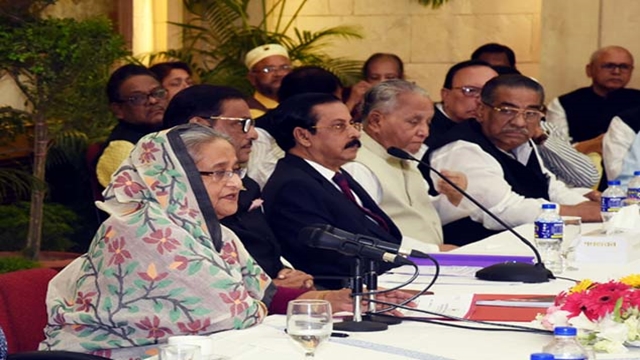 Prime Minister Sheikh Hasina today expressed her firm optimism about Awami League's victory in the upcoming general elections and said the pro-liberation forces will remain in power when the nation will celebrate the golden jubilee of independence.
"We must win in the next parliamentary elections as the people of the country are with us," she said in her introductory speech at a joint meeting of AL Central Working Committee, Advisory Council and Parliamentary Party at her official Ganabhaban residence here this evening.
The prime minister said: "We will celebrate the golden jubilee of our independence Insha Allah when the pro-liberation forces will stay in power."
Sheikh Hasina, also the Awami League president, said the golden jubilee of independence will not be celebrated properly if the pro-liberation forces do not remain in power. "The Pakistan-lovers will not celebrate it — it's a reality," she added.
Noting that she has full confidence and trust in the people, the premier said the Awami League came to power with their strength and vote.
Sheikh Hasina said touch of development has brought about a massive change in everybody's life and this has presented a beautiful life to them.
"The people will surely give another chance to Awami League for formation of the government by retaining this change," she hoped.
The prime minister said the nation will observe the birth centenary of Father of the Nation Bangabandhu Sheikh Mujibur Rahman in 2020 and celebrate the golden jubilee of its independence in 2021.-
"We're fortunate that we were in state power when Bangladesh celebrated the silver jubilee of its independence in 1996 and at my invitation South African revolutionary leader Nelson Mandela, late Palestinian President Yasir Arafat and former Turkish President Suleman Demirrel joined the celebration," she added.
Elaborating Bangladesh's tremendous development in different sectors, Sheikh Hasina said the pace of uplift will continue if Awami League is reelected with the vote of the people.
"If we come to power again, the people will be gifted with more beautiful life and every village will be turned into a town," she said, adding that the people will get urban facilities by staying at the villages and they will not go through any hardship.
In this connection, the Awami League president quoted a comment of Bangabandhu in which he said: "We will decorate every village like a town."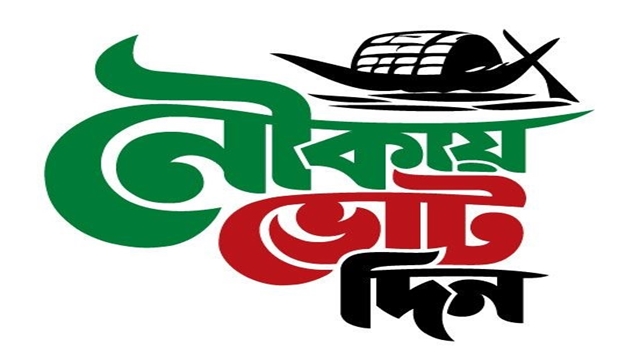 "I'm working untiringly to materialise Bangabandhu's dream and I've firm confidence that we could achieve this goal Insha Allah," she said.
The prime minister said her government has been able to free the nation from the curse of hunger. "Bangladesh will be made a poverty-free country by 2021 and transformed into a developed country by 2041," she said.
Sheikh Hasina said her government adopted the Delta Plan-2100 to turn Bangladesh into a most developed country in the next century and keep up its development spree.
The prime minister said the poverty rate has dropped to 21 percent and "we can call Bangladesh as a poverty-free country if the rate is reduced by 4/5 percent further."
She said Bangladesh has got the recognition of a developing country from the LDC group fulfilling three conditions. "We want to retain this success and take it forward," she said.
Criticising those who do not see Bangladesh's development, Sheikh Hasina said one of the leaders who formed Jatiya Oikyafront said that "Pakistan made more development than Bangladesh."
"He should be sent to Pakistan to see the actual situation in Pakistan," she said, adding Saudi Arabia has given three billion dollars to Pakistan for repaying Islamabad's debt and this is the situation of Pakistan.
"We are not a loan defaulter at all and we're paying loan regularly and we needn't to beg to anybody for repaying credit … despite that if anybody doesn't see our development, we leave the matter to the people," she added.
The prime minister came down heavily on Dr Kamal Hossain for formation of a new alliance with those convicted for corruption, money laundering, 10-truck arms haul and the August 21 grenade attack.
"Those who were vocal against graft and made theoretical comments against it forged unity with corrupt elements," she said.
The prime minister rejected the Jatiya Oikyafront's demand for the resignation of the government and constitution of a neutral government for holding the next election, she said there is an apex court verdict that no unelected government could come to power.
"Despite that how some top lawyers demand for such a government?" she said, adding in whose interest they are making such demands?.
The prime minister criticised them for opposing the use of electronic voting machine (EVM). "The EVM is internationally used and none can rig votes as everybody has smart cards with biometric finger prints," she said.
"So why they are raising objection about the EVM. Do they want election or other things?" she questioned.
Sheikh Hasina said they are making illogical demands to destabilise the country. "They want an abnormal situation in the country," she said.
Ruling out the alliance's allegation that the government is not giving permission to hold rallies, she said they were allowed to hold a rally in Sylhet.
"Much before the rally, they make allegations that the government is not allowing them to arrange meeting … I think they are doing this so that we obstruct them," she said.
In this connection, Sheikh Hasina said she has already given directives to all to allow them to hold as many rallies they want as democracy exists in the country.
"They will deliver speeches as much as they want … none will bar them in this regard," she said.
The prime minister said Begum Khaleda Zia was convicted and sent to jail for embezzlement of orphans' money not for political reason.
She said the BNP government filed a dozen cases against her and the caretaker government lodged 5/6 more cases. "Not a single case was withdrawn and investigation was conducted in every case," she said.
Sheikh Hasina said she had called for probe into the every case and she was interrogated in every case. "The report on every case was submitted after investigation," she said.
The prime minister said the World Bank brought corruption allegation against her regarding the Padma Bridge construction, but the bank could not prove the graft.
Unauthorized use or reproduction of The Finance Today content for commercial purposes is strictly prohibited.