CIB database access: BB spurns securities regulator's request
---
Al Fahad
Published:
2020-02-17 15:51:16 BdST
CIB database access: BB spurns securities regulator's request
---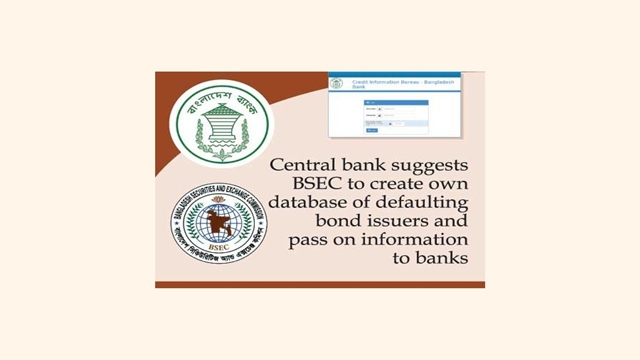 The central bank has refused to grant the securities regulator the access to its database for scrutinising the credit record of individuals or potential bond issuers, officials said.
The Bangladesh Securities and Exchange Commission, or BSEC, sought the access as part of the government's efforts to develop the bond market and arrange long-term financing.
A committee headed by financial institutions division secretary Ashadul Islam has recommended a number of measures, including the issuance of bonds, to raise fund.
The Bangladesh Bank, or BB, said it cannot provide information or grant access to the database of its Credit Information Bureau, or CIB, to anybody except parliament.
The central bank said it has been providing the Commission with the credit record of possible bond issuers from time to time.
Even more, the central bank declined to make available the list investors in bond, debenture and other types of debt instruments.
Besides, it suggested the Commission create its own database and offer the banks and financial institutions access to it to ensure that defaulters of bonds and debentures cannot secure fresh loans.
A senior finance ministry official told the FE that, presently, issuers of bonds and debentures who defaulted on repayment to investors can take out loans easily owing to the absence of reliable information of such debt tools.
He said as an alternative to long-term bank loans, the government is attaching high priority to the development of the stock market and issuance of corporate bonds.
In many countries, bond market is the main supplier of long-term financing since banks are unable to provide long-term investment after taking short-term deposits.
"We want a regulation on the bond issuance so that unscrupulous people cannot get hold of it," he said.
In a study, the International Finance Corporation, or IFC, said Bangladesh's fixed income market remains small and under-developed, despite the economy being set to reach US$274 billion.
It said the country's bond market reached only $16 billion, or 6.0 per cent, of gross domestic product in 2018 while the Indian bond market accounts for 16 per cent of the economic output.
The study identified high taxes, regulatory barriers, unclear project pipeline, poor access to investors, high transaction costs for issuers, and competition with other fixed-income products as constraints.
Unauthorized use or reproduction of The Finance Today content for commercial purposes is strictly prohibited.