Govt to procure Boro rice at Tk 38 per kg
---
Nirmal Barman
Published:
2018-04-08 13:09:45 BdST
Govt to procure Boro rice at Tk 38 per kg
---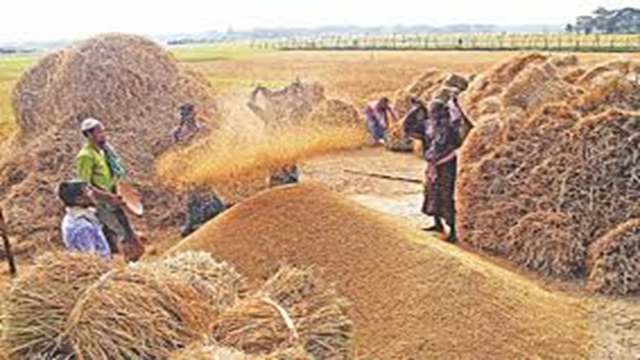 FT ONLINE
The government will procure Boro rice paddy at Tk 26 per kg and rice at Tk 38 per kg during this year's Boro season.
By this measure Boro farmers will receive Tk 2 per kg more than they did last year, while millers will receive Tk 4 more per kg.
Food Minister Md Qamrul Islam said that the government would buy rice and paddy between May 2 and Aug 31 this year.
The government has set a collection target of 1 million metric tonnes of Boro rice and paddies due to the bumper crop this year, Islam said at a press briefing following a meeting of the Food Planning and Monitoring Unit at the Secretariat on Sunday.
The government will procure 800,000 metric tonnes of parboiled rice, 100,000 metric tonnes of Atap rice and 150,000 metric tonnes Boro rice paddies (which would produce 100,000 tonnes of rice).
The production cost of Boro rice was Tk 36 per kg this year and so the government would buy it at Tk 38 per kg, the food minister said. Atap rice will be bought at Tk 37 per kg and Boro rice paddy at Tk 26 per kg.
Last year the government bought 700,000 tonnes of rice paddies at Tk 24 per kg and 800,000 tonnes of rice at Tk 34 per kg. Due to sufficient food reserves the government has reduced its domestic procurement target this year.
Heavy rains, mountain run-off and three rounds of floods devastated last year's Boro crop and forced the government to lower tariffs and import a substantial amount of rice to stabilise the market.
According to the food ministry, the government has 969,000 metric tonnes of rice and 362,000 metric tonnes of wheat in its reserves.
The government will not procure wheat this year due to this year's limited production, the food minister said.
Bangladesh has produced a total of 1.3 million tonnes of wheat this year, he said.
Unauthorized use or reproduction of The Finance Today content for commercial purposes is strictly prohibited.