Economy /
LDC graduation to bring new challenges
---
SAM
Published:
2018-05-13 09:35:38 BdST
LDC graduation to bring new challenges
---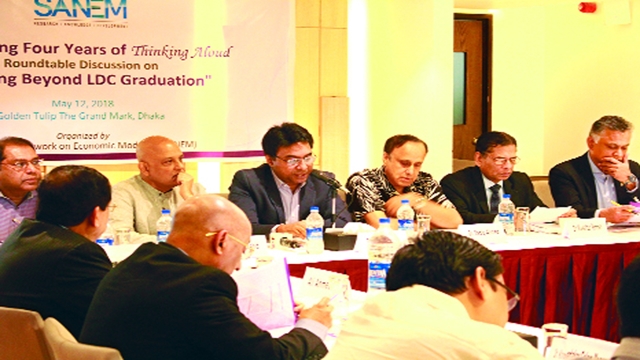 FT ONLINE
LDC graduation might throw Bangladesh into 'double trouble' as the country's preparation for coping with the post-graduation challengers is not satisfactory, economists and businessmen have warned.
They said on Saturday that the double whammy would come in the form increasing the cost of doing business or cost of borrowing while taking away of various market preferences that the country enjoys as an LDC (least developing country).
To avert the unexpected economic shock, they called upon the government to move ahead cautiously as Bangladesh would not be able to get back on the LDC status again like others because of a recent decision that skipped the scope of return for a country having population above 75 million.
They suggested paying attention to the major requirements like enhancing institutional capacity, creating investment-friendly climate, human resources development and attaining the eligibility to get special preferences like GSP-plus and other non-LDC funding options.
At the same time, they demanded positive change in the country's infrastructure investment strategy and suggested the government not only concentrate on big projects but also on smaller projects, which they term low-hanging fruits.
The views came at a roundtable discussion on "Looking beyond LDC graduation," organised by South Asian Network on Economic Modeling (SANEM) at a city hotel to mark fourth anniversary of its publication 'Thinking Aloud'.
Executive director of SANEM Dr. Selim Raihan moderated the function.
Speaking at the event, distinguished fellow of the Centre for Policy Dialogue (CPD) Professor Mustafizur Rahman said with the graduation to lower middle income country, Bangladesh is moving from concessional finance to blended finance and the country by 2024 will go into non-concessional finance once it completely graduates from LDC status.
"That means cost of doing business or cost of borrowing is increasing on the one hand. We're losing market preferences, on the other. It indicates that we are moving towards double trouble," he said.
Professor Rahman said that Bangladesh needs to do well to cope with the challenges and go for proper utilisation of funding opportunities even in the blended financing regime.
He said many countries and global financial institutions used to tie up with the private sector in non-LDC through equity or debt participation, which creates a window of opportunities.
"Simultaneously, non-LDCs are getting special treatments like 15 per cent tariff reduction from the developed economies. We need to use such opportunities properly," he added.
Syed Nasim Manzur, managing director of Apex Footwear Limited, said that higher ratings for investment also entail higher cost and the graduation will phase out the access to low-cost ODA fund. "So, it (the graduation) will come not only with increased costs but also with increased burden," he said.
About the erosion of market preferences, he said the remedy lies in GSP plus that comes with conditions like better labour and environmental standards. "The private sector is not ready to cope with this," he said.
Terming lead time in the manufacturing sector a major concern for businesses, Mr. Manzur said that the current minimum lead time in Bangladesh is 102 days, of which 21 days are being used for production while the remaining days spent on logistics in and out.
"Sudden hike in interest rate by 3.5 per cent creates another burden for the private sector, which leads to job cut as cost-cutting method. So how can you do business with such conditions?" he asked.
Talking about the country's infrastructure investment strategy, he said it largely focused on big projects but not on what he called low-hanging fruits, which badly affect the business and investment.
Dr. Sadiq Ahmed, vice chairman of the local think-tank Policy Research Institute (PRI) of Bangladesh, laid emphasis on thorough reform of the revenue board and the country's banking and educational system to make the country capable of dealing with the challenges.
"We need such a revenue board where there will be no interaction between taxpayers and revenue officials, he said, underlining the importance on implementing the new VAT law.
Terming the graduation a good thing for the nation, he said the government took long-term plan to reach the goal. "Has the government enough political will and administrative strength to handle the transition. That's a question," he said.
Director general of Bangladesh Institute of Development Studies (BIDS) Dr. KAS Murshid said the country successfully attained MDGs (millennium development goals) target. "But time has come we focused on quality than the number to make things sustainable. We also need to make the economic zones functional and create a basket of a bunch of diversified products." he added.
The speakers also highlighted the need for qualitative education to convert demographic dividend into resources not demographic disaster.
CPD research director Dr. Khondaker Golam Moazzem and BIDS senior research fellow Dr. Nazneem Ahmed, among others, spoke on the occasion.
Unauthorized use or reproduction of The Finance Today content for commercial purposes is strictly prohibited.