Boro procurement far from target
---
Siyam Hoque
Published:
2020-06-06 09:00:30 BdST
Boro procurement far from target
---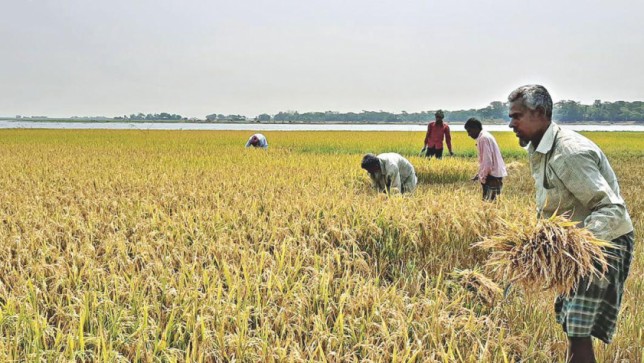 Around a month has passed since programmes to procure Boro paddy and rice began, but the government has been able to buy a very insignificant quantity against its target this year, raising concerns that efforts to provide food to the poor amid the Covid-19 crisis might suffer a setback without adequate stock.
Until Wednesday, the Directorate General of Food (DGF) purchased only 7,750 tonnes of Boro paddy from farmers, which is less than one percent of the target of 800,000 tonnes.
The drive, which began on April 26, would end on August 31.
Besides, the food office could procure only six percent of the target of 10 lakh tonnes of parboiled rice from millers after the drive was launched on May 7 to build a healthy public food stock and allow farmers to get fair prices for their main crop.
Food officials said farmers are interested in selling their produce in the market as prices there are higher this year compared to the previous one.
Also, they were opting not to supply the crop to public warehouses as the government does not buy paddy having over 14 percent moisture. While selling the paddy in the market, farmers do not have to remain bothered about the moisture issue, they said.
Rainfall, Cyclone Amphan and Eid holidays are also to blame, they added.
In the face of the sluggish procurement pace, the DGF, in a letter last week, directed its field offices to strengthen the purchase efforts to maintain a sound food stock at public warehouses.
It said the government this year fixed its highest ever paddy procurement target -- double of the last year's Boro paddy purchase -- apart from buying parboiled and sunburn rice, but the expected procurement speed has not been achieved yet.
"It is not desirable at all," DGF Director General Sarwar Mahmud said in the letter.
The directive came at a time when the public food stock is declining owing to increased distribution of rice and wheat flour among low-income, poor and vulnerable people to protect them from hunger during the days of Covid-19 crisis.
The pandemic has left thousands of people in trouble, either cutting their wages or leaving them unemployed. The recent Cyclone Amphan also made the situation worse for many.
The government's food distribution under various schemes such as Gratuitous Relief, special Open Market Sale (OMS), food friendly programme to support the poor rose 12 percent year-on-year to 24.50 lakh tonnes between May 21 and July 1 this fiscal year from a year ago.
And the food stock at the state godowns dropped to 11.33 lakh tonnes on June 3, down 16 percent from the same day a year ago. The stock of staple food rice declined 29 percent year-on-year to 800,000 tonnes on June 3, shows food ministry data.
The DGF has a capacity of storing 19.5 lakh tonnes of food.
In the letter, the DGF directed its field offices to gear-up efforts to achieve previously-set target of buying 60 percent of the Boro paddy by June, 90 percent by July and 100 percent within mid August before the drive would end. It fixed the target last month and asked field offices to work to achieve the targets.
Besides, the government is going to increase food-based safety net operations the next fiscal year, according to finance ministry.
Talking on the matter, Akhter Ahmed, country representative of International Food Policy Research Institute (IFPRI), said the stock was set to decline further as the government would distribute more. So, replenishment of stock has become important, he said.
"Because of the Covid-19 crisis, maintenance of a good stock is vital this year compared to the past years as distribution has to increase to ensure food to the poor, including those who lost their livelihoods due to Covid-19," he said.
"Without a good stock, food-based safety operations would be affected. Besides, we saw in 2008 that private sector hiked prices of rice, taking the advantage of low stocks at public godowns," Akhter said.
Contacted, DGF Chief Sarwar said the government does not procure only to build stock.
"One of the main goals is to ensure fair prices to growers. Market has been buoyant this year. Farmers are getting better prices for their produce. They are not incurring losses. This is the target of the government," he said.
It has been possible to achieve the objective due to government declaration on buying higher quantity of paddy, he said.
Sarwar said millers were purchasing higher quantity of paddy assuming that because of the government purchase, they might not get enough grain later to supply rice to the public storages in line with their contracts with the DGF.
Department of Agricultural Marketing data shows prices of coarse paddy rose 51 percent year-on-year to Tk 770 each maund on June 3 this year from a year ago. Market prices are, however, below the government's purchase prices of Tk 1,040 for each maund.
He said rains began early this year. And owing to rainfall and Cyclone Amphan, paddy has higher moisture. "We cannot procure when moisture level remains high in grains," he said adding that paddy supply to markets and local food storage depots would increase if farmers could dry paddy for some days.
IFPRI's Akhter said the government should buy paddy from growers even if moisture levels were higher than the officially-fixed highest limit of 14 percent. And prices of paddy could be determined based on conversion factors suggested by the IFPRI, he said.
In a recent study commissioned by the Ministry of Agriculture, the IFPRI said farmers' paddy usually has high level of moisture. It is difficult for them to dry paddy and then sell it to the food department by ensuring the required moisture level.
"Therefore, the procurement price would be adjusted based on the moisture of farmers' paddy," it said, adding that paddy with higher moisture contents could be given at relatively lower prices.
MA Sattar Mandal, former vice chancellor of Bangladesh Agricultural University, said the government should focus on building enough stock of food, particularly this year.
He said it should buy 20 lakh tonnes of paddy from farmers. And it should have started the purchase early, he added.
Akhter suggested the government buy rice from the domestic market through open tender in case the target is not achieved. Purchase from international market is time consuming, he added.
Unauthorized use or reproduction of The Finance Today content for commercial purposes is strictly prohibited.