Rice yield may fall 0.8m tonnes as experts fear price-hike
---
Staff Correspondent
Published:
2021-12-12 17:28:23 BdST
Rice yield may fall 0.8m tonnes as experts fear price-hike
---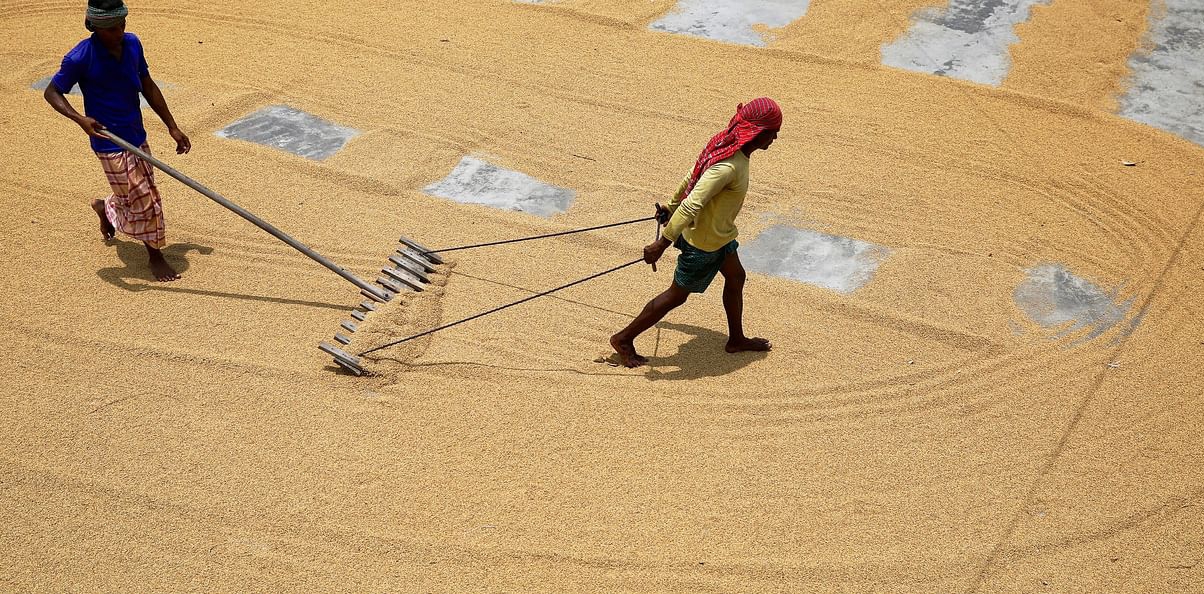 Rice production in Bangladesh is likely to decline notably by 0.8 million tonnes in the current fiscal year, triggering fear of a further surge in the already higher staple prices.
The United States Department of Agriculture (USDA)'s November grain forecast for FY 2021-22 shows Bangladesh's rice output may be 35.5-million tonnes this year amid a poor harvest in Aus season.
The primary estimates of the Bangladesh Bureau of Statistics (BBS) showed rice output was above 36.3-million tonnes in FY21.
Taking into account the latest USDA forecast, rice yield might fall by 0.8-million tonnes in FY22 here.
For marketing year (MY) 2021-22, rice production in Bangladesh may be 35.5-million tonnes on 11.42-million hectares which are 2.2 per cent and 2.1 per cent respectively lower than the USDA's official forecast earlier, according to the latest USDA report.
However, agriculture ministry has set a target of 38.4-million tonnes of rice output for FY22.
A DAE field service wing official said Aus production was static but per-hectare Aman yield has increased, thanks to the absence of any major natural disaster.
The Aman output target of 15-million tonnes could easily be achieved this year, he said.
"It's too early to forecast Boro output for FY22 as farmers are yet to prepare seedbeds," says the official.
Meanwhile, the USDA report said Aus rice was harvested in July and August 2021 while the rice area was 12.4 per cent lower than the DAE's target.
Aus rice is rain-fed and many farmers were not able to plant due to late monsoon during the planting period, resulting in lower harvested area and production of only 2.55-million tonnes this season.
The report also forecasts 19.35-million tonnes output in Boro and 13.6 million tonnes of rice production in Aman season in FY22.
"If production falls, rice market might be volatile again in the absence of import," fears farm economist and value-chain expert Prof Golam Hafeez Kennedy.
Rice prices has started increasing even during this Aman harvest season as coarse rice varieties are selling at Tk 42-50 a kg across the country, he says.
"A decline in output might make the condition worst further," Mr Kennedy predicts.
He suggests that the BBS release authentic data on Aus-Aman rice yield quickly so food ministry can implement a timely import policy with the end of December.
Prices of most rice varieties have increased in the city in the past two weeks, although the ongoing Aman harvesting season has reached its peak.
However, retail prices of seasonal coarse varieties, including Guti Swarna, Swarna-5, BR-11 and hybrids rose by Tk 2.0-3.0 a kg in a week as sold at Tk 48-50 a kg in city markets and Tk 39-42 at mill gates.
Prices of medium and finer quality rice increased by Tk 3.0 per kg during the period and sold at Tk 56-78 a kg at retail level on Friday.
Medium-quality rice BRRI Dhan-28 sold at Tk 55-56, finer Miniket at Tk 64-68 and Najirshail at Tk 70-78 a kg at groceries.
Trading sources say the current rice prices are 8.0-10 per cent higher than that of a year ago.
Consumers Association of Bangladesh secretary Humayun Kabir Bhuiyan said coarse rice price has reached Tk 50 a kg in Dhaka city amid the peak Aman harvesting and marketing season.
An effective market watch aside, Mr Kennedy suggests the government facilitate import if it seems that Aman rice production is going to decline.
However, 0.85-million tonnes of rice have been imported during the July-November period of this fiscal year, including the government's 0.5-million tonnes.
Rice import by the private sector has remained restricted since November 01 with an eye to keeping the Aman paddy market vibrant for farmers, say officials.
Food directorate data shows public food storage now stands at 1.57-million tonnes, including 1.3-million tonnes of rice.
Public rice procurement shows a slow pace this Aman season as only 76,000 tonnes of grain could be bought in the first six weeks amid high costs of both rice and paddy when the total purchase target has been set at 0.8-million tonnes within February 28.
Unauthorized use or reproduction of The Finance Today content for commercial purposes is strictly prohibited.