Farmers make profit from Aman sale
---
Staff Correspondent
Published:
2022-11-19 20:17:56 BdST
Farmers make profit from Aman sale
---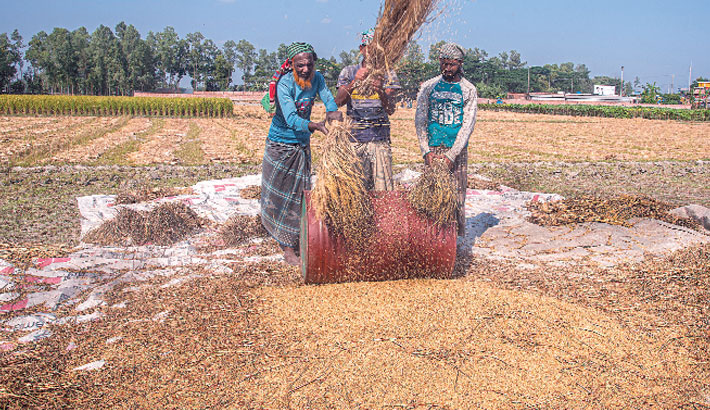 Farmers are making some profit from selling their Aman paddy produce as the price is relatively higher during the current harvesting season.
According to farmers and other sources familiar with the market, the farmers in Nilphamari, Dinajpur, Rangpur, Rajshahi and other areas are selling their new produce at Tk 1200-1350 per maund (40 kg).
A kilogram of paddy was being sold at Tk 30-33 at the grower's end on Wednesday which is Tk 2-3 higher than the production cost.
"Per kg Aman cultivation cost went around Tk 28 this season due to higher input costs but we get profit after selling the paddy," said Shuja Ud Dowla, a farmer from Ramnagar union in Nilphamari Sadar.
"I cultivated Aman paddy on eight bighas of land and completed the harvesting of four bighas. We have to depend on irrigation due to low rainfall this year. For this, the production cost was higher," he said.
The price of paddy was lower during the previous harvesting season but this time the farmers get good prices earning them profit, he added.
Shahjahan Sarker, another farmer from Pakerhat of Khansama Upazila of Dinajpur, said, "I have sold newly harvested Guti Swarna (variety of paddy) at Tk 1250 per mound (40 kg)."
"I bought around 40 mounds of paddy to the local market where all of my paddies were sold within two to three hours amid high demand," he said.
He also expressed hope that he will be able to gain a higher profit after selling all of his paddies as price is higher at the grower's level this year.
Many farmers would not sell paddy now while small farmers are also storing paddy on a large scale sensing any possible food scarcity, said local sources.
Representatives of millers and their allied traders are hunting paddy even from the farmers' fields due to a surge in the price.
Badal Chandra Biswas, additional director (Monitoring and Implementation) of the Field Service Wing at the Department of Agriculture Extension (DAE), said that around 21 percent of Aman harvesting has been completed till Thursday across the country.
"Harvesting of Aman is continuing in full swing across the country with a hope to bumper production. The total production of the Aman paddy may hit 1.63 crore tonnes this year," he said.
Aman is the second-highest cereal crop produced in Bangladesh after Boro. It is grown in the country during the rainy season. The country's 37 percent of rice production has come from Aman while the rest of the 63 percent are from Boro and Aus.
Increases in rice prices in the country forced the government to import higher amounts of rice to stabilise the local rice market.
The government wants to produce additional rice by increasing the acreage under cultivation and increasing the cultivation of high-yielding paddy to decrease the import dependency, said officials of the Department of Agriculture Extension (DAE).
The production of Aman was 1.50 crore tonnes from 59.05 lakh hectares of land in the fiscal year 2021-22.
The DAE has projected to produce 1.63 crore tonnes of paddy from 59.06 lakh hectares of land in the FY2022-23 but the acreage of Aman paddy increased to 59.233 lakh hectares of land.
The government has provided hybrid seeds to farmers to produce more rice. The total hybrid acreage has increased to 3.467 lakh hectares in the current season while it was 2.971 lakh hectares in the previous year.
Aman season rice is planted in July and August and harvested in November and December.
Unauthorized use or reproduction of The Finance Today content for commercial purposes is strictly prohibited.