Bank /
Banks, financial institutions asked to initiate process to recover default loans
---
FT Online
Published:
2019-07-08 15:11:05 BdST
Banks, financial institutions asked to initiate process to recover default loans
---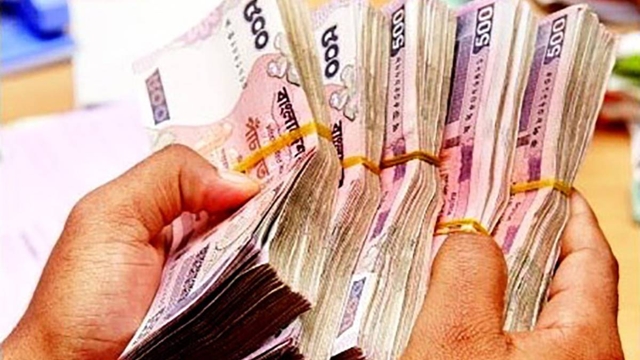 The government has directed the specialised banks and financial institutions to work out their plans to recover money from all loan defaulters.
The Financial Institution Division of the Finance Ministry has recently given this directive to the banks while holding a meeting with the top executives of the specialised banks.
According to sources at the Financial Institution Division, the top executives of Bangladesh Krishi Bank, Karmasangsthan Bank (Employment Bank), Ansar VDP Bank, Rajshahi Krishi Unnayan Bank, Bangladesh House Building Finance Corporation, Prabashi Kalyan Bank, Investment Corporation of Bangladesh (ICB) and Palli Sanchay Bank were present at the meeting.
The meeting asked the specialised banks and financial institutions to increase their rate of recovery from the written-off loans and take effective steps for disposing of audit objections.
The amount of written-off loans in the eight specialised banks is Tk 621 crore, with Bangladesh Krishi Bank being at the top with Tk 221 crore.
The amount of ICB's written-off loan is Tk 263 crore followed by Tk 222 crore of Bangladesh Krishi Bank and Tk 127 crore of Rajshahi Krishi Unnayan Bank.
Besides, the amount of money involving audit objections in these eight banks is Tk 10,924 crore.
The meeting also placed an outline for the specialised banks and financial institutions for realising money from their classified and non-classified loans.
It said the Bangladesh Krishi Bank realised Tk 1489 crore less from its target while realising money from default and normal loans. The amount is Tk 457 crore less at Palli Sanchay Bank while Tk 125 crore at Rajshahi Krishi Unnayan Bank, Tk 99 crore at Ansar VDP Bank, Tk 220 crore at Bangladesh House Building Finance Corporation and Tk 761 crore for the ICB.
The meeting was informed that the number of internal and commercial audit objections of the Bangladesh Krishi Bank is 6,668 which involves Tk 6,854 crore.
The amount of money at Rajshahi Krishi Unnayan Bank is Tk 1,763 crore against 4,022 audit objections.
The amount of money against audit objections of ICB is Tk 1,680 crore while that of Bangladesh House Building Finance Corporation Tk 315 crore, Prabashi Kalyan Bank Tk 188 crore, Ansar VDP Bank Tk 83 crore and Karmasangsthan Bank Tk 40 crore, according to the sources.
Meanwhile, Finance Minister AHM Mustafa Kamal recently placed in Parliament a list of 300 top loan defaulters of the country involving Tk 50,942 crore.
He said these loan defaulters took loans from all banks and financial institutions of the public and private sectors.
Mustafa Kamal mentioned that the outstanding amount of these loan defaulters is Tk 70,571 crore while the classified amount is Tk 52,837 crore.
The top 10 defaulters on the list are Samannaz Super Oil Ltd (Tk 1,049 crore), Galaxy Sweater and Yarn Dyeing Ltd (Tk 984 crore), Rimex Footwear Ltd (Tk 976 crore), Quantum Power Systems Ltd (Tk 828 crore), Maheen Enterprise Ltd (Tk 825 crore), Rupali Composite Leather Wear Ltd (Tk 798 crore), Crescent Leather Products Ltd (Tk 776 crore), SA Oil Refinery Ltd (Tk 707 crore), Suprov Composite Knit Ltd (Tk 610 crore) and Grameen Shakti (Tk 601 crore).
Mustafa Kamal also disclosed a list of borrowers who took more than Tk 5 crore from all banks, having outstanding amount of 5 crore and bellow.
The list shows that some 14,617 individuals and institutions took loans of Tk 1,741,348 crore since 2009 while Tk 100,183 crore got defaulted.
The Finance Minister said the number of loan defaulters in September 2015 was 111,954 involving Tk 59,105 crore while it increased to 170,390 with Tk 102,315.19 crore in December 2018.
Kamal also said state-owned commercial and specialised banks waived the interest to the tune of Tk 1198.24 crore last year against 6163 loans.
Agrani Bank Ltd waived the highest amount of Tk 494 crore against 2008 loans while Bangladesh Krishi Bank Tk 435 crore against 66 loans, Rupali Bank Ltd Tk 134 crore against 203 loans, Sonali Bank Ltd Tk 73 crore against 14 loans, Janata Bank Ltd Tk 54 crore against 2473 loans, Rajshahi Krishi Unnayan Bank Tk 4.35 crore against 1380 loans and BASIC Bank Ltd waived Tk 1.69 crore against 19 loans.
Bangladesh Development Bank did not waive any interest during the period.
Unauthorized use or reproduction of The Finance Today content for commercial purposes is strictly prohibited.