Business /
Online mango business in Rajshahi fetches around Tk 9cr
---
SAMI
Published:
2020-09-09 17:38:06 BdST
Online mango business in Rajshahi fetches around Tk 9cr
---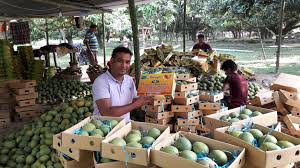 Online entrepreneurs have fetched around Taka nine crore through mango business which is now on the ending stage after around three months long of its hectic trading.
Scores of young entrepreneurs were seen humming towards online mango business since beginning of the season and done their business almost successfully amidst massive response from the service-receivers.
This year's target had been set of trading mangoes worth around Taka 700 crore and the target had been fulfilled. A massive response has also been witnessed in the online mango business, according to the Department of Agriculture Extension (DAE).
DAE Deputy Director Shamsul Haque said the entrepreneurs who were involved in the online mango business most of them are students of different colleges and universities. Each of them were seen selling 20 to25 mounds of mangoes everyday on an average.
This season, mango harvesting season had emerged as a way of income source for many students as the present coronavirus pandemic situation forced the authorities to close the educational institutions.
Fortunately, mango has become a blessing for the students in the region. The students of schools, colleges and universities were seen engaged in mango plucking, transportation, segregation and packaging with much interest. Many of them were involved in online-based mango trading directly by best uses of information and communications technologies.
Entrepreneur Abdus Salam said he had done an online mango business side by side with his academic studies.
He gathered some best experiences side by side with some bad ones in the business and has a bigger plan to expand the business after utilization of the experiences in next season.
Hundreds of young entrepreneurs were involved in the online mango business. After getting online orders, they plucked mango from the orchards, packaged on the spot and finally sent those to the clients in various destinations including the capital Dhaka and port city Chattogram through courier services.
Manu Mohan Bappa, a student of the Department of Fine Arts in Rajshahi University, had operated the online mango business successfully from his village home at Rahanpur in Chapainawabganj since the season began.
Through his Facebook page 'Rainbow Mango Station', he has sold around 600 maunds of Gopal Bhog and Khirsapat mango varieties to different parts of the country this season.
Bappa said they have mango orchards on around 100 bighas of land. In addition to this, they have bought orchards with 600 trees of Khirsapat and Langra mangoes.
He said mangoes were sold through about 50 online mangos selling Facebook pages only in Rahanpur. Mangoes were sold through displaying live on Facebook, Messenger, Imo and WhatsApp. Abu Sayem, a mango farmer of Sagaril village in Chapainawabganj, said they have about 100 mango trees and have sold mangoes to traders from the garden online. They got good prices and could save on transportation costs.
Sudhendra Nath Roy, additional director of the Department of Agriculture Extension (DAE), said there are more than 2.60 lakh mango growers and orchard owners in the region.
Around 1.30 lakh people are engaged in various activities related to mango harvesting, segregating, packaging, transporting and marketing.
He added that the DAE had set a target of harvesting around ten lakh tonnes of mangoes from 80,360 hectares of land in the region this season while last year's production was 8,31,940 tonnes from 72,909 hectares of land.
Unauthorized use or reproduction of The Finance Today content for commercial purposes is strictly prohibited.