Protection and Resilience is Fundamental for the Climate Displaced
---
SAM
Published:
2018-06-30 10:52:42 BdST
Climate Disaster Displacement is the priority in two Global Compact preparations by UN 2018Protection and Resilience is Fundamental for the Climate Displaced
---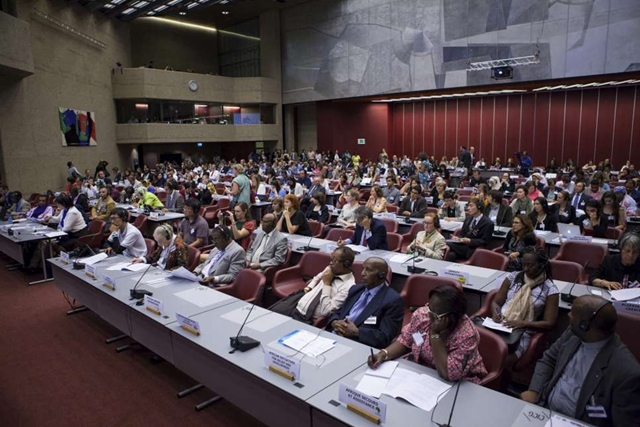 FT ONLINE
Speakers in a side event pleaded for Right based protection framework and adaptation based resilience as the fundamental need for climate displaced people.
Today UNHCR organized this side event in UNHCR NGO Annual Consultation in the international conference center of Geneva. The side event was moderated by Atle Soleberg, Head of Coordination Unit, Platform on Disaster Displacement (PDD) a state-led body, where Bangladesh is the current chair.
Other speakers of the session included Madeline Garlick, Head of Protection, Policy and Legal Advice Section, DIP, UNHCR, Kristen Hite, Policy Advisor of Oxfam International, Nina M Birkeland, Senior Advisor of Norwegian Refugee Council (NRC), Chirrine El Labbane, Communication Officer of PDD, Gopal Krishna Shiwakoti, President INHUREDD Nepal, and Rezaul Karim Chowdhury, Executive Director of COAST.
Madeline Garlick in her introduction remarks said, UNHCR is giving importance to climate displacement issue as this is a priority agenda in their protection framework. With the resolution from 2016 New York summit especially UNHCR and IoM are coordinating the preparation on the Global Compact of Refugee and Global Compact on Migration, where the issue got due importance especially for protection.
Atle Soleberg of PDD said that the issue might be complex. There might be hope and despair in respect of adaptation, mitigation and financing, but there are examples of adaptation in countries and strong concern from global political leaders as PDD is advancing the agenda.
Nina M Brikeland of NRC mentioned about two tools i.e. the Nansen Protection Agenda and Sendai Framework on DRR. Based on these tools NRC has prepared a guide book for the states on preparing local level resilience.
Kristen Hite of Oxfam International mentioned that present scenario of carbon emission and temperature raise is not much infamous for containing the risk ahead. There is a need of planning how to face incoming disaster. There should not be any confusion that climate change is one the major driver of displacement. She mentioned that people in developed countries are in five time's higher risk of being displaced due to disaster in comparison to the people of developed countries.
Gopal Krishna Shiakwoti from INHURRD Nepal said that there are climate change impact and slow melting in Nepal. Even Militarization and Securitization of border are hardly able to stop migration. So, it should be facilitated. in fact, protectionism and "xenophobia" at the end will hardly work.
Rezaul Karim Chowdhury of COAST Trust Bangladesh said that now Rohingya refugees are also facing climate disaster. And in response to that funding is quite low for that.
"42% of population in Bangladesh will be climate displaced. Although the country is an innocent victim of climate impact, it is investing around $ 1 billion per year for adaptation having a very little from international assistance on it," he added.
He expressed worried on two global compacts in the preparation by UN for not having legal binding instead of the moral obligation for the global leaders.
Unauthorized use or reproduction of The Finance Today content for commercial purposes is strictly prohibited.