Reduce cost, ensure accountability & partnering with local org
---
sam
Published:
2018-03-03 12:59:09 BdST
Urging UN agencies and INGOs to fulfill International Commitments in Rohingya ReliefReduce cost, ensure accountability & partnering with local org
---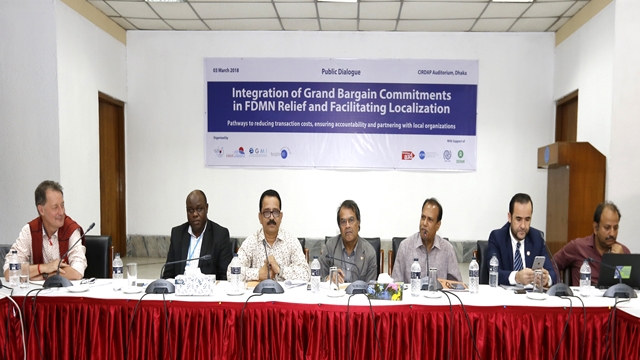 FT ONLINE
UN agencies and INGOs (international non-government organizations) to follow what they have commitment in Grand Bargain (GB) have held in Istanbul 2016 and Charter 4 Change, in respect of Rohingya relief, and to go for gradual reduction of transaction cost, ensuring transparency and accountability toward local authorities and to be partnering with local NGOs; Some exparts from country & abroad urgued that in a dialogue held in city today.
The dialogue named "Integrating Grand Bargain Commitments in FDMN (Forcibly Displaced Myanmar National) Relief and Facilitating Localization" have held in CIRDAP auditorium, organized by COAST and CCNF (Cox's Bazar CSO NGO Forum).
The dialogue was moderated by Abu Morshed Chowdhury the Co-Chair CCNF and Executive Director PHALS and Rezaul Karim Chowdhury another one Co-Chair of CCNF and Executive Director COAST.
The dialogue was chaired by Dr Helal Uddin; Director NGO Affairs Bureau; Guest of Honor was Mr Abdus Sattar; Deputy Chief of IoM (International Office of Migration), Mr Vincent Gule from UNHCR (United Nation High Commission for Refugees).
Among the panel speakers were, Shaheen Anam of 'Manusher Jonno Foundation', Nayeem Wahara; Disaster Forum, MB Akhter; Oxfam, AKM Musha; Concern World Wide, Shakeeb Nabi; Christian Aid, Henry Glorieux and Lane Krainyk; UN RC Office, Mr Arash; Canadian Embassy, Ms Suranga; from ECHO , Jeroen Steeghs; Netherland Embassy and Omar Faruque DFID.
Key note presentations were given by Kooenrad Van Brabant from GMI / Navigation 360 and Mujibul Haque Munir of COAST, who did a study in Rohingya Relief on how much of GB commitments, is being implemented.
There are several criticisms in respect of high dependency on international experts, ignorance to the local capacity, high level of cost, limitations in coordination, staff poaching from local NGOs, little recognition to the effort of local partner NGOs, little importance to the local eco system.
They urged there should be legacy planning in this regard, more leadership from local authorities in coordination level and responsive to the compensation to the host community and ecological disasters. They have urged integration of GB commitment in coming Joint Response Planning (JRP) so that there will accountable and sustainable response to the Rohingya relief.
Saheen Anam of MJF said that Bangaldeshi NGOs has more capacity to manage humanitarian and development they hardly need of international expatriate.
Abdus Sattar of IoM said that now there ISCG (Inter Sectorial Coordination Group) and SEG (Strategic Executive Group) is taking shape in a complex situation so that there will be more responsiveness, efficiency and effectiveness.
Vincent Gule UNHCR said that they want to see the localization taking place.
AKM Musha said all local NGOs should have separate humanitarian departments.
Shakeeb Nabi from Christian Aid said that, ecological disaster and affected population from the host community has to be taken care of now.
MB Akhter of Oxfam said that, local NGOs have to come with capacity and commitment; they are in the process of capacity development.
Dr Helal Uddin said that, local NGOs have to be supported for sustainability and accountability of the work.
Unauthorized use or reproduction of The Finance Today content for commercial purposes is strictly prohibited.