Economy /
Export earnings collapse by 1.38pc in March
---
SAM
Published:
2018-04-04 10:12:04 BdST
Export earnings collapse by 1.38pc in March
---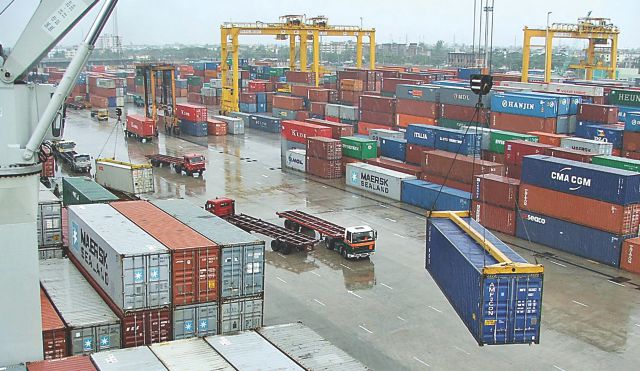 FT ONLINE
The country's export earnings in March dropped by 1.38 per cent to $3.05 billion, compared to the corresponding month of last calendar year, according to officials data released on Tuesday.
In March 2017, the export earnings were $3.09 billion. The earnings in March this year also fell short of target by 3.19 per cent, it showed.
The overall export earnings in the first nine months of the current fiscal year 2017-18, however, stood at $27.45 billion, marking a 6.33 per cent growth.
The country fetched $25.81billion in the corresponding period of last fiscal.
Earnings from readymade garments (RMG) export during the nine-month period stood at $22.83 billion, marking a 9.11 per cent growth over the corresponding period of the FY 2016-17.
Export earnings from woven items grew by 6.75 per cent to $11.51 billion from $10.78 billion in the same period of the last fiscal.
The knitwear export stood at $11.32 billion during the period, marking an 11.61 per cent growth, as against $10.14 billion in the same period of the FY17.
Woven and knitwear items' export earnings exceeded the target by 4.03 per cent and 2.03 per cent respectively.
Terming the RMG growth 'good', Faruque Hassan, senior vice-president of Bangladesh Garment Manufacturers and Exporters Association (BGMEA), said growth can vary from month to month, depending on various issues, including shipment.
He, however, stressed the need for policy supports from the government, including lowering the bank interest rate. He also called on entrepreneurs to go for value-added diversified items and enhance efficiency and productivity to be competitive in the international market.
Export earnings from jute and jute goods in the first nine months of the current fiscal increased by 11.91 per cent to $818.09 million from $731.02 million.
Agricultural products registered a 15.46 per cent growth with earnings of $472.23 million in the same period of the FY18.
Export earnings from home textile during the period grew by 15.08 per cent to $669.87 million.
Exports of leather and leather products witnessed a negative growth of 8.04 per cent to $848.78 million, compared to $922.96 million in the same period of the FY17.
Exports of leather footwear, however, increased by 6.20 per cent to $425.33 million during the period.
Exports of frozen and live fish stood at $ 407.71 million, marking 6.57 per cent growth during the July-March period of current fiscal year.
Unauthorized use or reproduction of The Finance Today content for commercial purposes is strictly prohibited.