Economy /
Industrial loans disbursement increases, recovery declines
---
Mehedi Hasan
Published:
2021-12-07 19:04:27 BdST
Most borrowers have lost their ability to repay the loansIndustrial loans disbursement increases, recovery declines
---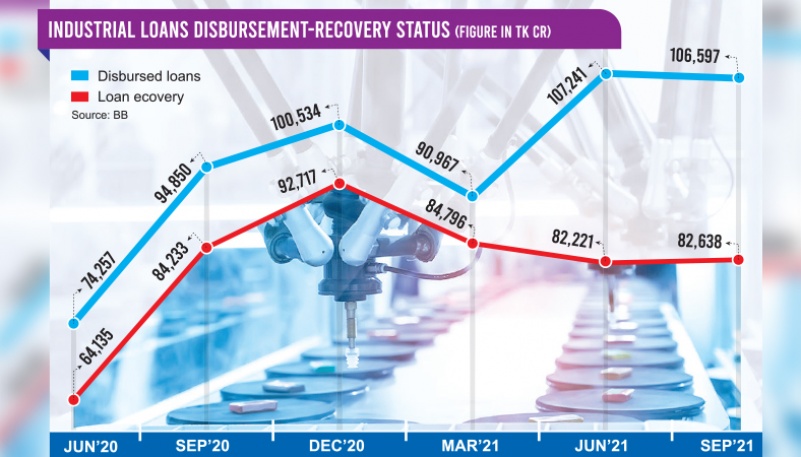 Although industrial loans disbursement rose in Q3, the recovery rate fell as borrowers are enjoying a moratorium on instalments but economists warn that bad loans could pile up after the facility expires.
Disbursement rose 12.39 percent in the third quarter compared to the same period last year but recovery fell by 1.89 percent.
Businesses and corporations take industrial loans to meet their short-term and long-term financial needs, such as funding capital expenditure and business expansion.
Disbursement of industrial loans in the July-September period stood at Tk 1,06,596.82 crore, up from at Tk 94,849.66 crore in the same period last year, Bangladesh Bank data show.
However, disbursement was down only 0.6 per cent in this quarter compared to the previous quarter of this year.
During the July-September period, industrial loans recovery stood at Tk 82,637.79 crore, down from Tk 84,232.76 crore last year, BB data showed.
The demand for industrial credit is rising as the country's economy has reopened and is going back to the pre-pandemic level, said Dhaka Bank's Managing Director and CEO Emranul Huq.
"We are optimistic that the trend will continue in the coming days as businesses started to expand their industries," he said.
Investment in new industries and industrial expansion have started after the Covid-19 blow, said Mati ul Hasan, Additional Managing Director of Mercantile Bank.
The increasing trend of import payment is another indicator that the industrial sector has recovered from the Covid-19 blow and started to expand, he added.
The settlement of letters of credit, also known as actual import payments, during the July-October period increased 51.33 per cent year on year to $23.37 billion, BB data show.
Of them, import of industrial raw materials and capital machinery rose by 49.15 percent and 25.69 percent during the period.
Mati ul Hasan said loans recovery was expected to decrease this quarter as clients were enjoying payment holidays, which will end on December 31.
Throughout last year, borrowers enjoyed the loans moratorium facility announced by the central bank. This year, the facility is being provided on condition.
At the same time, it is a reality that most borrowers have lost their ability to repay the loans, he said.
The country's banks generally disburse two types of loans to the industrial sector – industrial term loans and industrial working capital loans.
Meanwhile, the disbursement of industrial term loans fell 4.02 percent to Tk 14,834.23 crore while the working capital loans rose by 15.58 percent to Tk 91,762.59 crore in the third quarter of this year.
Industrial credit disbursement is increasing due to the reopening of the economy after the Covid-19 blow, said Ahsan H Mansur, executive director of the Policy Research Institute of Bangladesh.
Industrial loans will increase in the upcoming days and bad loans will also increase after this month as payment holidays will end on December 31, said Mansur, also the Chairman of Brac Bank.
The economist said that loans recovery is slow now and will impact banks' profits.
Recovery of industrial term loans rose by 14.64 percent to Tk 12,979.47 crore, while recovery of working capital loans down 4.46 percent to Tk 69,658.32 crore in the July-September quarter of this year.
Unauthorized use or reproduction of The Finance Today content for commercial purposes is strictly prohibited.