Economy /
Govt to launch fresh offshore bidding round in December
---
Shamim Jahangir
Published:
2022-08-09 22:39:48 BdST
Govt to launch fresh offshore bidding round in December
---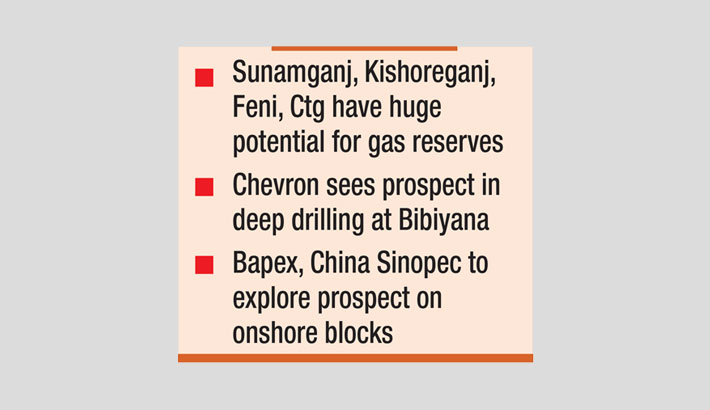 The government will invite the offshore bidding round 2022 in December to explore oil and gas in the Bay of Bengal.
Petrobangla Chairman Nazmul Ahsan disclosed the plan in an exclusive interview.
"We have already assigned an international consultant, Wood Mackenzie, to review the existing model production sharing contract (PSC). We have asked them to submit a report by September on the prospect of gas discovery," he said.
We will launch the offshore bidding by December after necessary consultations based on the findings of the report, the Petrobangla chief said.
He said the PSC will be reviewed by evaluating the upper limit and lower limit of gas tariffs placed by Myanmar, Thailand and India.
"We have a huge prospect of natural gas reserve in the offshore blocks in the Bay."
He said the government is planning to explore oil and gas in 24 blocks. Currently, Indian Oil and Natural Gas Corporation (ONGC) is working on two blocks on offshore blocks.
"In the south, we have the gas prospect. Unfortunately, we do not have much prospect at Kanchan in Moheskhali. The Indian company is hopeful of new prospects in the Titly well during the upcoming dry season," he said.
ONGC has already invested Tk 1.75 billion at Kanchan. "They are hopeful of recovering the investment from the new well at Titly," he said.
He also noted that state-owned BAPEX does not have the capacity to explore the offshore wells.
But we will fix 10 percent carried over share to BAPEX in the next PSC, he added.
'Not a single international oil company has shown interest to explore our areas under existing PSC so far,' he said expressing disappointment.
Talking about Petrobangla and its challenges, he said, Petrobangla's main task is to ensure the supply of primary energy.
"We supply energy to electricity, fertilizer and industries."
'Our proven natural gas reserve was 29-30tcf. We have already extracted 20tcf and the rest 9 to 10 tcf is remaining. We will require one trillion cubic feet of natural gas every year.'
'We are not getting any remarkable discovery from the drilling work despite prospect" he said, adding that they are continuing work to explore natural gas.
"We are planning to drill 46 wells to get 618mmcfd output by 2025."
"Gas production has come down to 2300mmcfd from 2750mmcfd. Continuing the supply of primary fuel for continuous GDP growth is the main challenge now."
"We have a plan to import energy for meeting local demand. But our main target is to increase local production to reduce dependency on imports. We are working on it," the Petrobangla chairman said.
He informed Petrobangla is also hopeful of new prospects in Sylhet and Chattogram zone.
He said US company Chevron indicated about gas prospects in Sunamganj and Netrokona. Japanese firm MOIKO also made the observation on block-8 and block-11 in onshore area.
"We will explore these prospects."
"We have plans for deep drilling in two areas in Srikail and Titas under Bangladesh Gas Fields Company Limited. We will invite tender for this within two months."
He said Chevron has proposed to drill another well next year at the 'flank area' and then another B27 at Bibiyana.
"We will get Chevron and Tullow's gas at only Tk 3 to Tk 3.5 per cublic meters. But imported LNG will cost Tk 60 per cubic meter. So why we will not allow them if the tariff is only 8-10 per cubic meter."
"We are going to explore every possibility to explore local gas to reduce import dependency," Petrobangla Chairman Nazmul Ahsan said.
Unauthorized use or reproduction of The Finance Today content for commercial purposes is strictly prohibited.