BFAA gives lifetime membership to Anju
---
Titli Khan
Published:
2018-09-11 08:10:05 BdST
BFAA gives lifetime membership to Anju
---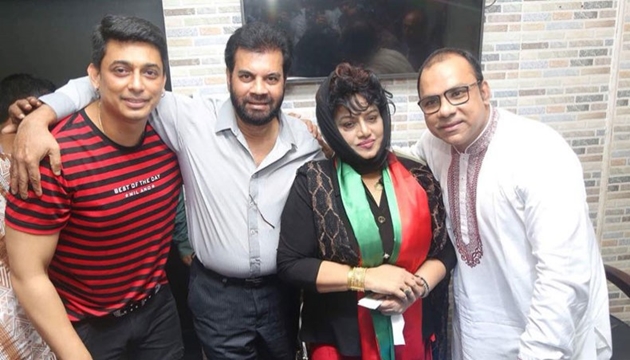 From left, Bangladesh Film Actors Association general secretary Zayed Khan, actor Ilias Kanchan, Anju Ghosh and BFAA president Misha Sawdagar pose for a photo at the association's office on Sunday
Bangladesh Film Artistes Association gave lifetime membership to renowned actress Anju Ghosh, who has been living in West Bengal of India for over two decades, at a programme held on Sunday at the BFAA office at Bangladesh Film Development Corporation.
Among others, actor Ilias Kanchan, Ahmad Sharif, BFAA president Misha Sawdagar and general secretary Zayed Khan were present at the programme.
Anju Ghosh thanked BFAA after receiving the honour.
'I thank BFAA for honouring me. I am grateful to you for the love you have given me. I have many fond memories of BFDC. It saddens me to know that BFDC is no longer the place it used to be 20 years back', said an excited Ghosh at the programme.
Ghosh, famous for playing Josna in Tozammel Haque Bakul's super hit film Beder Meye Josna, has acted in over 400 films till date.
'Anju Ghosh has made immense contribution to our film industry. She made a permanent place in the hearts of thousands of film lovers. We are happy to honour her with lifetime membership of film artistes association. We hope that she will come to Bangladesh more often', said Misha Sawdagar.
While speaking at the programme producer Nader Khan proposed of making a new film named Josna Keno Bonobase, which will star Ilias Kanchan and Anju Ghosh in the lead roles.
In reply to the proposal Ghosh said, 'I might return to acting, if I am offered good roles in films featuring atypical stories'.
Unauthorized use or reproduction of The Finance Today content for commercial purposes is strictly prohibited.