Dhaka, Delhi to develop roadmap for irreversible partnership
---
FT online
Published:
2019-02-09 16:11:35 BdST
Dhaka, Delhi to develop roadmap for irreversible partnership
---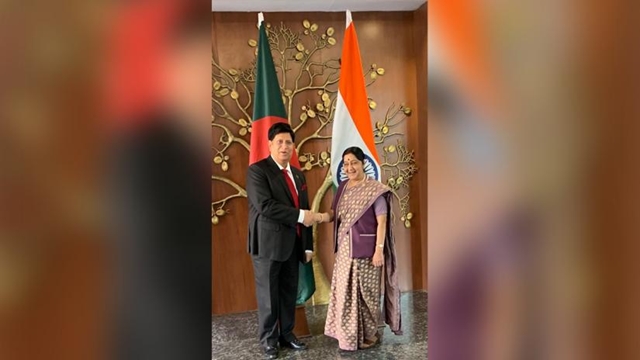 Bangladesh and India today decided to develop a forward looking roadmap for bilateral cooperation to make the partnership irreversible as they agreed on the need to expedite safe and sustainable repatriation of the displaced people from Rakhine State of Myanmar.
The decision came at the 5th meeting of the India-Bangladesh Joint Consultative Commission (JCC), co-chaired here by Bangladesh Foreign Minister AK Abdul Momen and his Indian counterpart Sushma Swaraj.
Appreciating Bangladesh for the humanitarian gesture in supporting a large number of displaced persons from the Rakhine region of Myanmar, Swaraj assured Momen of India's continued support for safe, speedy and sustainable return of the displaced persons to Myanmar, according to a joint statement issued here.
During the meeting, the two sides reviewed ongoing cooperation including the implementation of decisions taken during the visits of Prime Minister Narendra Modi and Prime Minister Sheikh Hasina, as well as at the last meeting of JCC in October 2017, in Dhaka.
"Foreign Minister Momen requested for water sharing of all common rivers including early resolution of the Teesta water sharing. The Indian External Affairs Minister assured that they would work for early conclusion of Teesta water sharing agreement."
The two ministers also reaffirmed that the relationship between India and Bangladesh, forged in the 1971 Liberation War, goes far beyond a strategic partnership and today it is anchored in history, culture, language and shared values of democracy, secularism, development cooperation and countless other commonalities.
The entire gamut of bilateral issues of mutual interest also came up for discussion in the meeting, the statement said.
They also viewed that both countries are working closer than ever before in every sector, from security and border management to mutually-beneficial trade and investment flows, power and energy, river water sharing, development partnership, transport connectivity, culture, people-to-people contacts.
They welcomed the fact that the relationship was now broadening to include new and high technology areas for partnership, such as space, nuclear energy, IT and electronics.
They tasked their accompanying officials to develop a forward looking roadmap for bilateral cooperation to make the partnership irreversible. In particular, they desired that partnership-building efforts should be enhanced in a manner commensurate with commemoration of the 50th anniversary of Bangladesh's Liberation.
Later, four Memorandums of Understanding (MoUs) were signed between the two countries to further strengthen the existing multifaceted cooperation between the two countries.
The MoUs are on mid-career training of 1,800 Bangladesh civil servants, cooperation between AYUSH and the Ministry of Health of Bangladesh in the field of medicinal plants, cooperation between Anti-Corruption Commission (ACC) and Central Bureau of Investigation (CBI) and cooperation between Hiranandani Group and Bangladesh Economic Zones Authority to facilitate investments in the Indian Economic Zone in Mongla.
Unauthorized use or reproduction of The Finance Today content for commercial purposes is strictly prohibited.