US warship in historic Vietnam visit
---
SAM
Published:
2018-03-05 16:15:37 BdST
US warship in historic Vietnam visit
---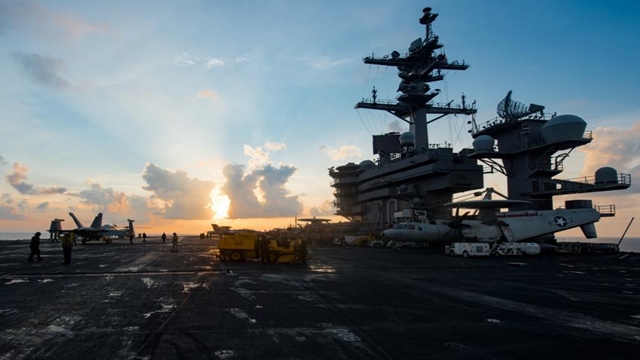 FT ONLINE
US aircraft carrier Carl Vinson is making a historic call at Vietnam, the first time a ship of this size has visited since the Vietnam War ended.
The nuclear-powered carrier set anchor off the port city of Danang on Monday, where US combat troops first landed in the war, making this a highly symbolic location.
The visit is meant to demonstrate the countries' growing military ties.
But analysts say it inevitably sends a message to China as it continues to develop the disputed South China Sea.
It comes as China announced a military budget of 1.11 trillion yuan, an 8 per cent increase on last year, as its annual meeting of parliament got under way in Beijing.
The BBC's Jonathan Head, who is in Danang, says that while co-operation between the US and Vietnam's military has grown it is still limited, and Vietnam has to manage the messaging of this visit carefully.
China is now the de facto superpower in this region, and by far the most important trading partner for Vietnam.
So Vietnam's communist leadership is taking care to avoid any steps that might upset relations with its giant neighbour, the BBC correspondent says.
China claims almost all of the South China Sea, including reefs and islands also claimed by other nations. Vietnam specifically exercises claims over the Paracel and Spratly islands.
The US has always said it does not take sides in the South China Sea dispute, but the US Navy has consistently run so-called "freedom of navigation" operations through disputed waters, a clear challenge to China's territorial ambitions.
The USS Carl Vinson has made many journeys to the wider region in its decades of service and was last in the sea just days ago.
Danang was a major US military base during the Vietnam War. The docking of the vast vessel, which can support up to 90 aircraft, will represent the largest US military presence in Vietnam since the end of many years of bitter conflict and after the country was unified in 1975.
The Vietnam War - which Vietnam calls the American War - was protracted and bloody. The Vietnamese government estimates that millions of Vietnamese, both civilian and Communist fighters, were killed. Just over 58,000 American soldiers were killed or went missing in action.
Unauthorized use or reproduction of The Finance Today content for commercial purposes is strictly prohibited.