Why young people can't just chill
---
FT Online
Published:
2019-10-13 17:28:32 BdST
Why young people can't just chill
---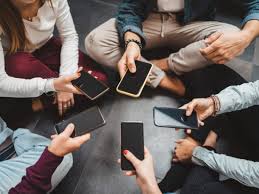 Young people properly relax for just seven hours a week because they are spending too much time on their phones, a new survey has claimed.
A poll of 2,000 adults found busy home and work lives led participants aged between 18 and 34 to get less than 60 minutes to themselves each day.

Around six in 10 said they "never" truly relaxed because they constantly check their phones.

One-tenth of respondents said it was difficult to go longer than 10 minutes without looking at their smartphone.

And nine in 10 participants admitted to opening their phone when they knew they had no new messages.

A spokesman for Treatwell, a hair and beauty service which commissioned the poll, said: "Relaxing is hugely important, but it's something we often relegate to the back burner of our lives. Neglecting our relaxation time can have a really detrimental effect on us, but it can happen quite slowly, so you don't realise it's happening.

"Often it takes someone else buying us a gift or taking some of the load from us, to 'force' us into a change of habits."

While it's easy to assume that this problem is isolated to millennials, older respondents don't seem all that different. Even they admitted to relaxing only 90 minutes per day.

Many of the adults polled struggled to relax even when they did not have any work to do, with more than a third saying they felt "at a loss" without any chores.
The most popular way to relax was by watching television (59%). Next, there was reading a book (54%) and going for a walk. Only 14% mentioned putting their phones out of sight when they are relaxing.
Among the women surveyed, 52% believe being treated to a spa day would be a way for them to truly relax. Additionally, half of the respondents with children said their lives were far less stressful before they had kids.
46% wished smartphones had never been invented so that it would be easier for them to relax and switch off. 62% said they find the realities of modern life to be stressors.

"Thanks to mobile phones and everything they allow us to do, it means that often when we are 'relaxing', we are still 'switched-on'," said the Treatwell spokesman.
Unauthorized use or reproduction of The Finance Today content for commercial purposes is strictly prohibited.