National /
President, PM greet people on Buddha Purnima
---
Nirmal Barman
Published:
2018-04-29 10:07:09 BdST
President, PM greet people on Buddha Purnima
---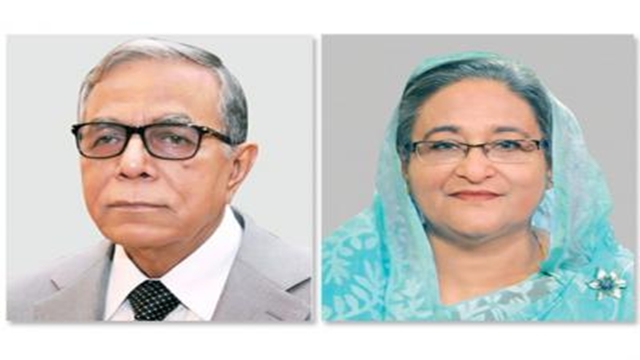 FT ONLINE
President M Abdul Hamid and Prime Minister Sheikh Hasina on Saturday greeted the countrymen, specially the Buddhist community, on the occasion of Buddha Purnima, the biggest religious festival of the Buddhist community.
In separate messages on the occasion, they wished peace, happiness and prosperity for all and success of the programmes marking the Buddha Purnima.
President Abdul Hamid, in his message, recalled the contribution of Gautam Buddha, the proponent of the Buddhism, and said he propagated the message of equality and friendship to build a harmonious and peaceful world.
The President said the ideals and philosophy of Bhuddha can play an important role in establishing peace in society, removing unrest and intolerance from the world and saving people from the moral degradation.
He said the history, heritage and civilization and culture of the Buddhists are profoundly integrated with the soil and the people of this country.
"Bangladesh is a country of communal harmony," the President said hoping that country's Buddhist community would play a proper role for the over development of Bangladesh upholding the ideals of Buddha.
Prime Minister Sheikh Hasina, in her message, said Gautam Buddha preached throughout his life the message of nonviolence, friendship and compassion for peace and welfare of mankind.
His only objective was to build an ideal society of peace and amity, she added.
The Prime Minister said Bangladesh is a country of communal harmony where people of all religions can practice their respective religions without any obstruction.
She said the Buddhist community has been contributing to the socio- economic development of the country for ages and hoped that they would be inspired further by the ideals of Goutam Buddha to acquire knowledge and skills.
The Prime Minister further hoped that the nation would be able to establish Bangladesh as a humane, peaceful and prosperous country in the global arena by fostering Buddha's message of nonviolence, equality and friendship.
Unauthorized use or reproduction of The Finance Today content for commercial purposes is strictly prohibited.