National /
City hospitals are overrun with dengue patients
---
FT Online
Published:
2019-08-07 14:59:12 BdST
City hospitals are overrun with dengue patients
---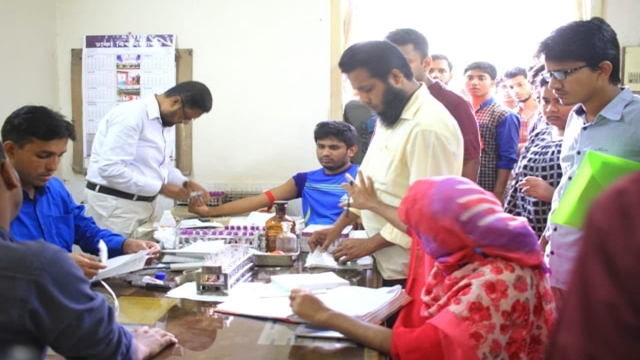 Hospitals and clinics in the capital are overflowing with dengue patients as panic-stricken city dwellers are rushing towards the medical facilities as they start feeling unwell, mounting a serious pressure on the overstretched medical system, said experts.
Visiting a number of city hospitals and clinics in the capital on Tuesday, the UNB correspondents found those overcrowded with hundreds of dengue patients and people with symptoms like high fever, vomiting and joint pains.
According to the hospital authorities, they are finding it very difficult to convince them that all the dengue-affected people need not to take admission if their condition is not critical while those indoor patients who have showed significant improvement should be discharged.
Doctors, nurses and pathologists in hospitals and diagnostic centres around the city are under tremendous pressure to deal with the overflowing of patients.
The heavy influx of patients has resulted in the severe shortage of beds as well as dengue testing kits.
Rokeya Begum, a garment worker, was seen waiting at the helpdesk of Dhaka Community Medical College & Hospital (DCMCH) to persuade the officials to admit her to the hospital since she was diagnosed with dengue virus. "They told me I need not to take admission as my platelet count is normal. But I'm feeling very unwell," Rokeya told UNB.
Kamal Hossain, a private firm executive, came to the hospital for undergoing tests as he has been suffering from high fever for three days. "I've been asked go to a pathological lab as they don't have the kit for the test."
Like the duo, nearly a hundred people were seen flocking to the DCMCH either for dengue test or for admission there.
Talking to UNB, Prof Dr Harun-or-Rashid of DCMCH medicine department, said, "We're overrun as we've to work 3-4 hours extra every day due to the surge in the number of dengue patients."
He said their both the outdoor and the indoor facilities are flooded with patients as people with fever rushing there out of fear.
"A distance between the patients and the doctors are being created as we can't deliver test reports in time and admit all those coming to us for the admission due to the unusual pressure. Even, we've to postpone planned operations to concentrate on emergencies," Dr Harun added.
He said their hospital is a 200-bed one but they added 200 more beds to cope with the growing number of dengue patients. "We're now working from 8:30am to 5:30pm constantly. Our academic activities are being hampered as we can't attend classes regularly. Our service standards have also declined…we're overstretched."
Dr Harun said their surgeons are not conducting operations unless the patient's condition is very serious lest they get infected with dengue after the surgery.
He said they are also facing a problem in discharging patients with dengue virus even after their significant improvement. "They don't want to go back home fearing their situation may deteriorate further."
DCMCH Patient Care Unit in-charge M Ashiqur Rahman said 115 dengue patients have been receiving treatment at their hospital as of Tuesday noon while they treated almost 15,000 other ones over the last two months.
The scenario at Dhaka Shishu Hospital in the city's Agargaon area is also the same.
The authorities said on average 180-200 children undergo NS1 antigen test a day at their hospital, but only 10-12 children are detected with dengue infection.
"We're facing difficulties to deal with the heavy flow of children who undergo dengue test as huge kits are needed for it," said hospital's public relations officer Md Abdul Hakim.
Citing statistics, he said a total of 190 children underwent NS1 test on August 5, but only 11 were diagnosed with dengue positive. "People are thronging hospitals as they have got panicked over the dengue outbreak."
Abdul Hakim said more than 150 dengue patients have been admitted to their hospital till August 6.
At Dhaka Medical College Hospital (DMCH), the country's premier hospital, dengue patients were seen cramming on its floors with new ones constantly trying to make their way into it.
A total of 767 people were admitted to the DMCH with dengue from August 1 to 6. Of them, 237 patients have already been discharged while 530 are now receiving treatment there.
DMCH director Brigadier General AKM Nasir Uddin advised people not to be panicked as he hopes the situation will improve very soon.
Kurmitola General Hospital, situated at the city's New Airport Road, is also under a serious pressure of dengue patients.
Talking to UNB, a doctor of the hospital, wishing anonymity, said dengue affected people who need not to take admission to the hospital with low fever and high platelet count create pressure on them for getting a seat out of their fear since many people have already died of the deadly disease.
As the public hospitals are grappling with enormous dengue cases, many people who can afford the cost are thronging the private ones.
At the city's Samorita Hospital, 419 people have undergone dengue tests from June 6 to August 6, but the rate of positive case is very low while only 30 patients are currently undergoing treatment with dengue virus, according to the helpdesk at the hospital.
Abdul Malek Mridha, deputy director (admin), Dr Sirajul Islam Medical College & Hospital, said they have 108 dengue patients as of 2pm on Tuesday. "We've so far given treatment to more than 500 such patients over the last few weeks. "We've increased beds and opened a dengue care unit. We're also appointing more doctors and nurses to cope with the pressure of dengue patients."
Manager of Safena General Hospital Ltd Jebunessa said they are struggling to accommodate dengue patients with their very limited seat capacity. "We can't take more than 3-4 dengue patients a day. We admit patients based on severity of their problem."
NB: With inputs from Abdur Rahman Jahangir, M Jahangir Alam, Muhammad Syfullah, Saykot Kabir and Imran Hossain
Unauthorized use or reproduction of The Finance Today content for commercial purposes is strictly prohibited.