Opinion /
Developing economic corridors in South Asia
---
Md Mazadul Hoque
Published:
2022-04-10 09:13:58 BdST
Developing economic corridors in South Asia
---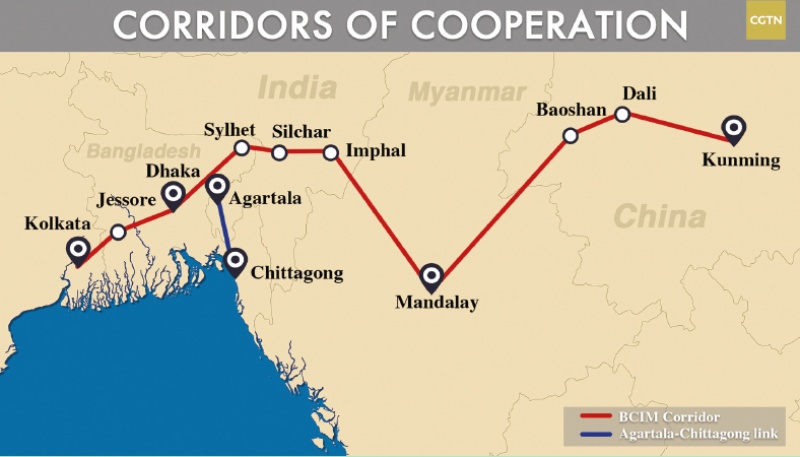 Developing land routes or economic corridors can be crucial for the economic prosperity of any country.
Transportation of goods by ship is highly time-consuming, and higher cost is always associated with carrying goods by air. So, implementing proposed economic corridors in South Asia is instrumental in facilitating trade. If the land routes are developed shortly, the region will likely experience massive investment by foreign entrepreneurs.
Frankly speaking, the region has been feeling the need for more trade related activities for a long. But it has not been able to reap as much benefits as other regions.
The South Asian Association for Regional Cooperation (SAARC) initiated the SAARC Regional Multimodal Transport Study (SRMTS) intending to enhance multimodal transport connectivity among member states to promote intra-regional trade which was recorded at only around 2.9 per cent in 1990.
Historically speaking, South Asia's prosperity was built along its trade routes.
One of the oldest, the Grand Trunk Road from the Mughal era still connects East and West. The 17th century made Delhi, Kabul, and Lahore wealthy cities with impressive civic buildings, monuments, and gardens.
In its report titled "Connecting to Thrive: Challenges and Opportunities of Transport Integration in Eastern South Asia," the World Bank said that Bangladesh's national income is set to increase by 16.6 percent through India-Bangladesh connectivity.
The report said that India's national income is expected to increase by 7.6 per cent. Through building new economic corridors and reopening closed corridors, the South Asia region will experience an improved business environment regionally.
SAARC Islamabad summit in 2004 decided to strengthen transport, transit, and communication links across the region. With financial and technical support from the Asian Development Bank (ADB), the SAARC Regional Multimodal Transport Study (SRMTS) was completed in 2006.
The study identifies 10 regional road corridors, 5 regional rail corridors, 2 regional inland waterways corridors, 10 maritime gateways, and 16 aviation gateways for implementation.
The decisions taken in that summit remain confined in the paper only due to the existing political stalemate hindering progress and development for a long time.
The recent trend shows that the South Asian nations are notably expanding their growth rate to a great extent compared to other regions in the world. The South Asian economies have already experienced significant development in many areas, which has earned global praise. At this moment, economic corridors can help expand trade functions are badly needed to address the region's current economic needs. Implementation of dozens of economic corridors among the countries has been a crucial issue, as transportation of goods through proposed corridors would be cost-effective and time-efficient. Even countries with sea ports also feel the necessity of economic corridors mainly for speedy transportation of goods and services among neighbouring countries.
Being fully land-locked, Nepal, Bhutan and Afghanistan need economic corridors through which export-import activities with other countries may happen.
Have these three countries required a number of corridors for trade facilitation? The answer to the questions is that a few economically more robust countries are trying to dominate them by narrowing trade activities. As a result of having no marine facilities, the three land-locked countries of the region lag behind many countries.
Countries need to change the mindset that transport corridors are mere engineering feats designed to move along vehicles and commodities. Sound economic analysis of how corridors can help spur urbanization and create local jobs while minimizing the natural environment's disruptions are key to developing successful investment programmes. It is vital to ensure that local populations whose lives are disrupted by the new infrastructure can reap the benefits of better transport connectivity.
Around 2,453 kilometers long corridor Lahore–New Delhi–Kolkata–Petrapole/Benapole–Dhaka–Akhaunra/Agartala and Kathmandu–Nepalganj–New Delhi–Lahore–Karachi will assuredly bring about more economic benefits. Worth mentioning that the long-desired SAARC highway corridors Kathmandu–Birgunj (Nepal)–Raxaul–Kolkata/ Haldia (India) and Kathmandu–Kakarvitta (Nepal)–Panitanki–Phulbari (India)–Banglabandha–Mongla or Chittagong in Bangladesh has largely remained in the realm of imagination and paperwork.
Nepal can carry on good business with India and Bangladesh through Kathmandu–Birgunj in Nepal to Kolkata or Haldia in India and Kathmandu–Kakarvitta in Nepal through Panitanki–Phulbari in India to either Mongla or Chattogram in Bangladesh.
According to studies, the intra-regional trade in the BIMSTEC region is very low - 6.0 percent compared to 24 percent of the ASEAN grouping. Therefore, the need for drafting a new policy to promote regional trade facilitation must be stressed.
I think half a dozen regional platforms can implement the pending works. Bangladesh-China-India-Myanmar Economic Corridor (BCIM-EC) needs to materialize for easing regional business activities. One Belt One Road initiative (BRI) undertaken by the Chinese president that connects more than a hundred countries would be helpful for the continent of Asia in terms of transportation of goods and services.
Exploring new land routes is imperative to enhance trade and expand business relations with land-locked countries. Since the landlocked economies have no alternative avenues to send and receive goods to and from different countries, land routes to them have become profoundly essential. The closed land corridors between India and Pakistan should be reopened for the greater economic interest of the region. The proposed expressways in Bangladesh will help expand regional networking by 2041. Nearly half a dozen proposed highways in Bangladesh that connect India, Nepal, and Bhutan must be built if Bangladesh wants to experience massive economic growth. Land ways between Afghanistan and Pakistan should be constructed more to expedite export-import activities. Economic corridors will definitely help the pace of trade facilitation.
The writer is an economic affairs analyst and PhD fellow.
Unauthorized use or reproduction of The Finance Today content for commercial purposes is strictly prohibited.