Politics /
Three MPs amass illegal wealth
---
SAMI
Published:
2020-06-24 00:17:43 BdST
Three MPs amass illegal wealth
---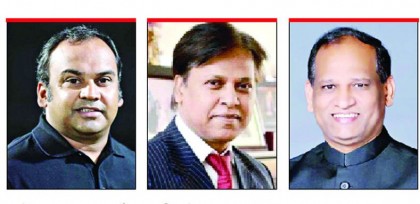 Naimur Rahman Durjoy (Left), Kazi Shahid Islam Papul (middle) and Enamul Haque (Right)
Three lawmakers are busy grabbing the lion's share of the country's resources although the government is set to achieve socioeconomic development leaving "no one behind".
The widespread corruption by the trio has frustrated the forward moving policy of the government and tarnished the country's image at home and abroad.
They are running after personal gains and fortunes abusing power and getting economically healthier through abuse of political influence and identity.
The MPs are Kazi Shahid Islam Papul of Lakshmipur-2 constituency, Naimur Rahman Durjoy of Manikganj-1 and Enamul Haque of Rajshahi-4.
They have become owner of huge properties during the last one decade through extortion and other illegal ways.
Durjoy has indulged in irregularities, corruption and abuse of muscle power. He has amassed towering wealth at home and abroad by the way of recruitment trade, commission business from government projects and crop land grabbing and filling.
Durjoy, who was once a cricketer, has now become a money tycoon and owner of various valuable properties like power plant.
An allegation is rife that he has involved in mega business in Malaysia which are sweet stories in his constituency. This current MP is also famous for 'Papia' story.
After being elected MP from Manikganj-1, Durjoy has turned his constituency into a business hub. There are allegations of trade in forming committees like union committees, ward committees, appointment of posts and removal from posts.
He has formed every committee in his constituency on his own will by removing leaders of his disliking. He runs his entire activities through the pocket committees in his constituency.
Durjoy is in control of all the contractors in the area, all kinds of recruitment, forcible occupation of sand dunes, sale in the form of possession by filling government khas lands and canals, illegal dredging in rivers and reckless soil trade.
He has also set up an illegal trade of risky speedboats at Aricha and Paturia ghats. People and many leaders of his area raised the question that how did Durjoy, who was living on the income of both husband and wife, suddenly become the owner of a power plant? Where did he get so much money?
It is found that the MP controls all types of contracts in the three upazilas under his constituency. No one dares to contract any job without pleasing the party leaders of his choice. From taking lease of haat-bazaars, allotment of ferries, leasing of khas land and to supplying soil in brick field, one has to pay the prescribed fee.
Thousands of acres of cropland are being destroyed instantly for supplying soil to the brick fields illegally. Speedboat is running on Kazirhat route with extreme risk under the influence of Durjoy.
Meanwhile, lawmaker Papul has earned a bad name for the country. He has been arrested in Kuwait for various allegations, including earning huge money through human trafficking.
Papul, who was arrested by a Kuwait law enforcement agency in connection with cases related to human trafficking, visa selling and money laundering are now in Kuwait jail.
The ACC is investigating the allegations of amassing illegal wealth and money laundering against Papul and his family members.
Papul's company in Kuwait was around five million Kuwaiti Dinars (KD), including three million as the company's capital. Besides, His wife, Selina Islam, also an MP for the reserved women seat, showed assets worth around hundred crore in her election affidavit.
The anti-graft body has asked Bangladesh Bank for halting transactions in the bank accounts of the lawmaker.
According to EC sources, Papul had shown assets worth Tk 89.65 crore in his last electoral affidavit while his wife showed assets worth Tk.82.70 crore. Besides, there is a huge amount of wealth in the name of their daughter and sister-in-law.
According to the affidavit, Papul's annual income is Tk 73 lakh which comes from bank deposit. As immovable asset, he has Tk 3.6 crore in cash in his name and Tk 4 crore in his wife's name.
Papul has deposits of Tk 8.62 crore in banks and financial institutions and Tk 20.10 crore in the name of his wife. They have other valuable assets like ornaments, luxury cars and etc, according to the affidavit.
Enamul Haque, a three-time MP from Rajshahi-4 constituency, has made huge money and properties through various illegal and unethical means.
He is well-known for suing people who are not loyal to him. He has filed at least 20 cases in Bagmara during the last 11 years where about 50 people have been accused in these cases, most of whom are Awami League leaders and activists.
According to the affidavit of the 10th national election, Enamul filed that he is director of ENA Properties Limited, ENA Entertainment Limited, Saleha Emarat Agriculture Limited, Saleha Emarat Cold Storage Limited and ENA Energy Limited and Northern Power Solution Ltd. surprisingly; he did not mention the names of these organizations in his affidavit during the ninth general election.
At that time he took loans from different banks or institutions in the name of different institutions. However, Enamul Haque did not give details of how much money he borrowed from bank or financial nstitutions in the name of which institution.
During the ninth parliamentary election in 2008 he was not a loan defaulter but he became loan defaulter after five years.
Following the affidavit during the 10th parliamentary election, he was accused of amassing huge wealth.
The ACC launched an investigation against him on January 22, 2014 on the basis of the allegations. He got acquitted by the ACC.
In response to the ACC letter, Enamul and his wife Tahura Haque jointly submitted an asset declaration of only Tk 8.34 crore.
But, the ACC's investigation has revealed that the information of 14 companies owned by Enamul Haque, proprietorship and partnership is hidden.
Apart from this, he did not mention his shares or ownership in other organizations, including ENA Properties, Saleha Building Cold Storage, ENA-Dunga Leasing, Northern Power Solutions Limited, ENA International, ENA Cars, ENA Energy Limited.
The ACC has received information about illegal assets worth Tk 2,120 crore in the name of Enamul Haque, the head of ENA Properties.
The ACC got the information while verifying the assets written in the election affidavit.
There are allegations that Enamul has also been involved in recruitment trade, rehabilitation of BNP-Jamaat leaders.
Unauthorized use or reproduction of The Finance Today content for commercial purposes is strictly prohibited.