Politics /
Sheikh Hasina's glorious 12 years in office
---
Shamiur Rahman Lipu
Published:
2021-01-06 06:14:49 BdST
Sheikh Hasina's glorious 12 years in office
---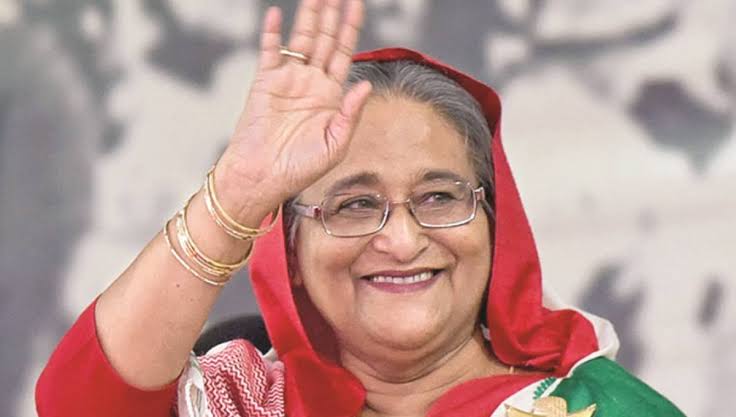 The ruling Awami League has completed 12 consecutive years of office, setting a milestone of success in all development indexes and resulting in Bangladesh's emergence as a role model of development in the world.
Prime Minister Sheikh Hasina's dynamic leadership, prudence, honesty, courage and workaholic manner have been acclaimed by the global community after she assumed office on January 6 in 2009.
During this long journey, it was though not all rosy for the AL-led government. Yet, her dynamic leadership has taken the country to new heights as it had been graduated to a developing country status from the least development country status.
The Sheikh Hasina-led government has turned the country into a Digital Bangladesh while the trial of war criminals was also completed to go by the 2008 election manifesto.
Sheikh Hasina has greeted the countrymen on the occasion of her 12 years in office as they keep confidence in her leadership.
Sheikh Hasina also earned for her diplomacy with super powers along with neighbouring countries as no other head of the government was seen equally, handling China, America, Russia, India and Japan.
The Awami League-led government feels proud as the UNESCO recognised Bangabandhu's historic speech on March 7 in 1971.
She earned the title of the Mother of Humanity and Star of the East for her humanitarian efforts for one million Rohingyas who were forcibly displaced to Bangladesh following persecution in Myanmar. Not only Bangladeshi people but also world leaders praised Sheikh Hasina and her government for tackling the Rohingyas issue successfully.
The installation work of all the spans of the much-talked-about Padma Bridge, one of the largest infrastructure projects in the country, has also been completed at a cost of internal resources. This was a major success of the AL-led government following the World Bank's withdrawal of loan of $1.2 billion.
Bangladesh entered a new era of nuclear energy through constructing the Rooppur Nuclear Power Plant.
Bangabandhu-I, the first communication satellite of Bangladesh, started its journey towards orbit slot from the Kennedy Space Centre in Florida, the USA.
The country's first elevated express way from Lalkhan Bazar to Hazrat Shah Amanat International Airport in Chattogram and first underwater Karnaphuli Tunnel are also underway. Work on the metro-rail and the Payra deep seaport is underway.
The international communities, including the United Nations, have given awards to Prime Minister Sheikh Hasina for her outstanding contributions to various fields.
Sheikh Hasina has received the 'South-South Award' for her government's achievement in alleviating poverty in Bangladesh.
She got recognition titled 'Peace Tree' from Unesco for her tireless efforts to promote girls' education in Bangladesh.
In recognition of a pioneering role in ensuring peace and security for development, establishment of democracy and good governance, eradication of terrorism and militancy, empowerment of women, development and flourishing of education, health and information technology, tackling the challenges of climate change, she was bestowed with various awards and honours.
These include 'MDG Award, 2010'; 'Indira Gandhi Peace Prize, 2010'; 'South-South Award, 2011'; 'UNESCO Cultural Diversity Award, 2012'; 'FAO Diploma Award, 2013'; 'South-South Cooperation Award, 2013'; UNESCO's 'Tree of Peace Award, 2014'; 'Visionary Award, 2014'; 'Champion of The Earth Award, 2015'; 'Women in Parliament Global Forum Award, 2015'; 'ICTs in Sustainable Development Award' 2015; 'Planet 50-50 Champion Award, 2016'; 'Agent of Change Award, 2016'; and the 'Global Women's Leadership Award, 2018'.
Amid the ongoing wave of the coronavirus pandemic, the present government is running the country with a vow to bring about people's welfare.
Bangladesh is tackling the pandemic situation successfully because of her timely and brave decisions as well as untiring efforts.
The observance of 'Mujib-Year' is an appropriate step for spreading the essence of Bangabandhu's views on life and his political philosophy but the grand celebration has been postponed due to the pandemic.
Marking the fulfilment of the AL–led government's 12 years in office, the party has chalked up programmes, including doa and milad mahfil, across the country. Prayers will also be held at worships, pagoda and churches too.
Unauthorized use or reproduction of The Finance Today content for commercial purposes is strictly prohibited.