Tourism /
Travel restrictions lead to almost 90pc plunge in tax from tourists
---
Staff Correspondent
Published:
2020-11-15 11:45:59 BdST
Travel restrictions lead to almost 90pc plunge in tax from tourists
---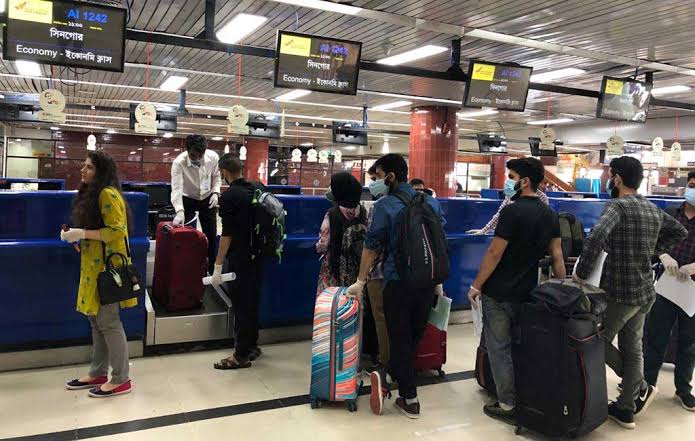 Travel tax collections slumped by 89.41 per cent in the first quarter of the current fiscal year because of the coronavirus-induced travel restrictions imposed by most countries around the globe.
The National Board of Revenue (NBR) has collected Tk 360 million in travel tax during the July-September (Quarter 1) period as against Tk 3.40 billion in the same period last year, according to NBR data.
Earlier, the NBR set the target of travel tax collection for Q1 at Tk 2.42 billion.
For fiscal year 2020-21, the target for travel tax collection from outbound passengers has been set at Tk 14.57 billion.
In the previous fiscal year, the NBR collected Tk 7.67 billion in travel taxes from passengers travelling by land, water and air.
AKM Badiul Alam, commissioner of the Tax Zone-1, which is responsible for collecting travel taxes, said tax collections have declined significantly as many countries imposed travel restrictions in the wake of Covid-19 pandemic.
The travel ban has led to the drastic fall in the number of outbound passengers, resulting in the negative growth of travel tax collections, he added.
Recently, some countries, including England and France, have again imposed lockdown for the second time to deal with the second wave of coronavirus.
Monsur Ahmed Kalam, president of the Association of the Travel Agents of Bangladesh (ATAB), said around 95 per cent of overseas travellers could not move out in the last six or seven months.
Most airlines have suspended their operation while many countries also suspended the issuance of visas to tourists amid the pandemic, he said.
Although tourists started travelling to Cox's Bazar and Bandarban inside the country, they don't have to pay travel taxes, he added.
Md Rafeuzzaman, president of Tour Operators Association of Bangladesh (TOAB), said no outbound tourists went out of the country due to the Covid-19 pandemic.
As a result, the tour operators are now passing through difficult times, he added.
The Association has some 700 members.
Until September 1, 2020, some 113 destinations have imposed certain restrictive measures on travellers, according to the United Nations World Tourism Organisation (UNWTO).
It has also found that 50 per cent of the global destinations are easing the restrictions.
It said the destinations which have eased travel restrictions generally have high or very high levels of health and hygiene infrastructure. They also tend to have comparatively low Covid-19 infection rates.
Some 93 destinations (43 per cent of all worldwide destinations) continue to have their borders completely closed to tourism, of which 27 have had their borders completely closed for at least 30 weeks.
Some 68 destinations, including Bangladesh, have partial closure of border while medical certificate before, upon and after is required in 35 destinations, the UNWTO report said.
Outbound passengers generally pay their travel taxes with their ticket price.
Outgoing international passengers have to pay travel taxes ranging between Tk 500 and Tk 800 while travelling by land and water.
On the other hand, air passengers have to pay between Tk 800 and Tk 2,500 as travel taxes depending on their destinations.
The NBR has launched an online travel tax collection system for outbound passengers travelling to India, Nepal, Bhutan and Myanmar by land.
The travellers can pay taxes online using debit or credit cards of any bank through the Sonali Bank online payment gateway system.
Outbound passengers can also pay travel taxes through mobile financial services, including Bkash, Rocket and UCash.
According to NBR data, travel tax collections from outgoing international passengers stood at Tk 11.04 billion in FY 2018-19.
Only around 12 per cent of total travel tax comes from passengers travelling by land, while the rest 88 per cent from air passengers as the rate of travel tax for them is several times higher than the rate for those travelling by land.
Unauthorized use or reproduction of The Finance Today content for commercial purposes is strictly prohibited.