Tears of salt farmers
---
Siyam Hoque
Published:
2020-03-04 07:11:19 BdST
Tears of salt farmers
---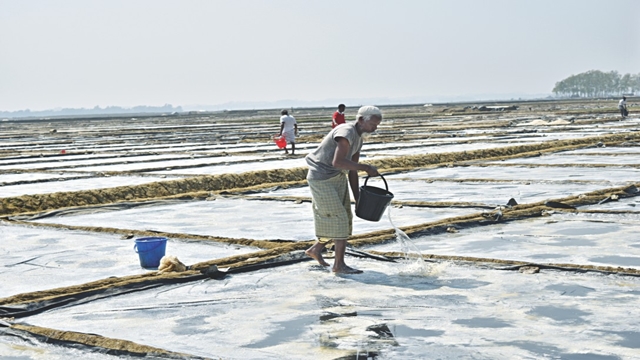 Abdul Karim's eyes sparkle with joy when he stares at his salt flats shining white under the sun. But his joy soon begins to fade when he thinks of selling the fruit of his labor.
Spending around Tk 1.60 lakh on leased land, hiring labor, and other production-related activities, the farmer from Chawfaldandi village in Cox's Bazar Sadar is set for a total yield of 800 maunds of salt from his 1.6 acres by the end of the season.
But a maund of the daily essential is now being sold at Tk 150 in the market and if he sells at this price, he estimates a loss of Tk 40,000.
"We will not even recoup production costs this season because of the low price. And if the price fall continues for long, we will have to cut back," said Karim, his sun-baked face turning gloomy.
He said they had incurred a loss despite selling a maund of salt at Tk 200. "But the situation this time is worse as the price has gone down to Tk 150 per maund," he added.
Like Karim, around 30,000 salt farmers from Cox's Bazar and a few from Chattogram are incurring significant losses for the price drop.
Salt farmers and government officials alleged that a syndicate of unscrupulous businessmen and mill owners is manipulating the price of salt.
They said that despite a ban on the import of edible salt, some unscrupulous salt traders imported a large amount of edible salt in the name of sodium sulfate, known as industrial salt, from countries like China and India where the price is low.
Sodium chloride is the chemical name of salt whereas sodium sulfate is mainly used in the manufacture of detergents, industrial dyes, and paper pulp.
According to a recent business report in The Daily Star, salt farmers and millers demanded a three-fold increase in the import duty on sodium sulfate, which is imported and sold locally in the guise of salt.
Sarwar Hossain, deputy general manager of the extension department of Bangladesh Small and Cottage Industries Corporation (BSCIC), said some millers have a stockpile of a large amount of edible salt that was imported two years ago.
Thus, they are not buying salt from local farmers, resulting in the price drop, he added.
Md Hannan Mia, president of Cox's Bazar Labon Chashi Samity, said the millers are unitedly manipulating the price of salt.
Kabir Ahmed, president of Bangladesh Salt Industries Owners' Association, refuted the allegation of collusion and blamed the import of edible salt for the price fall.
"This import manipulation is also causing a huge loss to many millers," he said, demanding the government strictly enforce the ban.
According to the National Salt Policy 2016, the only exceptions to the ban are in case annual production fails to meet local demand owing to natural disasters, said Sarwar. Ninety percent import duty is also applied.
According to the data of Bangladesh Bank, 22.83 lakh metric tonnes of various types of salt was imported in fiscal 2015-16, 18.44 lakh metric tonnes in 2016-17, 22.52 lakh metric tonnes in 2017-18, and 7.58 lakh metric tonnes in 2018-19.
The BSCIC says the demand for salt for industrial use is around 9.5 lakh metric tonnes a year.
Salt is produced in 60,796 acres of land in various upazilas of Cox's Bazar, where hundreds of thousands of people depend directly or indirectly on the salt trade for their livelihoods.
Salt is produced six months a year, between November and May, in the country.
In the last season, production of salt was 18.24 lakh metric tonnes against a demand of 16.57 lakh metric tonnes, said Shamim Alam, extension officer of salt development office of BSCIC in Cox's Bazar.
This season, a total of around four lakh metric tonnes of salt have already been produced while the production target is 18.49 lakh metric tonnes, he added.
According to BSCIC, there are 213 salt centres across the country.
BSCIC officials said the production cost of salt is high in the country as farmers spend almost 60 percent of it in order to lease land.
But things are different in neighbouring India, they said, adding that salt farmers in Gujarat and Chennai use government land to produce salt.
"The length of their season is eight months while ours is six months. Temperature and humidity are more favourable there," said Shamim.
BSCIC officials, however, believe that the price will soon go up.
"We have already sat with the large millers, who are willing to buy salt directly from the farmers in Cox's Bazar, through a programme on March 6," said Sarwar.
"The price will increase when large millers start buying salt [directly] from the farmers," he added.
Unauthorized use or reproduction of The Finance Today content for commercial purposes is strictly prohibited.