Business /
MoFA, NBR back proposal to realise transit fees
---
Staff Correspondent
Published:
2022-06-28 20:22:37 BdST
Carrying Indian fuels into NE thru BDMoFA, NBR back proposal to realise transit fees
---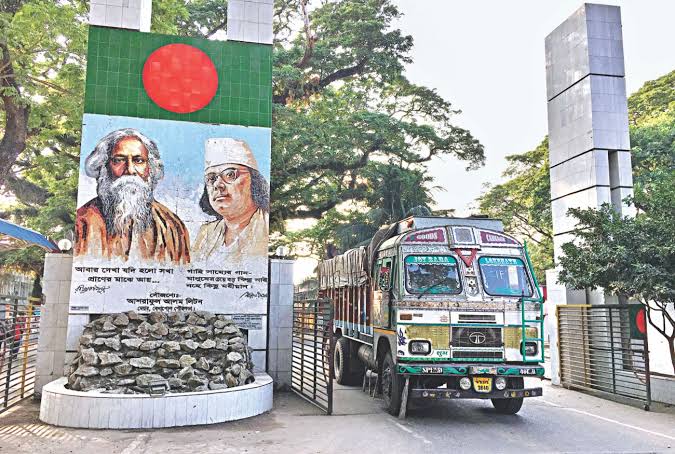 Dhaka decides to realise various charges for transportation of oils and gas from Meghalaya into Tripura crossing over Bangladesh territory as catastrophic rains and landslides in northeastern India have halted their traffic.
The Ministry of Foreign Affairs and the National Board of Revenue (NBR) have supported a proposal of an inter-ministerial meeting to incorporate the charges6 clause among others in the deal if a memorandum of understandings (MoU) is signed with India on the proposed transit.
To deal with the Indian proposal to let it use the Bangladesh territory for carrying the fuel oils and LPG, the Ministry of Commerce convened an inter-ministerial meeting on June 14.
The meeting had decided that road-use fee, administrative charge, operating costs and other applicable charges will be realised from the vehicles/consignees while goods will be transported crossing over Bangladesh territory.
The meeting proposed that the issue of realising fees/charges from the vehicles be mentioned in the MoU granting transit permission.
While opining on various decisions of the meeting the foreign ministry in a letter on June 21 to the commerce ministry said an MoU has to be signed with the government of India or its representative regarding the cross-border transportation.
Also, the foreign ministry said it agreed with the meeting chair's proposal to include the provision of realising road-use fee, administrative charge, operating costs, and other applicable charges in the MoU.
"The revenue board thinks that there should be a mechanism to realise fees and charges for the said transit," the NBR in its opinion said Monday.
It suggests use of Akhaura or Bibirbazar customs stations instead of Chatlapur in Moulvibazar district to complete the customs procedure of the transit.
The NBR also opines that there is no way to accept duty bond and risk guarantee covered by any foreign insurance company while completing the customs process. Because, it says, complications can be created in case of encashment of duty bond.
Road Transport and Highways Division said some parts of the proposed route in Bangladesh went under water in recent floods which need at least six weeks to be ready for movement of heavy-duty vehicles. So the division suggests setting date for transit of the goods keeping this matter in mind.
Officials said India recently sought permission to carry petroleum, oil and lubricants (POL) and liquefied petroleum gas (LPG) by using a part of roads in Bangladesh's Tamabil in Sylhet and Chatlapur in Moulvibazar for the time being.
The big neighbour wants to carry BS VI gasoline 416 kiloliters per day, 768 high-speed diesel (HSD) per day, and 200 tonnes of LPG per day by using the Bangladeshi roads in border areas.
The commerce ministry convened an inter-ministerial meeting after receiving the proposal and sought written opinion from the ministries and departments concerned before giving the go.
Neighbouring India enjoys road-and water-transit facilities through Bangladesh to carry goods into its landlocked northeast. The two countries signed an agreement to this effect in November 2010 while a protocol was signed in 2015 allowing India to use Bangladeshi waterways to carry its goods.
Also, India has been given permission to use Bangladeshi ports to carry goods from any of its state into another.
Unauthorized use or reproduction of The Finance Today content for commercial purposes is strictly prohibited.