Liberalise private foreign borrowing
---
SAM
Published:
2018-06-04 07:14:45 BdST
Liberalise private foreign borrowing
---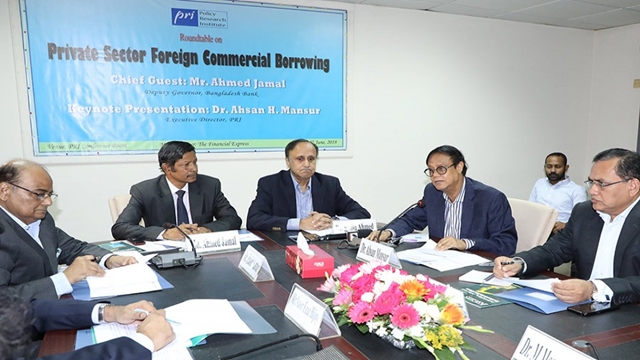 FT ONLINE
Bangladesh should reform and liberalise its foreign currency borrowing regime to address the current liquidity shortage and attain its investment target, a leading think tank has said.
At the same time, the country should try to remove the interest rate cap in foreign borrowing as it reduces availability of funds and interferes unnecessarily in private commercial terms, Policy Research Institute of Bangladesh (PRI) said Sunday.
"Foreign borrowing is one of the key financing sources that can help Bangladesh attain its investment target and address the current liquidity shortage", Executive Director of PRI Ahsan H Mansur said.
Dr Mansur said this at a seminar on "Private Sector Foreign Commercial Borrowing" in the city.
"The liberalisation of foreign exchange rules could also lead to a significant reduction in the cost of capital for Bangladeshi private firms amidst the current liquidity shortage", Mansur said.
"Companies can get loans at a rate between 5.0 per cent and 7.0 per cent compared to an average of more than eleven per cent now".
The PRI Executive Director also noted that many local banks are not able to finance capital-intensive projects given their own small capital base.
"However, larger loans from external sources brings international expertise and better risk management approach such as interest rate and exchange rate hedging", he added.
Participants at the seminar also voiced their opinion against capping of the interest rate.
"The capping of the interest rate is not a good practice as financing depends on a number of factors including risks of the project, profile of client, tenure of the loan and country risk", Mansur said.
"The contracts are between two private parties while the Government of Bangladesh has no liability to repay the financier under any circumstances and is not liable if the contract is broken by either party", he added.
In this context, PRI experts called for defining a two-tier process whereby borrowing below a certain cap per transaction or multiple caps based on eligible borrowers is automatically approved.
All borrowings above the specified limit with a three year or longer maturity should be subject to a possible maximum amount loan cap to ensure prudential supervision, according to the PRI.
They also opined that Bangladesh Bank can adopt a risk-based approach to monitor large projects to ensure adherence to prudential norms.
Experts also called for applying a simplified registration process and few restrictions on end use of funds.
They also recommended the all-in-cost ceiling during the foreign borrowing approval process following the approach of India.
At the same time, they emphasised on ensuring better policy and operational coordination among respective line agencies pertinent to foreign borrowing.
Bangladesh Bank Deputy Governor Ahmed Jamal who was present at the seminar as chief guest said that the central bank is considering to ease the foreign private borrowing with a maturity of upto three years.
Chief Economist of Bangladesh Bank Faisal Ahmed said the country is bound to face external shocks in the next five to seven years.
"In Bangladeshi eco system, we only look at financing only through interest rate without considering the issue of maturity. But this issue needs to be addressed on our policy making context", he said.
"Over the last few years, the private sector has borrowed in a suspiciously tranquil foreign exchange environment which would be impossible to guarantee in the next five to ten years", he added.
Country head of Standard Chartered in Bangladesh Naser Ezaz Bijoy said that there should be a framework to allow interest rate and foreign exchange risk hedging in the country.
Senior Economist of World Bank Masrur Reaz said there should be an official guideline regarding the entire process of external commercial borrowing in the country.
Chairman of PRI Zaidi Sattar and Vice Chairman Sadiq Ahmed also spoke on the occasion.
Unauthorized use or reproduction of The Finance Today content for commercial purposes is strictly prohibited.