FICCI finds budget 'highly challenging'
---
SAM
Published:
2018-06-09 10:28:35 BdST
FICCI finds budget 'highly challenging'
---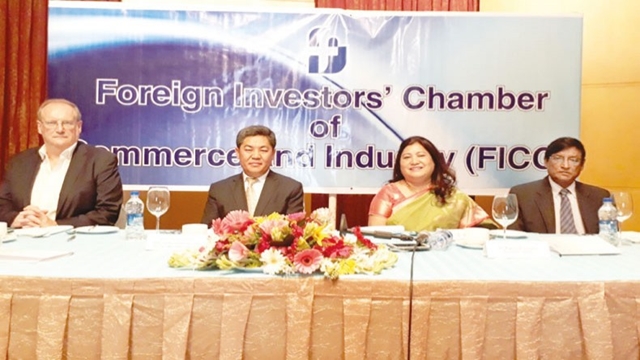 FT ONLINE
The Foreign Investors' Chamber of Commerce and Industry (FICCI) has termed the proposed national budget for the next fiscal year (FY), 2018-2019, 'highly challenging'.
In a post-budget reaction on Friday, the chamber said the size of the Tk 4.64 trillion budget is 25 per cent larger than that of the revised budget for the last FY.
The chamber body expressed its concern over the use of (government's) revenue to meet the deficit of the state-owned enterprises (SoEs) and the public sector commercial banks.
The FICCI opined that the gross domestic product (GDP) growth target of 7.8 per cent in the proposed budget is achievable, if the GDP-investment ratio could be increased up to the desired level.
The FICCI, in a press statement said the government has proposed that the employers would submit statements on the submission of returns by their employees. Otherwise, tax returns of the employers will be subjected to audit.
"This provision for auditing may turn into a source of harassment for many transparent taxpayers."
The chamber body said its pre-budget recommendation for the cut in the exorbitant rate of withholding tax on the companies' payments to their non-resident employees has not been addressed.
Moreover, the budget proposal for taking prior certificate from the National Board of Revenue (NBR) for such payments will create serious difficulties for the companies concerned, the statement mentioned.
The chamber strongly recommended withdrawal of the existing SD (supplementary duty) on the locally-manufactured products. Instead, the government has proposed extending the list of items under SD.
The FICCI opined that the proposed enhancement of the rate of VAT (value added tax) on super shops to five per cent will encourage inflation and discourage the growth of such businesses.
The foreign investors' chamber also said the budget did not consider one of its suggestions to incorporate certain progressive provisions of the VAT and SD Act 2012 into the VAT Act 1991.
The chamber, however, hailed the budget proposal for reducing corporate tax on the banks and other financial institutions by 2.5 per cent.
The FICCI recommended such reduction of tax rate for other sectors also, it said.
The chamber expressed positive reaction over withdrawal of the provision of taxing dividend income multiple times.
It opined that the exemption will benefit many existing companies and encourage local investment further.
The FICCI also suggested extension of the benefit to the Bangladeshi companies having subsidiaries abroad, as the provision will encourage repatriation of dividend.
Unauthorized use or reproduction of The Finance Today content for commercial purposes is strictly prohibited.