Walton showcasing 145 models fridges ahead of Qurbani Eid
---
Rubel Rana
Published:
2018-08-08 07:57:53 BdST
Walton showcasing 145 models fridges ahead of Qurbani Eid
---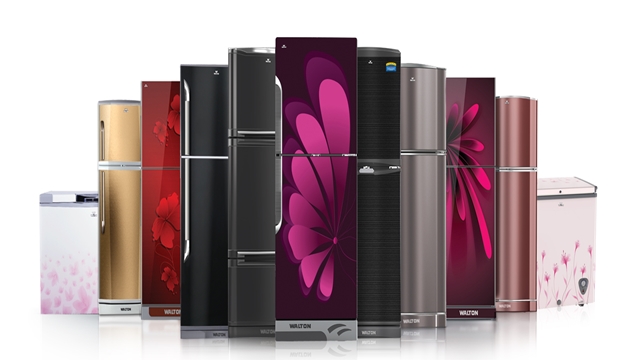 FT ONLINE
The country's electronics giant 'Walton' is showcasing and selling out total 145 models of frost, non-frost and deep fridges in the local market on the occasion of the upcoming Eid-ul-Azha, one of the biggest religious festivals of the Muslim community to be held across the country in this month.
Among these models, 53 models are newly brought in the local market. In addition, the local brand set a target of selling out about four lakh units of fridges during the month of Ramadan.
To meet the target, Walton has already increased fridge production, built up stock to maintain smooth supply along with transporting the products to different parts of the country for 24 hours.
On the occasion of Qubani Eid, the local brand is conducting Eid Mega Digiatal Campaign across the country. Under the campaign, a customer of Walton fridge will enjoy free brand new car, motorcycle, fridge, TV, air-conditioner and other products or sure cash back on the registration of the fridge, which is purchased from the country's any Walton Plaza or distributor outlets.
Already, two customers of Walton fridge got free brand new cars in the last month. They are member of Bangladesh Police Aradhan Chandra Saha and a housewife of Chattagram Shima Shill.
Walton officials said, they released 53 new models of fridges blended with attractive design and colors, of which 41 models are of frost fridge, 8 models of non-frost refrigerators and 4 models of freezers.
Among the frost fridges, 19 models of tempered Glass Door Refrigerator of Walton, priced between Tk 24,500 and Tk 36,800, have turned into the customers' prime attraction for lucrative designs and prices. Walton has brought two new models of fridges of 50 liters and 107 liters at Tk 10,900 and Tk 14,200 respectively for the small family and bachelors.
Among the new models of non-frost refrigerators, there are huge power efficient inverter technology's three-door based refrigerators of 455 and 452 liters, one model of side by side door based refrigerator of 501 liters, one model of digital display's refrigerator of 328 liters and two models of five star energy rated refrigerators of 328 liters.
Besides, Walton is also marketing 14 models of freezers between Tk 19,950 and Tk 31,290, of which 4 models are newly introduced. There are also 29 models in the upcoming list of Walton refrigerators.
Uday Hakim, deputy executive director of Walton Group, said, Walton has taken necessary preparation to meet the extra demands just after the Eid-ul-Fitr. They set a target of selling out about 4 lakh units of fridges during the month of July and August this year. He hoped of exceeding the target if the present sales trend is sustained.
Tapash Kumer Mojumder, executive director of Walton and chief of its Refrigerator Research and Development department, said Walton refrigerators feature 9-layer VCM door, which prevents rust and scratches but retains the brightness of the doors ensuring long-life.
They are using globally recognized environment-friendly R600a refrigerant in the compressors of Walton fridges, he added.
The use of Intelligent Inverter technology, Nano Healthcare and Anti-Fungal Door Gasket technology, one-year replacement guarantee, ten years guarantee for compressors, maximum 36- month easy installment facility, achieving Five Star energy rating from BSTI and suitability with the local weather conditions helped Walton refrigerators to be at the top of the customers' choice, he noted.
Mentionable, Walton is delivering fast and quality service to customers under the ISO certified Service Management System through 70 plus service centers across the countryWalton is providing customers home service for fridges which already been widely appreciated. Customers can avail after sales service all over the year by just dialing 16267.
Unauthorized use or reproduction of The Finance Today content for commercial purposes is strictly prohibited.