PPP essential for sustainable development: Experts
---
SAM
Published:
2019-11-18 01:16:54 BdST
PPP essential for sustainable development: Experts
---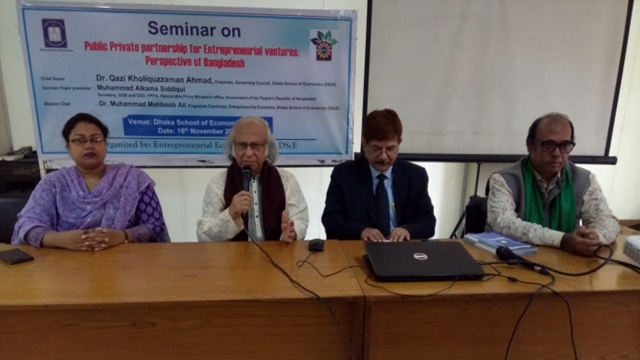 FT ONLINE
Initiatives from both public and private sectors are essential to achieving the Sustainable Development Goals (SDGs).
It is not possible to reach all the goals of the ambitious global agenda without Public-private Partnership (PPP). So, initiatives should be taken to remove the barriers to the implementation of PPP.
Experts came up with these observations on Saturday at a seminar titled "Public-private Partnership for Entrepreneurial Venture: Perspective of Bangladesh" organised by the Dhaka School of Economics (DSCE).
Dr. Khalikuzzaman Ahmed, chairman of the governing council of Dhaka School; Dr. Muhammad Mahbub Ali, chief coordinator of entrepreneur economy course; Assistant Professor Rehana Parvin, Sarah Tasnim, and Associate Professor at the Department of Management at Dhaka University Dr. Shabnom Jahan were also present at the event, among others.
Alkama Siddique, chief executive and secretary of PPP authority at the Prime Minister's Office, presented the keynote paper.
Dr. Khalikuzzaman Ahmed said, "PPP is a good initiative for balanced development, but for this purpose, we have to ensure the increased participation of private sectors.
"To make PPP successful, we have to make doing business easier. We also have to launce a one-stop service."
"Economic Incubator" will be established in Dhaka School under the PPP for the development of entrepreneurs, he added.
He said it is the government's duty to keep the commodity price within the reach of the common people to ensure the rights of the citizens. Those who are responsible for making the market unstable will have to be severely punished.
Professor Dr. Muhammad Mahbub Ali said PPP can be a successful model for economic development.
"Our neighboring country India successfully implemented various initiatives under PPP in 1990. There are opportunities in Bangladesh too, but there is a lack of trust in Bangladesh.," he said, adding "Corruption in the process of tender, lack of transparency, and unscrupulous syndicates are the main problems to make the PPP successful. It is the government that should lead to eradicating these barriers."
Meanwhile, Muhammad Alkama Siddique said the concept of PPP is not new.
"In 1996, it was first used in the energy sector. In 2004, the concept of PPP was accepted for infrastructure development. This government has taken effective measures to implement the PPP. Mayor Hanif Flyover is the first project of the PPP. At present, many projects are under process," he pointed out.
He said PPP has the potential for the development of the country. Besides, PPP must be ensured to achieve the SDGs within the stipulated timeframe.
Dr. Shabnam Jahan said there is a possibility of establishing social institutions and all types of infrastructures under PPP.
She, however, said we have to ensure that only established private institutions do not get all the facilities. Thus, infrastructures will be developed and new entrepreneurs have to be created easily.
Unauthorized use or reproduction of The Finance Today content for commercial purposes is strictly prohibited.