Legendary folk singer Fakir Alamgir no more
---
Staff Correspondent
Published:
2021-07-24 06:52:34 BdST
Legendary folk singer Fakir Alamgir no more
---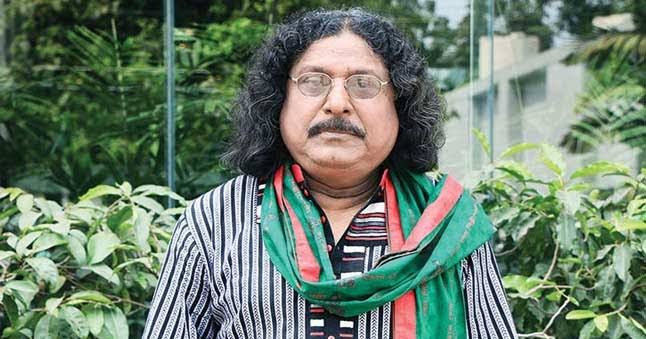 Eminent folk singer and Ekushey Padak awardee Fakir Alamgir has died of Covid-19.
He breathed his last around 10:56 pm on Friday while undergoing treatment at intensive Care Unit (ICU) of Covid unit of the United Hospital in the city at the age of 71, according Alamgir's family sources.
The prominent singer suffered a cardiac arrest around 10 pm at the Covid unit of the hospital where he was undergoing treatment for coronavirus complications while duty doctor declared him dead at 10:56pm.
Alamgir, who emerged as Gono Sangeet (the songs of the masses) singer for his outstanding contributions to inspiring the people to join the country's 1971 Liberation War, is survived by his wife and three sons.
Born in Faridpur, Fakir Alamgir started his music career in 1966 and played a vital role as a singer in 1969 uprising in the then East Pakistan.
He worked with Swadhin Bangla Betar Kendra during the Liberation War and founded the cultural organization "Wrishiz Shilpi Gosthi" in 1976. He also served as the president of Gono Sangeet Shamanya Parishad (GSSP).
As a writer, Alamgir published his first book 'Chena China' in 1984. His next two publications were Muktijuddher Smriti Bijoyer Gaan and Gono Sangeeter Otit O Bortoman.
In 2013, he published three books - Amar Kotha, Jara Achhen Hridoy Potey and Smriti Alaponey Muktijuddho. So far, Alamgir authored nine books.
The noted singer was awarded different awards, including Ekushey Padak, Bhashani Padak and Sequence Award of Honour.
President mourns death of folk singer Fakir Alamgir
President M Abdul Hamid on Saturday expressed profound shock and sorrow at the death of Ekushey award-winning folk music artist Fakir Alamgir.
In a condolence message, the President recalled the contribution of Fakir Alamgir to the country's music arena with due respect.
"His songs played an important role in reviving patriotism and developing the spirit of the Liberation War among the younger generation," he said.
Abdul Hamid added that the vacuum created in the country's music arena at the death of Fakir Alamgir would never be filled.
The head of the state prayed for eternal peace of the departed soul and conveyed deep sympathy to the bereaved family.
PM mourns death of folk icon Fakir Alamgir
Prime Minister Sheikh Hasina on Friday expressed deep shock and sorrow at the death of one of the members of Swadhin Bangla Betar Kedra, and prominent Gono Sangeet artist of the country Fakir Alamgir.
In a condolence message shortly after news broke of the singer's death, she said that the role of Fakir Alamgir will always be remembered for his contribution in the musical arena of the country, especially his role in popularising Gono Sangeet.
She prayed for the eternal salvation of the departed soul and expressed sympathy to the bereaved family.
Foreign Minister Dr AK Abdul Momen, Jatiya Party Chairman GM Quader and State Minister for Foreign Affairs M Shahriar Alam also released statements to mourn an iconic figure's passing.
Momen, in a message, expressed deep shock at the death of freedom fighter and singer Fakir Alamgir.
"Fakhir (sic) Alamgir was a shining star of the country's cultural arena. People will remember his contributions forever," he said.
Unauthorized use or reproduction of The Finance Today content for commercial purposes is strictly prohibited.