National /
Hasina-Modi summit reflects special nature of partnership
---
Diplomatic correspondent
Published:
2020-12-17 18:38:03 BdST
Hasina-Modi summit reflects special nature of partnership
---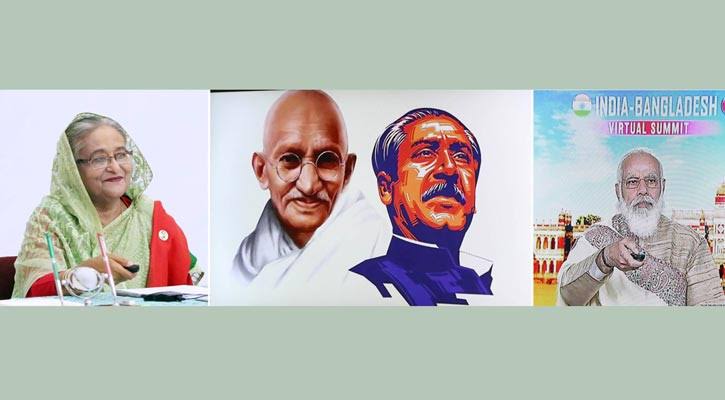 In a major breakthrough, Bangladesh and India have signed seven agreements to boost cooperation and revive a railway link, reflecting a special nature of partnership between the two next-door nations.
The agreements came during a first-ever virtual summit between Prime Minister Sheikh Hasina and her Indian counterpart Narendra Modi on Thursday.
Diplomatic circles in Dhaka and New Delhi considered the Bangladesh-India summit as a landmark move to script another golden chapter in relations while the international community considered it as a copybook example of a neighbourly relationship.
"December evokes in all Bangladeshis the spirit of joy, freedom and celebration as we recall with deep gratitude our Father of the Nation Bangabandhu Sheikh Mujibur Rahman. Under his dynamic leadership, we earned our great independence," Prime Minister Sheikh Hasina said while addressing the summit.
"India is our true friend," she said, adding that relations between Bangladesh and India have embarked on a landmark moment. "On Wednesday (Dec 16) Bangladesh celebrated 50 years as an independent nation. Bangladesh and India have also stepped into the 50th year of establishment of diplomatic relations."
Addressing the summit, Indian Prime Minister Narendra Modi said Bangladesh continues to be one of the significant pillars of India's 'Neighbourhood First' policy.
"To strengthen relations with Bangladesh has been a priority for me since the first day," Modi said, adding that the year 2020 has been full of challenges due to the Covid-19 pandemic, but there has been good cooperation between our countries in the sphere of working with health professions, Covid-19 vaccine etc.
The summit was held just a day after the Victory Day celebrations on December 16, the day Bangladesh won a victory over Pakistani occupation forces in the 1971 Liberation War — a shared heritage between the two countries as India lent its boots during Bangladesh's struggle for independence.
Reflecting the special nature of India-Bangladesh partnership, Prime Minister Sheikh Hasina invited her Indian counterpart Narendra Modi to attend the ongoing centenary of the birth of Bangabandhu and the upcoming 50th anniversaries of the liberation of Bangladesh and the establishment of India-Bangladesh bilateral relations.
The invitation was accepted by Prime Minister Narendra Modi with pleasure.
"I pay deep homage to the three million martyrs who laid down their lives. I pay tribute to the members of the Indian armed forces martyred in the war and their families. I pay my gratitude to the government and the people of India who extended their wholehearted support for the cause of our nation," said the Bangladesh prime minister.
The two leaders also inaugurated the Chilahati-Haldibari rail link between India and Bangladesh which has been inoperative for almost 55 years, and is expected to enhance connectivity to Assam and West Bengal from Bangladesh.
The Haldibari-Chilahati rail link was part of the broad gauge main route from Kolkata to Siliguri. However, the 1965 war between India and Pakistan effectively cut off all the railway links. Initially, the rail link will facilitate the movement of goods cargo. Passenger movement will also commence on the development of infrastructure on both sides.
While cherishing the shared history, the neighbouring countries are jointly celebrating the Mujib Barsho and the 50th anniversary of liberation of Bangladesh.
To honour the memory of Father of the Nation (Jatir Pita) Bangabandhu Sheikh Mujibur Rahman who is also a hero to the Indian people, the Indian Prime Minister released a commemorative stamp on Bangabandhu.
In a unique tribute to the Fathers of the two Nations, the two prime ministers jointly inaugurated the Bangabandhu-Bapu (Mujibur Rahman and Mahatma Gandhi) Digital Exhibition which chronicles the lives, struggle and their vision in leading their countries' quest for justice and independence. Narendra Modi in his introductory speech said the exhibition also includes a section on Bangomata and Kasturba.
The two leaders also jointly inaugurated two High Impact Community Development Projects – one to improve conservation of social, cultural, environmental and heritage infrastructure in Rajshahi city, and another for developing quality infrastructure for Khalishpur Collegiate Girls' School in Khulna city.
At the first virtual summit, the two nations inked seven deals, aiming to elevate their relations to the next level through deeper cooperation and solidarity.
The agreements include a Framework of Understanding on Cooperation in Hydrocarbon Sector, Framework Agreement on High Impact Community Development Project (HICDP), Protocol on Trans-boundary elephant conservation, MoU on the Supply of Equipment and Improvement of Garbage and Solid Waste Disposal, MoU on Cooperation in the Field of Agriculture, an MoU between Bangabandhu Memorial Museum, Dhaka and the National Museum in New Delhi and lastly the Terms of Reference for an India-Bangladesh CEOs Forum.
Briefing diplomatic correspondents after the summit, High Commissioner of India to Bangladesh Vikram Doraiswami said Prime Minister Modi also assured Prime Minister Hasina that India would support effective and timely delivery of Covid-19 vaccines being produced and developed in India.
On the Rohingya issue, he said Prime Minister Modi appreciated the generosity of Bangladesh for hosting a large number of displaced persons from Rakhine state in Myanmar.
"Prime Minister Modi reiterated the need for safe, speedy and sustainable repatriation of displaced persons to their homes in Rakhine state of Myanmar," Doraiswami added.
He also said Prime Minister Narendra Modi reiterated India's commitment and continued efforts to complete the interim water sharing arrangement for the Teesta river. The two leaders underscored the need for early conclusion of Frameworks for Interim Agreement on sharing the waters of six other joint rivers, namely, Manu, Muhuri, Khowai, Gumti, Dharla and Dudhkumar.
In this regard, the two leaders agreed to schedule the Joint River Commission meetings at the earliest.
Stressing that border management is a shared responsibility, he said both leaders emphasised the need for coordinated and joint patrols to create a crime-free border.
For its part, the High Commissioner said India's BSF will continue to exercise maximum restraint and follow a strict protocol of escalation of actions, with the commitment that the use of lethal force would only be in the last resort, in self-defence.
"Like you, it (border killing) frustrates us. We want no killing along the border. We have very nice relations. It creates a stigma in our friendly relations. We don't want to see any stigma in our friendly relations," Foreign Minister AK Abdul Momen said in a separate briefing.
The minister said in some cases people from Bangladesh go deep inside the border, carry arms and bombs. "So, it's not a one-sided problem. It's our fault too. We have to reduce criminal activities."
He said India is committed to zero death along the border and more action needs to be taken through a coordinated border management plan.
Elaborating the deals signed at the summit, Indian envoy Doraiswami said the framework agreement on HICDP is a ten-year deal allowing for projects amounting to BDT 500 million, double of what was previously admitted. Projects in the field of education, health and sanitation, water-treatment, cultural heritage aimed at increased socio-economic development of local communities are taken up under this agreement.
In the field of energy, he said both the countries agreed to promote two-way investment, technology transfer, joint studies and capacity building in hydrocarbons. The India-Bangladesh friendship pipeline currently being built to supply high-speed diesel from Siliguri in India to Parbatipur in Bangladesh will add to this.
India and Bangladesh also agreed to set up a high-level CEO forum between top CEOs of both the countries to provide policy-level inputs for enhancing bilateral trade and investment as well as export to third countries. Textiles, pharmaceuticals, leather, agriculture and food processing value chains, automobiles and services sector will be the major focus areas.
On trade barriers, Abdul Momen said Bangladesh side raised issues of trade barriers, including sudden halt of export to Bangladesh like onions.
"Our businesspeople say India suddenly stops exporting products and Bangladesh suffers for that. Our prime minister raised it and said if you do any rules, do it in a predictable and transparent way so that we can think of our line of import," he said.
The two countries termed jute as an environment-friendly product and stressed the need for promoting jute, addressing the barriers.
At this point, the Indian envoy said bilateral trade has been growing steadily, with Bangladesh's exports having stayed above the $1 billion mark—making India only the second Asian country with over $1 billion of Bangladesh imports. The trade deficit is reduced by over 26 per cent in favour of Bangladesh.
To boost Bangladeshi exports to India, and to increase overall trade, bearing in mind Bangladesh's graduation out of LDC status, a study on Comprehensive Economic Partnership Agreement (CEPA) has been commissioned.
Vikram Doraiswami said the increasing connectivity by rail, roads, air and waterways between Bangladesh and India will promote the development of Chilahati, Sirajganj, Ashuganj, Darshana, Ramgarh, and Cumilla as new trade hubs, especially for Bangladesh's trade with Nepal and Bhutan.
The prospect of the commercial use of Bangladeshi trucks to carry goods to India's northeast, both from Bangladesh, and from India via Bangladeshi ports, has also been specifically recognised at the summit meeting.
He said Bangladesh is India's largest development partner with four concessional lines of credit amounting to US$ 8 billion, which are being offered by India at specially preferential rates only to Bangladesh.
The High Commissioner said the Indian Prime Minister has invited Bangladesh to join the New Development Bank (so-called BRICS bank) and the Bangladesh Prime Minister expressed interest in it.
The delegation from Bangladesh included Foreign Minister AK Abdul Momen, Home Minister Asaduzzman Khan, Commerce Minister Tipu Munhi, Water Resources Minister Zaheed Farooque, Railway Minister Nurul Islam Sujon, Adviser to PM for Security Affairs Maj Gen (Retd) Tareque Ahmed Siddique, State Minister for Foreign Affairs Md Shahriar Alam and State Minister for ICT Zunaid Ahmed Palak.
The delegation from India included External Affairs Minister Dr S Jaishankar, National Security Advisor Ajit Doval, and Foreign Secretary Harsh Vardhan Shringla.
Unauthorized use or reproduction of The Finance Today content for commercial purposes is strictly prohibited.