National /
Muhith urges int'l community to extend coop to LDC graduated countries
---
Nirmal Barman
Published:
2018-04-25 12:22:28 BdST
Muhith urges int'l community to extend coop to LDC graduated countries
---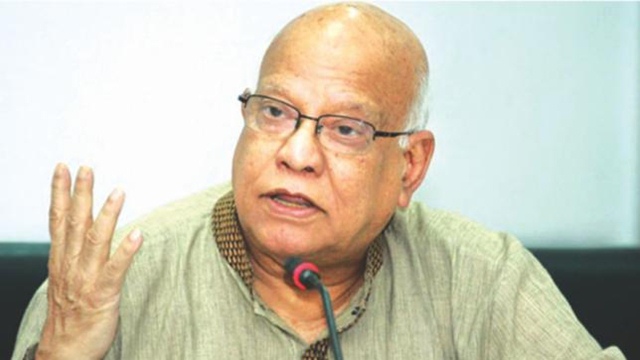 FT ONLINE
Finance Minister Abul Maal Abdul Muhith has urged the international community to extend cooperation to those countries graduated from the LDC status in a bid to ensure smooth graduation and thus maintain the continuity of development.
"Bangladesh is firm to face the post LDC graduation challenges," the Minister said while delivering the country statement at the 3rd Forum on 'Financing for Development (FFD)' organized by the United Nations Economic and Social Council (ECOSOC) held at the UN headquarters, said a handout received in Dhaka on Wednesday.
At the very outset of his statement, Muhith highlighted the policies framed and progress achieved by the present government under the dynamic leadership of Prime Minister Sheikh Hasina in a bid to attain the Sustainable Development Goals (SDGs).
He said Bangladesh has attained notable successes in education, sanitation facilities and other basic areas of the peoples' life.
Mentioning that Bangladesh has attained GDP growth rate of over 6 percent on a consistent basis over the last few years, the Finance Minister said the GDP growth rate is now over 7 percent.
"As a result, the poverty rate and the extreme poverty rate came down at 23 percent and 12 percent respectively in 2016 which was 40 percent and 24.2 percent respectively in 2005," he added.
He said Bangladesh has been implementing one of the world's biggest social safety net programmes with its own fund prioritizing on the women, aged and physically challenged people.
Noting that the capacity of the private sector has now increased over the years, Muhith mentioned that power is now being generated in partnership with the private sector, some 100 special economic zones are being established in the country while 12 hi-tech parks are being set up in the country alongside implementation of some mega projects.
Turning to the Rohingya problem, the Finance Minister said the forcibly displaced Myanmar nationals in to Bangladesh are a big challenge for the development of the country.
He also expressed his high hope of getting firm support from the international community including the United Nations on repatriating the Myanmar nationals into their own country.
Muhith is leading the Bangladesh delegation at the 3rd Forum of FFD which is expected to end on April 26.
Unauthorized use or reproduction of The Finance Today content for commercial purposes is strictly prohibited.