National /
Dhaka protests Myanmar's claim to St. Martin's Island
---
SAM
Published:
2018-10-06 19:34:50 BdST
Dhaka protests Myanmar's claim to St. Martin's Island
---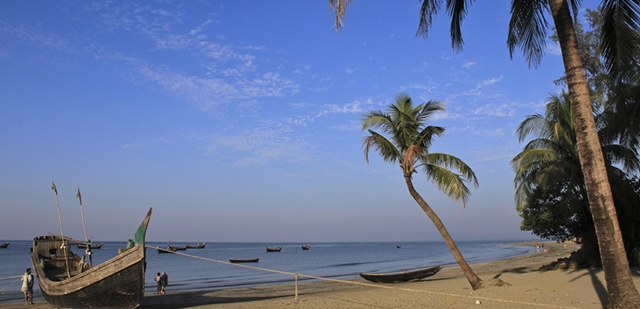 FT ONLINE
Myanmar has come up with another false claim insisting Bangladesh's St Martin's Island as part of their territory. The move prompted Dhaka to react sharply and lodge a strong protest officially against the 'deliberate' attempt.
The government on Saturday summoned Myanmar Ambassador in Dhaka U Lwin Oo and strongly protested the matter.
Maritime Affairs Unit Secretary at the Ministry of Foreign Affairs Ministry Rear Admiral (retd) M Khurshed Alam summoned the Myanmar envoy to his office in the afternoon and handed over a strongly-worded protest note to him.
However, Myanmar Ambassador Lwin acknowledged the matter saying that it was a 'mistake' to show the St. Martin's Island as part of their own territory, a diplomat briefed the media.
The Island was never a part of Myanmar if anyone looks back at the history since 1937.
It was part of British-India when Myanmar got separated back in 1937, an official said adding that this means it was part of India. "A clear line was drawn in between."
And in 1947, the official added, it was part of Pakistan and after the Liberation War the Island became part of independent Bangladesh.
In 1974, it was clearly stated through a signed agreement that the Island is part of Bangladesh.
"Even when Bangladesh won the maritime boundary dispute against Myanmar through International Tribunal for the Law of the Sea in March 2017, it was clearly mentioned that the Island is part of Bangladesh," the official said.
He went on saying, "There's no doubt. How could they (Myanmar) claim St. Martin's Island as part of their territory? It's a deliberate attempt."
A diplomatic source said Secretary Khurshed Alam after nearly a one-hour meeting with the Myanmar envoy protested the matter by handing over relevant documents.
He reportedly charged the Myanmar envoy over carrying out survey on the island.
The Myanmar envoy was light-lipped with a gloomy face when the reporters approached to know why he was summoned.
The Myanmar reportedly spread the maps to two global websites showing St. Martin's Island is part of Myanmar's territory.
The Myanmar envoy pledged to discuss the matter with his government and convey Dhaka's concerns.
Earlier, Myanmar circulated a picture that claims to show insurgents training, which is actually a photograph of freedom fighters during the Liberation War of Bangladesh in 1971, UNB reported.
The Myanmar military later issued a rare apology acknowledging that two photographs it published in a book on the crisis over the Rohingya Muslim minority were 'published incorrectly'.
Unauthorized use or reproduction of The Finance Today content for commercial purposes is strictly prohibited.