National /
BRTC still ill-prepared to enforce transport law
---
SAM
Published:
2019-11-04 16:28:08 BdST
BRTC still ill-prepared to enforce transport law
---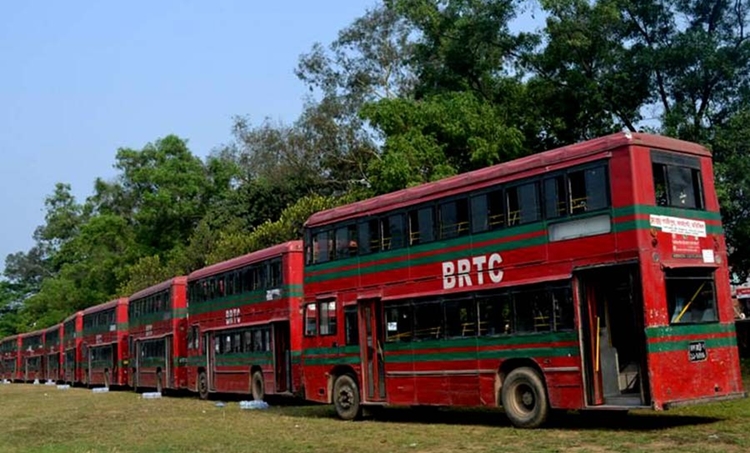 FT ONLINE
The state-owned transport operator is not yet ready to enforce the new road transport act as nearly 36 percent of its vehicles lack fitness and the majority of drivers don't have driving licences for heavy vehicles.
Sources said Bangladesh Road Transport Corporation (BRTC) manages a fleet of vehicles with 2,479 drivers, most of whom have only driving licences for light vehicles.
It will not be an easy task for the corporation to implement the act within a short time due to a shortage of drivers for heavy vehicles, they added.
Apart from these, sources said, many private cars used by BRTC officials also don't have fitness, let alone genuine driving licences.
Soon after the law became effective, depot managers refrained from operating unfit buses and trucks on streets as a violation of all these regulations mentioned in sections 4, 5 and 25 of Road Transport Act (RTA) 2018 is punishable with maximum six-month imprisonment and fine of Tk 25,000.
RTA came into effect on November 01, more than one year after the enactment of its rules.
BRTC Chairman M Ehsan-e-Elahi said they have already taken steps to ensure compliance with RTA, giving necessary directives to all depot managers.
He, however, said BRTC will seek permission from Bangladesh Road Transport Authority (BRTA) to allow the light licensed drivers to drive heavy vehicles taking the country's context into consideration.
"We are very much sincere in complying with the new act and want to execute it fully. But in the context of the reality for not getting drivers for heavy vehicles immediately, we have requested law enforcement agency not to harass BRTC drivers for the time being," he said at his office on Sunday.
Such provision has been sought as BRTC is imparting special training to recruited drivers having light licences for more than a month, he said.
BRTC General Manager (Finance) Amzad Hossain said a project is underway to train 300,000 drivers in the next three years. He, however, said these drivers will be fresher.
Officials said they have also refrained from deploying new buses imported from India recently which have not yet gotten registration. Earlier, the corporation used to operate the buses soon after the inspection is carried out by BRTA.
But all 500 newly imported trucks are on the street although those are yet to get number plates. The officials said they have operated the trucks as registration has been completed. Of imported 600 buses, registration of 68 new buses is under the process.
The official record showed that BRTC has a total of 1,710 buses in its fleet. Of them, 614 are not running now due to a lack of full fitness.
Forty-three buses remain inoperative due to various reasons including the filing of cases against drivers or contractors, lack of drivers and major technical faults.
Of total unfit vehicles, 68 vehicles were sent for light overhauling, and 244 vehicles for heavy overhauling. Some 259 vehicles were totally unfit to run.
Though BRTC has 2,479 drivers, it still needs 333 more drivers to ensure its policy to keep 1:15 drivers for truck and 1:2.25 drivers for buses. Of the total 1,710 vehicles, 1202 are in operation.
Unauthorized use or reproduction of The Finance Today content for commercial purposes is strictly prohibited.