Politics /
GCC poll ends peacefully, counting begins
---
SAM
Published:
2018-06-26 14:17:27 BdST
GCC poll ends peacefully, counting begins
---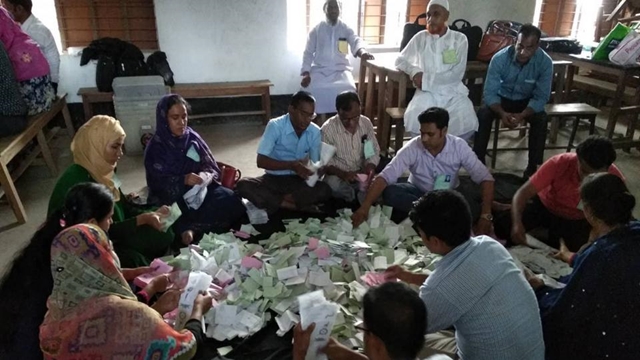 FT ONLINE
The results have started coming in and the Awami League's mayoral runner has taken an early lead in the Gazipur City Corporation election in 54 out of 425 polling centres.
The ruling party's Jahangir Alom has bagged 61,963 votes and his rival BNP's candidate Hasan Uddin Sarker got 26,864 votes.
AL's Jahangir Alom has bagged 1,265 votes and his rival BNP's candidate Hasan Uddin Sarker got 508 votes in two centres where Ballots were cast on Electronic Voting Machines (EVMs).
Amid heavy security, the voting in the Gazipur City Corporation election has ended without any major incident.
The counting of votes then started immediately at all polling centres across the city.
The casting of ballots had started at 8am and ended at 4pm on Tuesday.
The polling centres were teeming with voters, who seemed to be in a festive mood despite inclement weather, since the early morning.
District Election Officer Md Tarifuzzaman said: "Cloudy skies in the morning may have deterred some people from heading out, but with the weather clearing up, people showed up en masse."
With Rapid Action Battalion (RAB) and police officials bolstering security around the city, there were also no reports of unrest.
However, voting was suspended at seven polling stations over various irregularities, said the district's Deputy Commission Humayun Kabir.
The turnout rate of voters in Gazipur City Corporation (GCC) elections this year has come down compared to the last election held in 2013.
The voters' turnout in the Gazipur city polls this year is 55 to 60 per cent, Returning Officer Raquib Uddin Mondal told reporters at a post-polls briefing at his office in Gazipur this afternoon.
This means some 55 to 60 per cent out of 11.37 lakh votes were cast this year while 63.69 per cent of a total 10,26,939 votes turned out in the local body election held in 2013.
In the polls, each voter had cast three votes, one to elect the next mayor, and the other two to elect general and reserved seat councillors.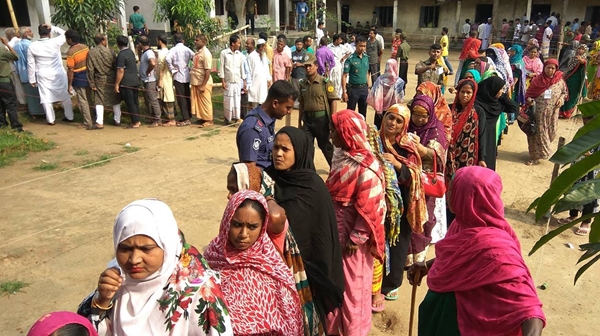 Numerous voters were seen in long queues at different polling stations from the morning. Electronic Voting Machines (EVMs) are being used in six centres while closed-circuit television (CCTV) cameras have been installed in two.
A total of 1,137,736 voters were expected to exercise their franchise to elect a mayor and 76 councillors – 57 general ward councillors and 19 reserve women councillors – for a five-year term.
A public holiday was declared in the city corporation area for the election.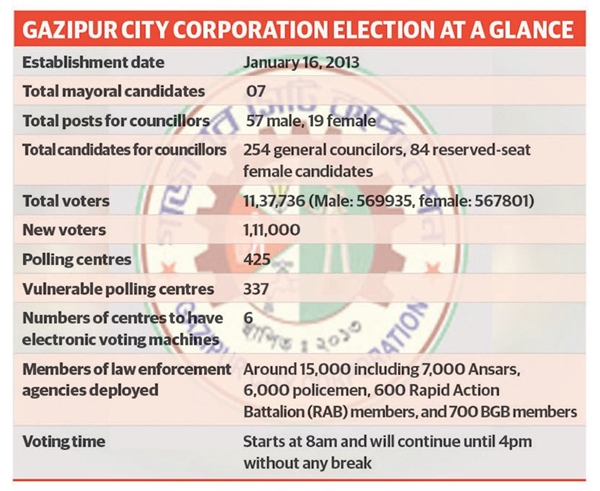 Gazipur, Bangladesh's 11th city corporation, was formed in January 2013, and comprises Tongi and Gazipur municipalities.
Returning Officer Rakib Uddin Mondal earlier said 15,000 members of police, RAB and Border Guard Bangladesh (BGB) would remain deployed during the polls.
He said the voters would cast votes at 425 polling centres. However, 337 of them were marked as vulnerable or risky.
There are seven mayoral aspirants but election observers say the main fight will take place between Awami League's Jahangir Alom and BNP's Hasan Uddin Sarker.
The five other mayoral candidates are: Md Ruhul Amin of the Communist Party of Bangladesh, Md Jalal Uddin of Bangladesh Islami Front, Fazlul Haque Minar of Islami Oikkya Jote, Md Nasir Uddin of Islami Andolan Bangladesh, and independent candidate Farid Ahmed.
There are 254 general councillor candidates competing for 57 posts—while 84 women are vying for the 19 reserved seats.
GCC polls: BNP candidate for stopping polls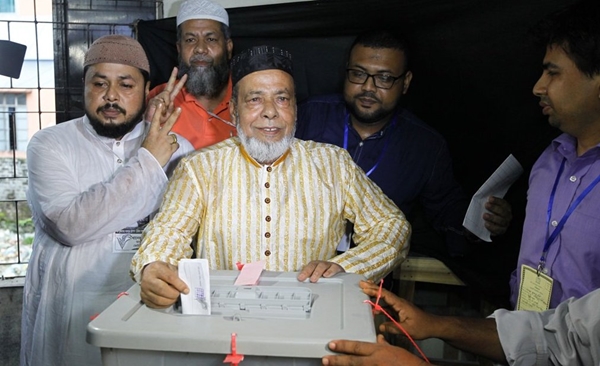 Hasan Uddin Sarker, BNP backed mayoral candidate of Gazipur City Corporation (GCC), has demanded a stop to the polls immediately bringing manifold allegations of indiscipline and corruption in the polls.
To express his frustration with the polls, Hasan Uddin arranged a press conference around 1:30pm and demanded the polls to be stopped.
The BNP backed candidate brought widespread allegations, including vote frauds and capturing of most polling stations.
"They (AL men) captured over 100 centres since the morning after driving out my polling agents and established full control over all the polling stations by 1pm," said Hasan Uddin.
He also alleged that the law enforcers had harassed and detained his supporters.
The mayoral candidate said they have also lodged complaints with the returning officer, but no visible action was taken in this regard.
Hasan Uddin allged that the ruling party men were stuffing ballots and casting fake votes in absence of his agents.
Meanwhile, he also said a letter would be sent to the returning officer demanding the cancellation of the election.
However, he asserted his determination to remain in the mayor race till the end.
GCC polls: AL candidate says voting 'free and fair'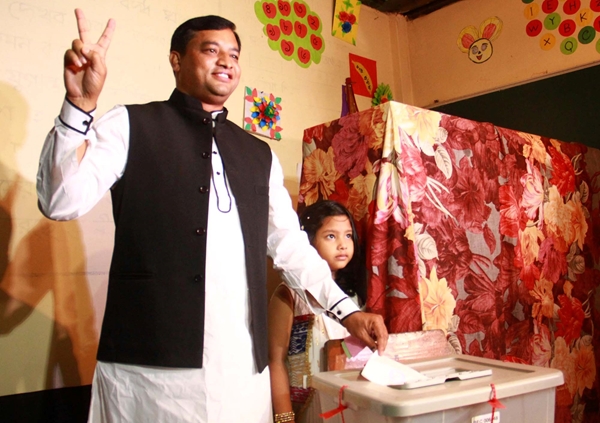 Jahangir Alam, Awami League backed mayoral candidate of Gazipur City Corporation (GCC) polls, has claimed the voting is going on in "free and fair" manner.
The mayoral candidate made the claim after casting his vote at Kanaiya Government Primary School polling centre at 9:00 am Tuesday.
"People are coming to cast their votes on their own. I seek the cooperation of all so that the people of Gazipur can cast their votes spontaneously and freely. We welcome the voters of all parties," Jahangir said.
Asked to comment on BNP candidate Hasan Uddin Sarker's allegations vote rigging and corruption, Jahangir said his allegations are baseless.
"He (Sarker) has been dealing in falsehood all along. He has been saying the election will not be free and fair from day one; but he cannot make the voting in Gazipur controversial with such baseless allegations," said Jahangir.
The ruling party candidate also expressed his confidence about winning the polls by a big margin.
Speaking about his mindset about the result of the polls, Jahangir said, "I will accept people's verdict, every politician should have such mentality."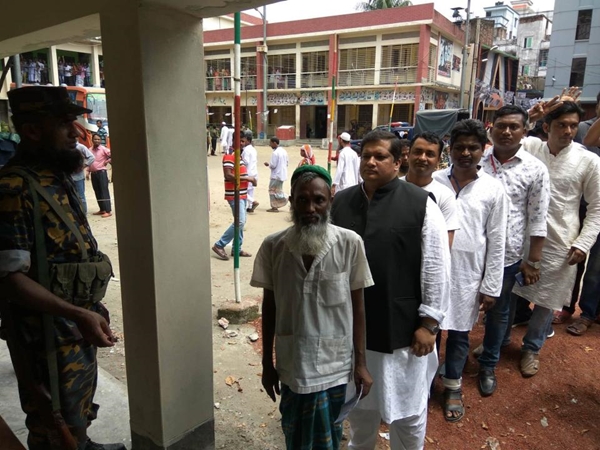 Md. Zahid Ahsan Russel, MP of Gazipur-2 constituency, standing in line to cast his vote at MA Abdul Mojid High School polling centre.
This election is taking place after the Khulna City Corporation one – which was won by Awami League candidate Talukder Abdul Khaleque amid controversy.
The ruling party and the Election Commission had called it a free and fair election, but BNP denounced it, claiming it was "full of irregularities."
Analysts and polls observers say Gazipur is the last chance for the commission to regain the people's trust in organizing a peaceful and acceptable election.
Unauthorized use or reproduction of The Finance Today content for commercial purposes is strictly prohibited.