Tourism /
Bangladesh failing to woo foreign tourists
---
Rajib Kanti Roy
Published:
2022-09-28 01:01:51 BdST
World Tourism DayBangladesh failing to woo foreign tourists
---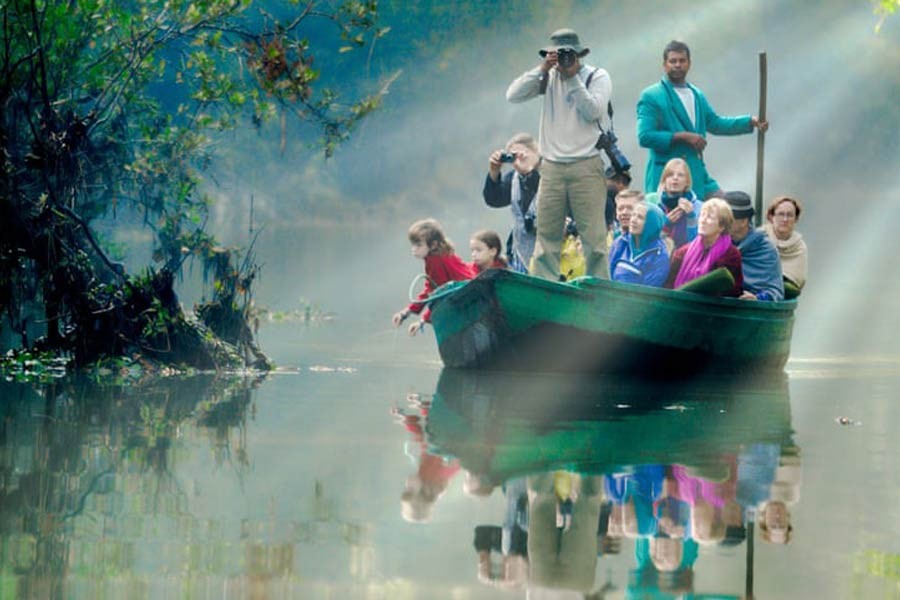 Despite being a natural beauty hotspot with a variety of mesmerising destinations, Bangladesh is failing to attract the expected number of foreign tourists.
The tourism sector insiders say the development of the sector is being hindered due to visa complications, a tendency to charge excessive prices from tourists, an underdeveloped communication system, insecurity and harassment of the visitors and social conservatism.
Admitting a decrease in the number of foreign tourists in Bangladesh in the last couple of years, State Minister for Civil Aviation and Tourism Md Mahbub Ali said they have already reopened Bangladesh's tourism destinations for the foreigners and are working to boost their number.
"The pandemic has hit our tourism industry hard. Earlier, we had received a significant number of foreign tourists. We are working to bring more international travellers. We are trying to develop a positive image of Bangladesh and branding our products," he said.
The state minister also said the people of Bangladesh are hospitable and tourism friendly. They just need to be a bit more liberal.
According to the World Economic Forum's annual report titled 'Travel and Tourism Development Index 2021,' Bangladesh ranks 100th among 117 countries in the world. The country is still lagging behind India with 54th position and Pakistan with 83rd in South Asia.
Bangladesh's income from international travellers has dropped significantly compared to other South Asian countries.
The latest data from the World Travel and Tourism Council (WTTC) reveals that in 2021, India received $8,800 million from foreign tourists, Thailand $3,900 million, Maldives $2,160 million and Sri Lanka earned $305.2 million while Bangladesh's earnings from foreign tourists was only $167.2 million, which is less than politically unstable Myanmar's income of $212.5 million. However, the tourism sector of Bangladesh earned $6,739.4 million from domestic tourists in 2021.
Association of Travel Agents of Bangladesh (ATAB) President SN Manzur Murshed said the country needs to improve in some areas to change the current scenario in the tourism sector.
"Our process of issuing visas should be simplified as it discourages foreign tourists from visiting Bangladesh. Besides, we need to be more professional. Some of us prefer instant profit and charge excessive money from tourists. We have to take visionary policy so that foreign tourists come to the country and recommend others to come here as well," he said.
The country's tourism sector is lagging in terms of contribution to GDP amid the scarcity of foreign tourists.
In 2021, 6.1 percent of global GDP ($5,812 billion) came from the tourism sector. But Bangladesh's tourism sector contributed only 2.2 percent to the GDP in the year, compared to 44.6 percent in the Maldives, 5.8 percent in India, 5.8 percent in Thailand, 4.3 percent in Nepal and 3.1 percent in Sri Lanka.
Dr Santus Kumer Deb, Chairman of the Department of Tourism and Hospitality Management at Dhaka University, said, "Countries like Thailand, Malaysia and Indonesia offer numerous entertainment options including snorkelling, scuba diving, parasailing, jet skiing, pedal boating, beach volleyball and beach bowling to the tourists. We also need to ensure such modern facilities."
Referring to the absence of nightlife for tourists in Bangladesh, he said the country needs to understand the demands of international tourists.
Mahbub Ali said that they have placed some important reform proposals to help foreign tourists explore Bangladesh.
He said, "The government is constructing Sabrang Tourism Park, the country's first tourism-based special economic zone, in Cox's Bazar's Teknaf where all necessary tourism facilities will be ensured. Though we will allow both local and foreign tourists there, our main target will be to attract foreign tourists."
According to him, upon completion of the project, some 39,000 tourists will be able to visit the park every day.
Around 1000 million tourists travel across the world every year. But with the world's longest sea beach Cox's Bazar, the largest mangrove forest Sundarbans and many other attractions, Bangladesh has been able to host only half a million of them.
The country welcomed tourists from a limited number of countries. In 2021, 59 percent of foreign tourists came from India, 14 percent from China, 9 percent from the United States, 8 percent from Pakistan and 7 percent of tourists travelled to Bangladesh from South Korea.
The country received only 3 percent of tourists from other countries while neighbouring India, Sri Lanka, Nepal, the Maldives, Thailand and Indonesia hosted a significant number of international tourists from Europe.
Tourism experts believe that lack of branding is one of the major problems for the exiguous number of foreign tourists in Bangladesh.
The country has no master plan and policy for its tourism sector and it has failed to develop the brand image of its products, they observed.
Unauthorized use or reproduction of The Finance Today content for commercial purposes is strictly prohibited.