Call for bigger budget for health sector
---
ALIF
Published:
2020-08-10 16:49:43 BdST
Call for bigger budget for health sector
---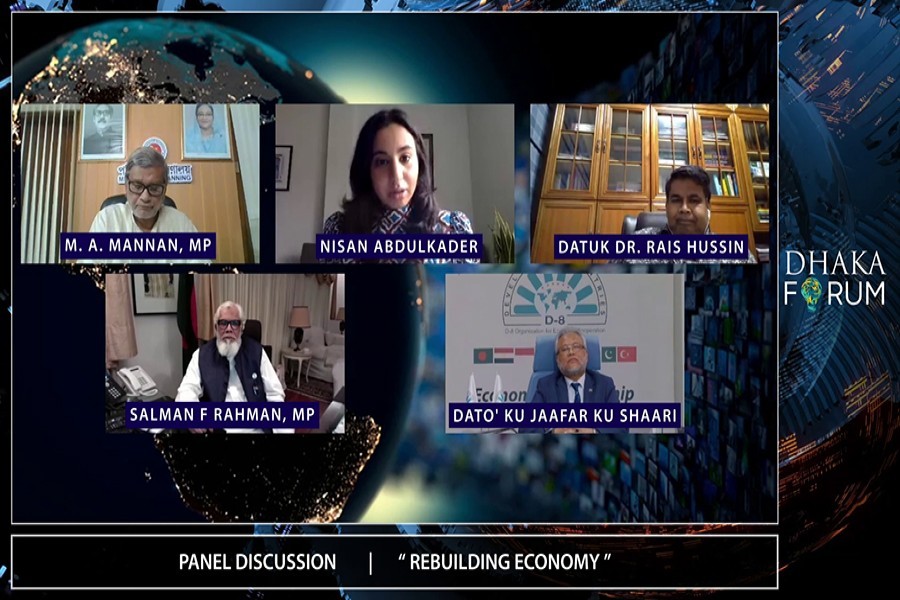 Experts on Sunday sought increased budget allocation for health sector, strict implementation of hygiene guidelines and adaptation with the changed lifestyle in the wake of virus pandemic.
They highlighted the use of telemedicine services, better coordination between public and private health service providers, and awareness among people.
They made the suggestions at a virtual panel discussion styled 'Rethinking Healthcare' on the closing day of a two-day international conference 'Dhaka Forum: Post-COVID-19 Emergence'.
Leadership Council for Policy and Research in partnership with the government's a2i programme and the UNDP hosted the event to determine the way forward for socio-economic recovery from the crisis.
State minister for information Dr Murad Hassan, Associate Prof Dr Mushtaq Mahmood of US Case Western Reserve University, UK infectious diseases specialist Dr Umar Ebrahimsa and Holista Colltech founder and CEO Dr Rajen M joined it.
Arnav Kapur, lead of Philanthropic Partnerships, India and South Asia at the Bill and Melinda Gates Foundation, moderated the session.
In his speech, Dr Hassan said Bangladesh has been bringing in noteworthy changes in its healthcare sector in the ongoing pandemic situation.
Referring to the havoc played by coronavirus even in the developed countries, he said every nation now needs to rethink about their health sector.
"Please allocate much more budget for medical sector, health sector," said the junior minister.
"We are not prepared around the world; not only in Bangladesh is that not a rich one."
Citing extensive health infrastructure installed across the country, Dr Hassan said those are not becoming effective as the Covid-19 situation is totally unprecedented.
During the online programme, Dr Mahmood laid emphasis on the adaptability to cope with the COVID-19 situation.
"Unlike animals, human can adapt with situations, for example people learned to pasteurised raw milk that contains different types of bacteria," he said.
The mankind needs to ensure that the bad part of the nature cannot dominate them.
Dr Mahmood suggested bringing changes in personal life, workplace and thought process of the government.
"In the past couple of decades, there had been some other epidemics that taught us to emphasise some no medical approaches also," he mentioned.
Dr Rajen M recognised the need for alternative medication like herbs to strengthen the immune system.
"As a much-coveted vaccine is yet to be made, now we need to focus on boosting the immune system with compounds based on foods, plants and others."
In another session earlier, panellists highlighted the need for due policies for data intelligence and facilitated collaboration between private and public sectors.
Anir Chowdhury, policy adviser to a2i, moderated the discussion titled 'Data Intelligence in COVID-19 Response'.
Bangladesh's leading business daily The Financial Express was the media partner of the event.
Earlier, Speakers at a panel discussion on Saturday stressed the need for better solidarity, forging unity, innovation and ensuring good quality information among people to cope with the challenges of Covid-19 crisis.
Apart from this, by focusing on a common goal of defeating Covid-19, good governance can bridge different communities together and inspire them to work for peace around the world, they insisted.
They made their remarks at the panel discussion on 'Renewing Good Governance and Peace' in a virtual conference titled 'Post-Covid- 19 Emergence' hosted by Dhaka Forum.
The Post-Covid-19 Emergence has been organised by the Leadership Council for Policy and Research (LCPR) in collaboration with a2i of the ICT Division, and Cabinet Division to pave the way to rethink, revise and redesign possible solutions across various spectrums for a post-Covid-19 world with the brilliant expertise from the brightest minds on the planet.
Barrister Manzoor Hasan, executive director, Centre for Peace and Justice, BRAC University, moderated the plenary session which explored ways in which building governance, peace and faith can create inclusiveness among communities during such emergencies.
Denise Lama Feliu, founder of Dollversity and advisor to the government of Chile, Michael Wakelin, former head of Religion at the BBC (UK), and executive producer- TBI Media, Naz Shah Shadow, minister of state for Women and Equalities, UK, and Sudipto Mukerjee, resident representative, UNDP Bangladesh spoke at the programme as the panelists.
The theme of Post-Covid-19 Emergence was designed to help different sectors collectively move forward to recover from the humanitarian, social and economic shock of coronavirus crisis.
Dhaka Forum is a global platform bringing the leaders and policymakers together to innovate and establish action-driven activities to address the critical challenges that our world is facing to find adaptive strategies and better resolutions.
Dhaka Forum aims to connect businesses, governments, academics, policymakers, thought leaders, change-makers, entrepreneurs, and civil society members from around the world.
During this crisis in a profoundly changed world, we will be exploring several key areas that will be critical in determining how successful we will be to move forward after the Covid-19 pandemic, the speakers said.
Unauthorized use or reproduction of The Finance Today content for commercial purposes is strictly prohibited.